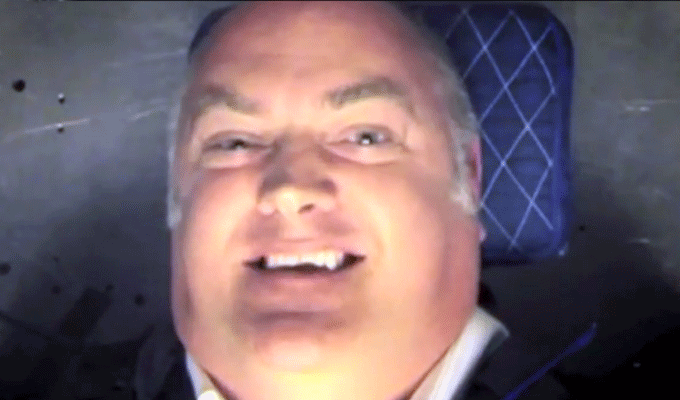 Dara in a centrifuge
• 'Leigh Francis would be overrated if the only thing anyone had ever done was acknowledge him as a conscious, functioning human.'
Alfie Brown
• Kevin Bridges has bought a luxury boat. The comic has taken a year off stand-up to write his autobiography, but seems to be filling his days with displacement activities such as badminton, Spanish classes, boxing training… and his new boat. He's been on regular trips around Loch Lomond with pals including Frankie Boyle.
• In case you missed it on Stargazing Live: Here's Dara O Briain in a centrifuge….

• His brother Alec starred in one of the best US sitcoms of recent years, 30 Rock, and now Stephen Baldwin is set to star in his own comedy – with a difference. Between A Rock And A Hard Place is about a small town pastor who unexpectedly inherits the bar. But it has a strong Christian agenda. 'Our goal with the series is to show God's love, grace, mercy and forgiveness,' says creator Darren Marlar. It might not sound that hilarious, but he has already raised the $50,000 he wants for a 10-minute broadcast-quality teaser.
• You may remember that before Christmas we mocked journalist Tina Campanelli's cynical, pisspoor cut-and-paste biography of Sarah Millican for - among other things – confusing 40-year-old Newcastle-born comedian Dan Willis with 75-year-old Australian actor Ian Smith, aka Harold Bishop from Neighbours. Here are some more clangers, and desperate bids to pad out the text to make the word count:
'Many a household name has cut their teeth appearing on the Late N Live stage: Tim Minchin, Russell Brand, Rhona Cameron, Tommy Tierney.'
'If comedy was the new rock and roll then Sarah was definitely morphing into Mick Jagger.' [Really?]
'The Michael McIntyre Comedy Roadshow. Hosted by Michael, the show took the form of a travelling comedy roadshow.
'Sarah is not alone in her public display of love for her cat. Dawn Porter has a beautiful Siamese cat called Lilu who goes everywhere with her… but heartthrob Tom Fletcher from the band McFly definitely claims the tile of top celeb feline enthusiast.'
'Like many of the biggest festivals, the Fringe started in 1947, almost by accident.' [1947 must've been a busy year…]
We could go on. But won't
• It's obvious now someone's done it… which is the pure genius of it. A series of ads for a fragrance called Louis CK One – appealing to pudgy, balding, middle-aged men rather than the washboard-stomached models we usually see have been mocked up by one enterprising Tumblr user.

• A Canadian man was arrested while watching comedian Daniel Tosh's clip show Tosh 2.0 on his laptop while he was driving on al Alberta highway last week… the glow from his screen – and his erratic driving – giving him away.
• Russell Brand and Jemima Khan were in the audience of fellow comedian/activist Rob Newman's show New Theory of Evolution at the Soho Theatre on Wednesday night. Even though Brand is an supporter of Richard Dawkins, whose 'selfish gene' theory is challenged in the show, he tweeted afterwards that Newman was 'an enlightening and beautiful comedian'.
• Michael Gove took on Blackadder last week – but we should not forget that the Education Secretary was once in a comedy show himself, being one of the presenters in Channel 4's short-lived topical programme A Stab In The Dark in 1992, long before entering politics. The show was a sort of Ten O'Clock Live for the Nineties, and co-starred David Baddiel. Prepare to cringe at this clip:

• Tweets of the week
James Martin (Pundamentalism): I'm in love with my Braille teacher. It's the way she makes me feel.
Adam Hess (@AdamHess1): It's weird how if the tallest man in the world dies the tallest man in the world gets shorter..
Jason (@NickMotown): A "foible" is something coughed up by cats in New York.
Published: 10 Jan 2014
Recent News
What do you think?