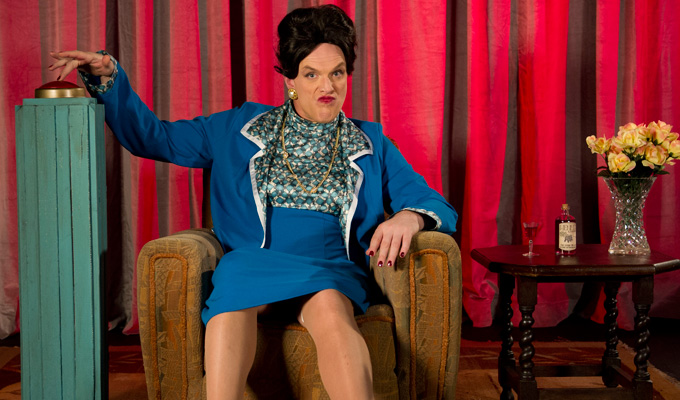 'What's so funny about golf?'
WTF: Weekly Trivia File.
• 'I shouldn't have said certain things. I'm in trouble. I'm in real deep trouble.' Johnny Vegas after his speech at the British Comedy Awards last night.
• And after Vegas said that The Office was cruel, Ricky Gervais has hit back in usual light-under-a-bushel style: 'Please don't criticise my multi award winning, half a billion dollar franchise, global hit show The Office. It really hurts.' Wonder if the sponsors Fosters will feel the same way.
• The picture above is Greg Davies as he appears in the new series of Sky Atlantic's This Is Jinsy, which starts on January 8. He plays Jennitta Bishard, a sinister figure who delivers punishments to residents across the island from the safety of her TV studio.
• Looking for a biography of Our Lord and Saviour Jesus Christ for a devout loved one this Christmas? Well, look what's the No. 1 bestseller in that section on Amazon – Frankie Boyle's new book. Someone's going to get a shock when they unwrap that. See. And the story of seminal indie band Jesus And Mary Chain makes the top 20 too.
• Happy in your job? E4 are shouting about their new (Golden Globe nominated, no less) comedy import, Brooklyn Nine-Nine, starring Andy Samberg. But on the broadcaster's press website, hidden in the part of the html code that doesn't normally display in the browser, is the grumpy description: 'It's E4's brand new cop comedy and the publicist has made me put up this pack telling you all about it.'
• American comedian Randy Liedtke decided to have some fun with the Los Angeles cops...making cookies in the shape of iPhone which he would pretend to talk on while driving. He wrote on Tumblr: 'Baked some iPhone cookies to trick cops into pulling me over, then I just take a bite and ask if cookies are against the law.' Indeed it worked, as one cop pulled him over. One small problem – Liedtke had a warrant out for his arrest for unpaid parking fines; so was still hauled off to the station. 'Wasn't worth it,' he tweeted afterwards. 'I'm an idiot. No more iPhone cookies.'
• It's an old story, but worth repeating. Michael Palin this week retells one 'fairly ridiculous censorship decision' made by the BBC during the third Monty Python series. All six comedians had a argument with the head of comedy over the right to say 'masturbation' in the Summarise Proust Competition sketch. The line was that a competitor's hobbies were 'golf, strangling animals and, masturbating. 'They just cut the word,' Palin recalls, 'So you had: "My hobbies are strangling animals, golf…" short pause, huge laugh… So what was so funny about golf?'
'Do I look like a motherfucking comedian?' This is how Kanye West deals with hecklers…

Tweets of the week
Trouteyes (@Trouteyes): I've auditioned for a part in an adult movie. Maybe get some good news this evening - touch wood!
Alan Garner(@WolfpackAlan): romeo & juliet (2013)
j: lol where r u romeo
r: wana come over? j: cant
r: y?
j: idk parents
r: lets kill ourself
j: lol k
r: swag
Sixth Form Poet (@sixthformpoet): Just seems wrong that the film Lincoln wasn't shot in front of a live audience.
Published: 13 Dec 2013
What do you think?