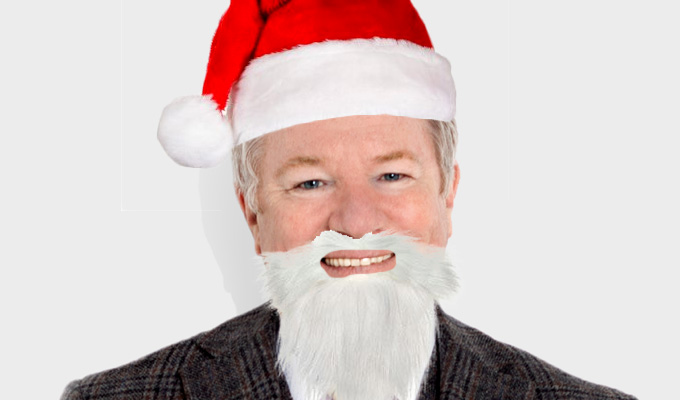 The 12 Plays Of Christmas
12 Christmas songs from comedians over the years - from the sublime to the offensive…
1. Tom Lehrer: A Christmas Song (1959)
The master musical satirist reveals the true meaning of Christmas in a typically cynical track from his classic album, An Evening Wasted with Tom Lehrer.
2. 12 Days of Christmas: Foster Brooks (1973)
Every comedian takes the piss out of this song, as it's easy pickings. But Foster Brooks, who could play drunk better than anyone else, performed this back in the day. Justin Edwards's very-nearly-as-brilliant Jeremy Lion owes a lot to him…
3. Father Christmas Do Not Touch Me: The Goodies (1974)
Different times, right? A very pre-Yewtree ditty from the Goodies, the B-side their 1974 hit The Inbetweenies.
4. White Christmas: Jim Davidson (1980)
He puts on a Jamaican accent to sing about 'white' Christmas… Geddit??! Jim Davidson in his 'Chalky White' guise got to No 52 in 1980.
5. Santa Baby: Cilla Black and Franke Howerd (1983)
Oh please God make it stop… This is from the 1983 ITV special, Cilla Black's Christmas.
6. Russ Abbot in Christmas with the Spanners (1984)
Dustin Gee blacks up (and even has black snowmen on his festive jumper) alongside Abbot, Les Dennis and Jeffrey Holland of Hi-Di-Hi fame for this politically incorrect spoof from his Christmas Madhouse.
7. Christmas At Ground Zero: 'Weird Al' Yankovic (1986)
There are plenty of festive hits with an anti-war message… here's Weird Al's more cheerful Cold War number about the impending apocalypse, in full Phil Spector style. And it's remarkably cheery despite lyrics such as: 'Everywhere the atom bombs are dropping/It's the end of all humanity/No more time for last-minute shopping/It's time to face your final destiny'.
8. Christmas Wrapping: Tony Robinson And The Angels (1990)
Do you remember the Blackadder star's time as a rapper? No, he probably wishes you didn't too… (The picture is the guy who posted this to Soundcloud, should you be wondering)
9. Bigamy At Christmas: Steve Coogan as Tony Ferrino (1997)
Altogether now: 'Bigamy at Christmas. What and I to do? Spend it with the family? I can't I've got two', It was the B-side for his version of the Tom Jones single Help Yourself.
10. Merry F&*#ing Christmas: South Park's Mr Garrison (1999)
Hugely offensive of course. In this time of goodwill to all men, here's a song from the Mr. Hankey's Christmas Classics episode that clearly takes an opposite view…
11. Give The Jew Girl Toys: Sarah Silverman (2005)
Title says it all.
12. White Wine In The Sun: by Tim Minchin (2009)
Sublime. Possibly the only Christmas song to be written from a Southern Hemisphere perspective - no sleigh bells in earshot or snow in sight. Brings a lump to the throat every time. And if you buy it now, proceeds go to Australia's National Autistic Society.
Published: 17 Dec 2015
What do you think?