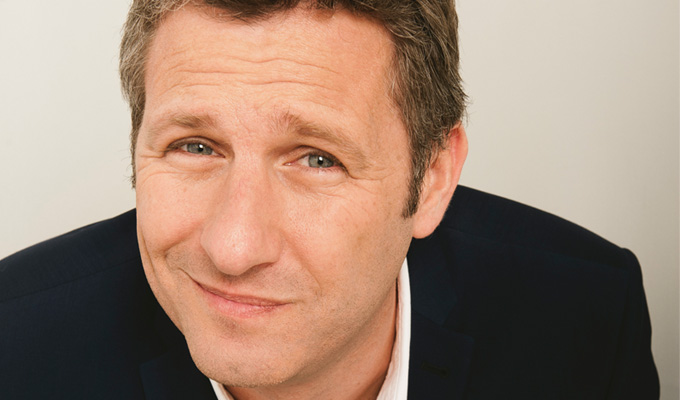 British Comedy Awards: Who will win?
It's certainly been Adam Hills's year, with the years of circuit graft paying off for the nice guy of stand-up. Probably one of the main legacies of the 2012 Paralympics is The Last Leg – today rewarded with three British Comedy Award nominations, two for Hill and one for the show itself.
The breakthrough award seems a shoo-in for Hills; though another live veteran, Steve Delaney's creation Count Arthur Strong, would be deserving, too – another act who has a rare trio of nominations.
Comedy entertainment personality would be a real against-the-odds coup for Hills, an upstart facing the perennial big guns of Alan Carr, Ant & Dec and Graham Norton.
Nominations are one thing, but it's winners that count. Here's our guide to the runners and riders for the 2013 awards.
Best Comedy Panel Show
Good to see a nomination for 8 Out Of 10 Cats Does Countdown, a mash-up that still has a sense of occasion about it, even if Channel 4 are in danger of milking that cow (cat?) dry. A League Of Their Own has a much broader appeal than its sports brief suggests it ought – even James Corden isn't anywhere near as annoying as a non-viewer might fear, and Jack Whitehall's enthusiasm is an asset. BBC One warhorse Have I Got News For You is consistent, but in its 46th series inevitably doesn't seem so fresh any more; while the quick-thinking, often class-based banter between David Mitchell and Lee Mack elevates Would I Lie To You? way beyond the simple, old-fashioned parlour game at its heart.
OUR PREDICTION: Would I Lie To You?
Best Comedy Entertainment Show
This could be one for The Last Leg; although competitions from the camp talk show hosts will be tough. Both Graham Norton and Alan Carr secure the A-listers, and have fun in their own way, though Norton probably has the edge. Ant & Dec's Saturday Night Takeaway has the emphasis more on the entertainment than the comedy.
OUR PREDICTION: The Graham Norton Show
Best Sketch Show
Great to see a nomination for Kevin Eldon's cult show; although it may be too quirky for judges. Horrible Histories, the first children's show to win a British Comedy Award might deserve a valedictory award as the series comes to an end. Harry & Paul are still doing the business, even if they often fall off the radar. A win would restore them to their rightful place, but the smart money may be on Sky Arts's Psychobitches, which puts history's heroines on the therapists couch and is a marvellous example of character comedy.
OUR PREDICTION: Pscyhobitches
Best sitcom
This seems very hard to call. Never write off Peep Show, which keeps its quality up, while Getting On remains a low-key delight in writing and performance. Bad Education is a broader, more mainstream offering, and although probably still a little too uneven to take the title, has done much to cement Jack Whitehall as a better comic talent than he first appeared. Count Arthur Strong, too, hasn't entirely translated the charm of the radio series to TV, but is a confident first series.
OUR PREDICTION: Getting On
Best new comedy programme
Psychobitches has a good chance of doing the double here; although as a way to establish the scramble-minded Count Arthur to a wider audience, the BBC Two sitcom has plenty to commend it and is likely to be a strong contendor. Cuckoo benefits greatly from Greg Davies, in his interactions with Andy Samberg's hippy Cuckoo and his wife, although the premise is pretty straightforward. Plebs seems too much like The Inbetweeners in togas to really stand out, affable though it is.
OUR PREDICTION: Pscyhobitches
Best male TV comic
A quirk of the Comedy Awards process is that comedians are nominated for a particular show, rather than a body of work, though it's impossible to separate the two. Would I Lie To You duo David Mitchell and Lee Mack are hard to separate, since the show relies so much on their dynamic (and the well-chosen interventions of Rob Brydon), and both do fine work beyond the panel game, though Mack might have the edge. Corden makes League Of Their Own what it is - though that is possibly more shiny-floor entertainment spectacle than an out-and-out comedy. And Jon Richardson's obsessive personality quirks are an invaluable part of 8 Out Of 10 Cats Does Countdown, although it is very much an ensemble affair.
OUR PREDICTION: Lee Mack
Best female TV comic
Sadly this is a very weak category, which says more about the TV industry than the comedians. That a seven-minute Live At The Apollo appearance gets Nina Conti on the list – hilarious as it was – shows the dearth of female talent on screen. Likewise Miranda Hart, one of three panelists on one edition of Room 101 while her sitcom is on hiatus, is nominated for a relatively fleeting appearance. And Sue Perkins and Mel Giedroyc might be perfectly suited to The Great British Bake-Off, this is not the work that would class them as comics. Dave Lamb's funnier commentary on Come Dine With Me has never earned him a nomination. No, this award can only really go to the one woman who holds together a TV series of her own…
OUR PREDICTION: Sarah Millican
Best comedy entertainment personality
Other than Hills, familiar names dominate here: Alan Carr, Ant & Dec and Graham Norton. While we'd live to see the affable Aussie get it, this title is normally a little more conservative than that.
OUR PREDICTION: Alan Carr
Best comedy breakthrough artist
This HAS to be Hills's for the taking. Although in any other year, Steve Delaney might be a cert for Count Arthur. Jonny Sweet and Tom Basden are both ones to watch, but Chickens or Plebs never quite made the impact that would deserve the 'breakthrough' accolade.
OUR PREDICTION: Adam Hills
Best TV comedy actor
Sketch shows demand more versatility than a sitcom, so should it go to Kevin Eldon? But sitcoms demand more credibility and depth for a long-term character. Greg Davies, Jack Whitehall and David Mitchell all play close to type in their roles. Although Davies makes Cuckoo, while in Fresh Meat Jack Whitehall is just one of a very strong ensemble. And it always seems unfair to highlight David Mitchell but not Robert Webb for Peep Show. It's hard to second-guess which way the judges will jump, so let's go with who we'd like to see win for a whole body of work…
OUR PREDICTION: Kevin Eldon
Best TV comedy actress
While it's unfair to highlight Mitchell and not Webb in the category above; when shortlists do feature two performers from the same show, it could just split the vote, as may well happen with Jo Brand and Vicki Pepperdine in Going Out - how do you separate them? Miranda Hart sneaks into the 2013 awards, as series 3 of her self-titled sitcom ended in January, but she shows her range more in Call The Midwife. So even though it's a team effort, the highly talented Zawe Ashton may well sneak in to take this title for Fresh Meat.
OUR PREDICTION: Zawe Ashton
King Or Queen Of Comedy
Down to a public vote, this award can be won by how strong die-hard fans can be mobilised. Both Sarah Millican and Jack Whitehall have already scooped this, so may well be able to do the business again. David Mitchell's fans, on the other hand, may think themselves above taking part in X-Factor TV phone-ins. Graham Norton and Alan Carr again go head-to-head in this category which is completed by Lee Mack.
OUR PREDICTION: Jack Whitehall will keep his crown.
• Learn how well our predictions did when the winners are announced live on Channel 4 on December 12
Published: 3 Dec 2013
What do you think?