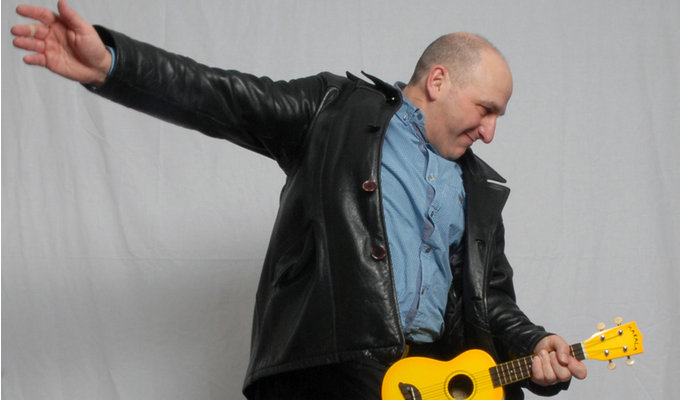 Funny place, Glasgow
As we approach the height of summer, the time is coming once more to celebrate that wonderful city in Scotland whose name is synonymous with comedy: great laughs, brilliant humour, the finest jesting you'll ever see or hear. Ladies and gentlemen, let's hear it for... Glasgow.
We may love our cheery northerners, cheeky cockneys and garrulous Geordies, but the sheer range of comedy that has made its way out of Glasgow is astonishing. On the current stand-up scene alone performers as diverse as Kevin Bridges, Janey Godley and Frankie Boyle are all on top form, and these days you're never more than a year or so away from a new stream of Jerry Sadowitz anger and hilarity.
On TV there's been the brilliant Robert Florence sketch series Burnistoun (with Iain Connell), and the criminally undersold Limmy's Show, starring Brian Limond. Despite being one of the funniest new programmes in years, the BBC in England felt it merited nothing more than the showing of a single episode on BBC Three, transmitted at half-past midnight. (To be fair they'd only broadcast that Family Guy which preceded it maybe six times before.)
While we've been marvelling at our great English comedy scene, the Glaswegians have been getting on with it for ages, and there's never been a moment in recent times when this hasn't been the case. Even back in the Seventies, when the number of new comic performers was barely into double figures, two of them were from Glasgow – the great actor Robbie Coltrane, and one of the original Comedy Store gang Arnold Brown, still going strong after nearly 40 years in the business. And ever since, stars of comedy club and screen have included Peter Capaldi, Fred MacAulay, Elaine C Smith, Gregor Fisher, Bill Paterson, John Gordon Sinclair and countless others, including stand-up siblings Craig and Lynn Ferguson, now big stars in the US.
You see the imprint of Glasgow humour everywhere, in the movies of Bill Forsyth and the breadth of work from Armando Iannucci, the poetry of Ivor Cutler and Liz Lochhead, even the music of Franz Ferdinand.
When I was at school in Leeds in the mid-Seventies, Glasgow was synonymous with a certain kind of 'hard but surrealist' humour. That tough-fella cliché became less prevalent in the Eighties, but when kids in my class wanted to sound threatening, they'd attempt the kind of drawl made famous by Iain Cuthbertson in the TV series Budgie and say, 'Do you know the way to the nearest hospital? Well ye'd better find oot!' or 'Ye talkin' to me or chewin' a brick? Either way you're ginnae lose yer teeth.' I repeat these gems not to highlight the dearth of original humour in mid-Seventies Leeds, although I have succeeded in that, but to show how Glasgwegian humour was renowned way beyond its city limits.
It's generally accepted that in the late Seventies and early Eighties, alternative comedy revolutionised the British scene and blew away the mainstream. But before alternative comedy, there was alternative Connolly. Billy Connolly began performing on the Scottish folk music scene, telling stories in between the songs. Gradually the patter increased and the songs fell away, and by the mid-Seventies he was one of only three big stand-up stars (Dave Allen and Jasper Carrott were the others) who had emerged from beyond the Working Mens' Club scene.
He may be Mr Showbiz now, and mocked for his friendship with the Royal Family, but the shows from Billy Connolly's heyday created a deep impression on a great number of today's best-known stand-ups.
If I was attempting some kind of sociological explanation as to why Glasgow, more than any other city in the UK, has been home to such a constant stream of top quality comedy, I might begin by looking at the parallels with Liverpool, another famous old port with a strong identity and a sense of working class solidarity at odds with the ruling classes. Our obsession with class continues to be a staple of comedy.
There's also a strong sectarian divide, slightly less pronounced in Liverpool, and less itself than the outright war that used to be part of everyday life in Belfast. I'm really stroking my beard earnestly now here in the University Common room, but I have noticed that the existence of two, poor, working class communities, filled with essentially the same kind of people, manufacturing hatred over some long-forgotten battle from the 17th century, can bemuse the people in those communities, and for many the only response is humour (Discuss).
Another reason Glasgow is comedy central almost certainly ties in with Scottish history, and how the Scots see themselves in relation to the English. There's a feeling that the English tend to lord it over the Scots, that we keep the lucrative elements of Scottish industry like North Sea oil, but give them the rubbish, like starting the Poll Tax there.
The hatred is not as visceral as it had been in previous centuries. And frankly, if we were really attacking the Scots, like we used to back in the days of William Wallace and Robert The Bruce, there'd be no time for comedy as we'd all be too busy chopping each other to pieces. These days I sense that Scots no longer feel deep oppression so much as a kind of simmering resentment against being told what to do by a government they didn't vote for. Simmering resentment is always a better breeding ground for comedy.
There's a comparable dynamic at work in North America, where Canadians share similar feelings towards the USA. I realise this is the sort of sweeping generalisation that explains why I was never going to succeed as a proper journalist. Even so there have always been a disproportionate number of Canadians in the American comedy industry, including superstars such as Seth Rogan, Mike Myers, and Jim Carrey.
To which you may well respond, 'Why only Glasgow then? Why not Edinburgh as well?' And of course, Edinburgh has given us its fair share of homegrown comedy, including the Absolutely gang, Greg McHugh, writer and star of the delightful Gary Tank Commander, and the dark comic novels of Irvine Welsh.
But I would say in addition to the simmering resentment the Scots feel towards the English, Glaswegians have harboured those same feelings towards their Edinburgh neighbours, who every year for a month allow the English to rampage with their own arts invasion. A chip on a chip on the shoulder.
The English hordes arrive from across the border, armed with their hilarious jokes about the London Underground, and play to an audience, many of whom have travelled all the way from London to see them.
For once I'm not spouting sociological claptrap here, research has been carried out that suggests Glaswegians have very little to do with the Edinburgh Festival, and it's estimated that they make up no more than 2.5 per cent of all Fringe audiences. So for a comic doing his first ever Edinburgh, that averages out over the entire three-week run at around what, maybe 2.5 Glaswegians.
There was a bit of a thaw last year when one of Glasgow's current golden boys, Greg Hemphill, took his new play Appointment With The Wicker Man to the Edinburgh Fringe. In an interview at the time, Hemphill admitted that many Glaswegians had a negative attitude towards the Edinburgh Festivals, and suggested that this was misplaced, not least because he was premiering a play at the Edinburgh Fringe and was hoping for an audience, and who can blame him?
The play was a success but I doubt if it has seriously shifted the attitude of the locals. Which remains, as far as I can see, one of 'we don't need your anglicised commercialised comedy festival nonsense, we've got our own scene that's perfectly fine thank you very much.'
Appointment With The Wicker Man was written by Hemphill and Donny McCleary, who also co-writes the best show currently on BBC Radio 4, the superb Fags, Mags And Bags, starring Scotland's funniest and most under-rated writer-performer Sanjeev Kohli. Sanjeev was born in London, but has lived in Glasgow most of his life and therefore qualifies as an honorary Glaswegian for comedy reasons alone.
Sanjeev is best known as the shopkeeper Navid in Still Game, one of the best sitcoms of the last ten years. That sitcom was written and created by Hemphill and Ford Kiernan, based on characters they had created for Chewin' The Fat, one of the finest sketch shows of the last 15 years.
And now, we lovers of Glasgow comedy hold our collective breath as two of our great heroes, Hemphill and Florence, swear vengeance upon each other, and recall those bygone days when Glasgow's humour was defined by violence and surrealism, to grapple in the wrestling ringt and decide who will win the title of the city's hardest funnyman, or funniest hard man.
There's no other way to say it – Glaswegians make the finest comedy.
• Hemphill takes on Florence at the Kelvin Brawl tonight. Here's what happened when they met at Clyde1 radio station this week:

Published: 21 Jun 2013
What do you think?