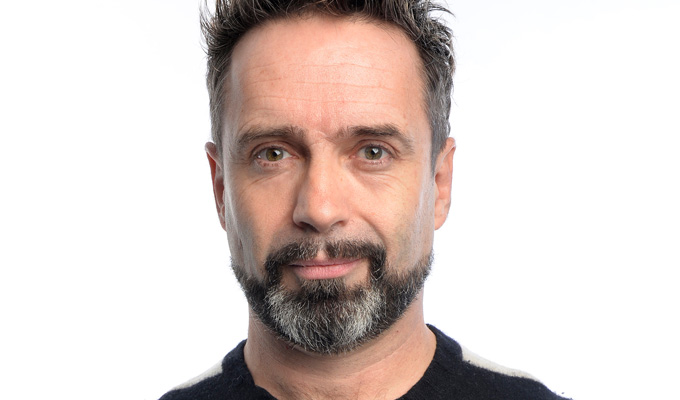 Phil Nichol
Tony Law and Phil Nichol: Virtue Chamber Echo Bravo
To describe this as an affectionate parody of a safe-space seminar for wokeness and healing, as its programme blurb suggests, would be to impose far more structure and intent on to the show than Fringe veterans Phil Nichol and Tony Law ever plan to deliver.
They occasionally reference their premise, but it's only really the flimsiest of backdrops for the two Canadian pals to muck about as much as they want. And that's a lot. They will certainly go anywhere with their ad-libbing: in this show Nichol conjured up the ghost of Jeffrey Epstein, but then seemed surprised when, like the paedophile pimp's jail cell, there was no way out.
But they celebrate anything that doesn't land just as much as the riffs that do. In this way it is a real safe space for them as they are granted ultimate freedom to do what they will, away from the censorious eyes of the Twitter taste police. We laugh at their many success, forgive their few missteps.
When their freeform riffing gets too manic they evoke their reputed theme, softening their voices and lapsing into faux sympathy as they talk smugly about 'healing'. It's a device to put a brake on their excesses.
They give themselves a topic each day. Today it's Brexit, though the biggest British political issue of the day is reduced to some dodge Dutch accents. A very catchy song whose lyrics are entirely 'Nick Clegg', is as deep as the political discourse gets. But it's damn catchy and we all chant along.
.
Amid the chaos and the anarchy, a few set pieces offer some framework, including some audience participation when they try to reprogramme a 'Nazi' they think they've uncovered in the audience.
And sometimes it seems like they main purpose of the show seems to be to sell merch. They have T-shirts and badges and pencils bearing their simple Virtue Chamber Echo Bravo logo and the Latin motto 'adulescens habet scientiam', a very rough translation of: 'The youth has no knowledge.'
'Very rough' is, of course, the tone of the show – and the pair talk excitedly over each other all the time, which can be hard to unpick. But the sense of spontaneity encourages the audience to loosen up, too, and celebrate the spirit of creativity; the spirit of the Fringe no less. It's a mess, but a glorious mess.
Read More
Published: 14 Aug 2019
The people of Galway's appetite for comedy is…
31/10/2018
Few comedians work as hard at the Fringe as Phil Nichol.…
7/08/2017
Phil Nichol was the headliner, and Bobby Davro was…
26/04/2017
'Crazy Uncle Phil' fires straight out the blocks…
31/08/2015
Houston, we have a problem. The year is 1969 and Neil…
18/08/2015
A characteristic of comedy festivals like Galway is…
29/10/2013
No one outside comedy knows who Paul Byrne is. \'Brother…
22/08/2013
No one outside comedy knows who Paul Byrne is. 'Brother…
22/08/2013
It's often asked why London doesn't have a comedy…
19/07/2012
Because it's backed by uber-agent Addison Cresswell…
9/10/2011
It's a sold out show, yet around a dozen seats are…
17/08/2011
An amorphous, regular late-night showcase in which…
21/03/2011
As far as pulling power goes, you couldn't have assembled…
11/10/2010
Phil Nichol's evocative recreation of a 1974 Baltimore…
28/08/2010
Phil Nichol's passion is intimidating, apparently…
13/09/2009
This Comedians' Theatre Company production is a riot…
27/08/2009
Another Fringe, another reinvention for Phil Nichol.…
19/08/2009
The bill boasted Jack Dee, Jimmy Carr, Paul Merton,…
1/01/2009
It was something of a gamble casting only comedians…
1/01/2007
Last night's benefit, organised by indefatigable…
1/01/2007
Long before he won last year's if.comedy award, Phil…
1/01/2007
Comics doing theatre is a recent staple of the Edinburgh…
1/01/2006
Description Stage Best Actor 2005,…
1/01/2006
Amid all the high-profile fundraising comedy spectaculars,…
1/01/2006
Review from the Brighton Comedy festival, October 2006Phil…
1/01/2006
Look what a Perrier nomination can do for you. Three…
1/01/2005
Christian Slater's a tough act to follow. But throughout…
1/01/2005
It was a difficult birth, thanks to the director quitting…
1/01/2004
In this increasingly screwed-up world, political comedy…
1/01/2004
This Canadian-raised powerhouse has more energy that…
1/09/2003
It's rare these days to experience a genuinely exciting…
1/01/2002
Phil got off to a bit of a slow start, appearing somewhat…
1/01/2001