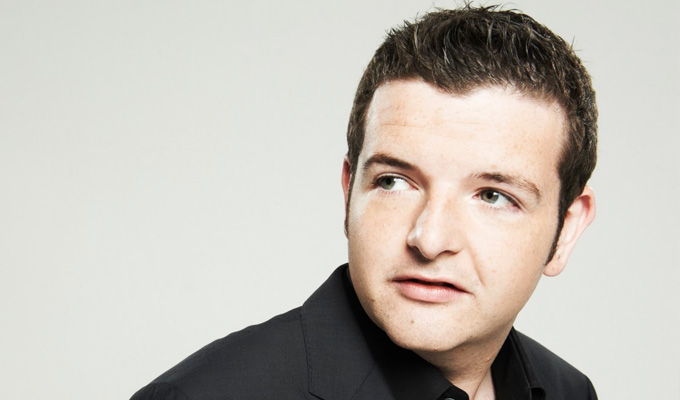 Galway Comedy Festival 2013
Note: This review is from 2013
A characteristic of comedy festivals like Galway is that the best line-ups of comics don't always produce the best shows. A cosily intimate room above a pub or fringe theatre with a relatively unknown act can afford a much more satisfying experience than a bill stuffed with international headliners in a big lounge lacking atmosphere.
Whether it's the high, high ceiling, the abiding impression of a wedding reception venue or the fact that, on this occasion, the overwhelming majority of the crowd had come to see Kevin Bridges above all others, the Radisson Blu hotel's basement is a tough, tough room and seasoned stand-ups struggled and muttered darkly about it all week.
Not that there isn't fascination in seeing how they cope with such a challenge. Compere Ian Coppinger had no trouble, amusing with his theories on Christmas boozing and sharing his always compelling account of the night paramilitaries held up a bunch of Dublin comics at gunpoint.
Yet the human dynamo that is Phil Nichol initially failed to connect. The livewire Canadian has established a pretty much bulleproof club set over the last decade, contrasting his camp, Canuck friendliness with Cockney aggression and American idiocy or obesity, juggling prejudices and breaking out in 'jazz ballet' flamboyance. Fate had even gifted him a German audience member in the front rows, the better to indulge his perviness, danke schön.
Even so, when after racing through all his usual set-pieces, he declared 'I'm officially enjoying this gig more than you are', he was only partly joking. Happily however, in the face of such widespread bafflement, he can ultimately wear down resistance through sheer volume of deep-throat blowjobs mimed, gargling imaginary big fat cock after big fat cock for the cause, before strapping on his guitar. If a rendition of his politically correct-tweaking tune You Can't Say That To Me, chronicling every perceived victim group under the sun can ever be perfunctory, this was it. But by the time he'd finished with some nonsensical Spanish caterwauling, he'd wrested victory from the jaws of defeat, leaving to decent applause.
The Police Academy films belong to an era when scraping seven features out of a single concept wasn't marketed as a 'franchise'. Bobcat Goldthwait may have accumulated an impressive resumé as a stand-up and director of TV and independent movies. And even, it transpires, as a firestarter. But he appreciates that he'll always be best known as the hyperactive and howling police cadet Zed McGlunk, with all the mixed emotions associated with appearing in those films.
Or so you might have thought. It's a humbling moment for any actor when he has to prompt a crowd's memory about a role he's self-conscious about, explaining that he's not Michael Winslow, the (other) Police Academy alumni at the festival who does sound effects, before deigning to screech in Zed's trademark style for identification. I'll admit, a part of my childhood died when he mildly mocked Winslow's technically brilliant but cheesy routines before disclaiming that he was largely unfamiliar with them. You like to imagine that McGlunk and Sgt. Jones are still ineptly pounding the beat with Hightower, Hooks, Mahoney et al
Unlike Winslow with his immediately recognisable shtick, Goldthwait is an anecdotalist with the career tales of a veteran comic and jobbing director, mostly about who 'he's pissed off'. Still, he began hesitant about which to share and how to pitch them. Perhaps mindful of the Irish economy's difficult relationship with Germany after the EU bailed them out, he opened with some Teutonic stereotyping that could scarcely have died any harder. Taking a pop at Galway buskers was ill-advised too, although his recollection of protecting his costume designer daughter from Russell Brand's advances on a film set was both disgustingly inspired and hilarious.
Gradually, he got darker and more self-lacerating, slowly finding the right level, recalling being barracked at a US college for mocking the unfortunate but horribly funny death of the football team's mascot, before consolidating his appeal with a couple of straightforward but brutally effective gags about Michael Jackson's funeral.
The bulk of his set was given over to the familiar stand-up cliché of airline tales. Yet blessed with rare circumstance, these were a class apart from the usual bilge. Although he glossed over the details of his conviction for arson, it guarantees that Goldthwait is always stopped by airport customs. Only one of his two security frisking tales really coalesced into a satisfying routine with a punchline. But no matter, because his subsequent account of being on a flight where an engine exploded, surrounded in his seat by the US Special Olympics team as he prepared to die, is the definition of finding humour in a desperate situation. If he could survive that with such wry detachment, then there was little doubt he could turn a difficult gig like this around.
By contrast, and by some distance the least experienced comic in the line-up, Colm Tyrrell had the crowd eating out of his hand immediately. The young Dubliner has an appealing blend of beta male insecurity around manly men like his father and brother, or chatting up women, but a refreshing, cocksure confidence when it comes to describing sex itself. Bluntly, he calls a spade a spade, Limerick a dump at every opportunity and a neck tattoo the badge of career suicide it obviously is.
He clearly gets his straight-talking from his father, an unreconstructed silverback. His description calls to mind Russell Kane's depiction of his dad, though as more of a figure of fun and without the violent menace. Tyrell senior is a pub grandstander who struggles to understand his son's theatrical ambitions and blames Oscar Wilde's homosexuality on him leaving Ireland.
Tyrrell affects to be tongue-tied chatting women up, though you rather suspect contrivance here for the sake of blurting out an incest gag. Because elsewhere he's unapologetically direct, without being especially laddish, stating his preference for older and larger ladies, schooling in the difference between blowjobs and 'sucking off' with a straight-faced authority that's borderline surreal; painting a disturbing image of his seducing a teenager; before offering an even more graphic visual tableau of him performing cunnilingus on an overweight girl. Crude in tone, the details are nevertheless marvellously sketched.
Crucially, you believe in his appreciation of women and he broadly steers clear of misogyny. Still, it'll be interesting to see how much of this material can survive mainstream exposure. Because he's got obvious star potential and didn't look out of place in this company.
He could look to Kevin Bridges as an example. The Glaswegian is similarly earthy in his language and outlook, describing his jobless friends as 'unemployed to fuck' yet he assumed his smart surroundings like he owned them. While Bridges continues selling out arenas, his hometown mates have acquired increasing importance, tying him to 'the real world' and helping to ground his observational material on daytime television and lad's holidays.
That's not to say he's inventing much. Without leaning too heavily on stereotypes, he's assured in conveying the violent, boozy, football-obsessed culture that the west coast of Scotland shares with Ireland, finding poetry in the threatening counter-heckle he experienced at a recent gig. And he invariably picks just the right word to crown a routine, whether it's the phenomenon of a 'ghostie shite', indeed the lexical distinction between 'shit' and 'shite', or the withering, proposed title of his chatshow with self-obsessed celebrities, 'Did Ye, Aye?' The Scot continues to straddle the line between star and man of the people with barnstorming effectiveness.
Review date: 29 Oct 2013
Reviewed by: Jay Richardson
Recent Reviews
What do you think?