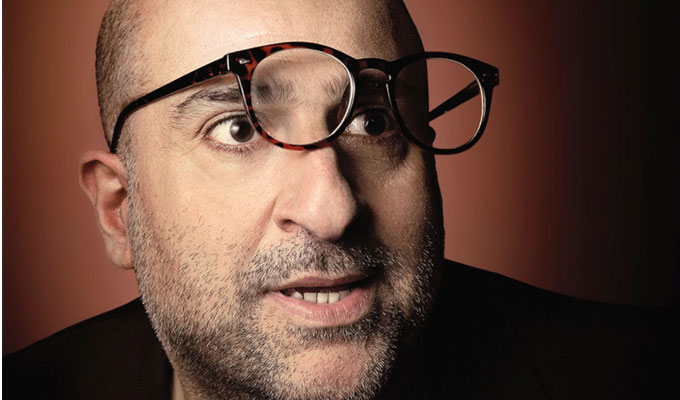 Omid Djalili
Date of birth: 30-09-1965

Omid Djalili: I write gags for Prince Charles
Omid Djalili has revealed that he writes gags for Prince Charles.
The comic has performed in three Royal Variety Performances, at the Prince's private 60th birthday party and at numerous other Clarence House engagements
But now he's disclosed that he also writes jokes for the heir to the throne.
'I've a bit of history with [the Royals] because if they want a joke, he'll call me up,' Djalili told fellow comic Scott Capurro on his podcast.
He recalled how Michael Fawcett, Charles' former senior valet and current head of his charitable Prince's Foundation, would ring to say that they needed gags about architecture for example: 'We need 10 jokes, emailed, tomorrow'.
Djalili recalled sourcing lines from other acts like Ian Stone and Boothby Graffoe and Fawcett telling him that Charles liked one of those submitted: 'The Prince likes architecture but he won't write a book about it because he doesn't want to be known as the architect formerly known as Prince.'
However, Fawcett also wanted Djalili to coach Charles in delivering the line, offering a helicopter to get him to meet the Prince and back before his show in Birmingham that night, prompting Capurro to ask if the Royals were paying for this service?
No, acknowledged Djalili. And by way of illustration, he cited another engagement in which he performed for the Prince's 118.3 staff at Clarence House.
'I asked his butler, "what's the .3?"
"Oh, that's just people who are part-time, they don't get paid, there's no real point to their job."
'And I said, "who would that be?"
"That's you!"'
And when he finished his set, 'Prince Charles said "thank you very much to .3".
'That's my nickname now, .3. They call me up and call me .3. Isn't that ridiculous?'
Speaking about his relationship with Charles to Australian magazine Time Off in 2010, Djalili had previously gone further, suggesting that he should be known as the prince's 'pocket MC [because] he always likes the way I introduce him.'
In his 70-minute chat with Capurro, Djalili also recalled how he narrowly missed out on a guest role in Curb Your Enthusiasm because of US visa bureaucracy; his dislike for being labelled a BAME comedian; and suggested that he only landed The Omid Djalili Show on BBC One in 2007 because of tokenism.
'I'll be really honest with you, when I had a BBC One TV show, it was clear to me that it wasn't because of my talent, it was because I fit the BBC remit,' he said. 'When you get a TV show, you always fit a remit.
'And the remit then, 2007, 2008, was someone who had an ethnic minority name but a very English voice. There was me, Reeta Chakrabarti, Zeinab Badawi – ethnic name but the voice is very English.
'I used to joke that this was the reason why Trevor McDonald left the BBC, because they were trying to change his name to Manjack Babaloowalla. And he wasn't having it.'

Read More
Published: 6 Jan 2020
Omid Djalili and Sara Pascoe are to take part in a…
27/11/2018
Jo Brand's sitcom Going Forward has been dropped. BBC…
30/11/2017
Omid Djalili is to star in a new stage production of…
16/02/2017
Comedians and activists including Omid Djalili, Stewart…
21/07/2016
BBC Four has commissioned Jo Brand to make a follow-up…
9/03/2016
Omid Djalili's autobiography is full of surprises.…
22/09/2014
Omid Djalili is to release an autobiography this autumn.The…
26/03/2014
Omid Djalili has had his driving ban overturned in…
14/06/2013