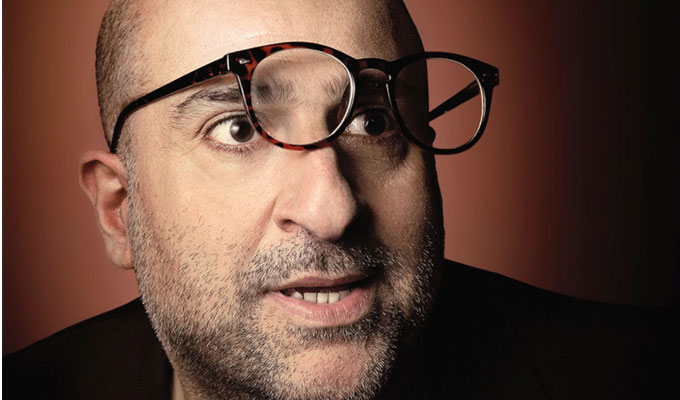 Omid Djalili
Date of birth: 30-09-1965

Omid Djalili to perform his first gig in Persian
Omid Djalili is to perform his first stand-up gig in the Persian language Farsi.
The British-Iranian comedian said we should 'blame Eddie Izzard' for his decision to perform the Zoom gig on February 13.
Djalili added the hashtag '#brickingit' to his announcement of the two performances, at 5pm London time and 5pm LA time (1am Sunday in the UK).
Although he has only visited Iran once, as a small child, the comic is bilingual, speaking Farsi to keep himself in touch with his roots.
In 2009, he landed in hot water when Paul O'Grady played a clip of his stand-up on TV which contained a bit of swearing in Farsi.
'It was quite strong stuff,' Djalili said at the time. 'But I wasn't worried because no one was going to understand, were they?
'How wrong I was! A couple of Iranians had been watching and they contacted my website taking the strongest possible exception to what I'd said. And they were right. I apologised immediately. I'd let down my fellow Iranians.'
He conducted his first interview in Farsi in December on the Iranian channel MBC Persia. On the show, interviewer Sina Valiollah asked him to dance, prompting the comedian to say: 'What kind of question is that? I'm a stand up. I'm a man of letters. I've written a book. I'm a wise, dignified man. Shame on you. '
Khejalat nemikeshan ina 😂😂 pic.twitter.com/sJIJI8eOCj

— Mirzade (@hashem_mirzadeh) December 6, 2020
Tickets for A Virtual Evening With Omid Djalili are available, priced £15 and £25, from Persian broadcaster Radio Javan.
Read More
Published: 4 Feb 2021
Omid Djalili and Russell Kane are to take part…
25/02/2019
Omid Djalili and Sara Pascoe are to take part in a…
27/11/2018
Jo Brand's sitcom Going Forward has been dropped. BBC…
30/11/2017
Omid Djalili is to star in a new stage production of…
16/02/2017
Comedians and activists including Omid Djalili, Stewart…
21/07/2016
BBC Four has commissioned Jo Brand to make a follow-up…
9/03/2016
Omid Djalili's autobiography is full of surprises.…
22/09/2014
Omid Djalili is to release an autobiography this autumn.The…
26/03/2014