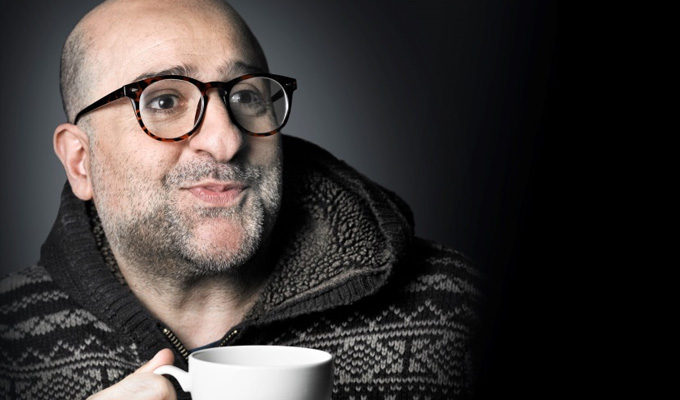 Omid Djalili
Date of birth: 30-09-1965

Going Forward isn't going forward
Jo Brand's sitcom Going Forward has been dropped.
BBC Four aired three episodes of the follow-up to her hospital comedy Getting On last year, with Brand reprising her role as nurse Kim Wilde.
Focusing on her home life, it co-starred Omid Djalili as her driver husband, Dave, with Tom Davis as his colleague Terry.
'Going Forward hasn't been recommissioned', Brand told the Sunday Post. However, she added that: 'I don't want to sound ungrateful, but it was a bit of a relief as I was so busy. Maybe I'll revisit it sometime.'
She also confirmed that Damned, her comedy based on the lives of two jaded social workers, will be back on Channel 4 in January. It co-stars Alan Davies, Isy Suttie, Kevin Eldon, Himesh Patel and the show's co-creator Morwenna Banks,
Meanwhile, Brand's first film, The More You Ignore Me, is released in cinemas in February.
Based on her novel about a child coping with her mother's schizophrenia, the film stars Sheridan Smith as Gina with Ella Hunt as her daughter Alice. Sally Phillips and Mark Addy co-star, with Sheila Hancock, Ricky Tomlinson, Lisa Stansfield, Tom Davies, Tony Way and Brand herself.
The comedian suggested that the best advice she's taken is to write about what she knew, reflecting that 'I've only acted in stuff I've written myself, based on my time in the caring professions. I might be seen as a do-gooder, but it's not as if I could write about being an engineer.'
In another interview, Brand also disclosed that she turned down a Lady Chatterley-style role.
'I got given a script about a woman who ran an old people's home and had an affair with a gardener. It was really filthy, but I managed to say no' she told the Mirror this month.
- by Jay Richardson
Read More
Published: 30 Nov 2017
Omid Djalili is to release an autobiography this autumn.The…
26/03/2014
Omid Djalili has had his driving ban overturned in…
14/06/2013
Omid Djalili, Dom Joly and Helen Lederer are to take…
2/01/2013
Showmanship has largely fallen out of favour in comedy,…
4/12/2012
Little Crackers, Sky1's series which gives comedians…
29/11/2012
Omid Djalili has picked up another speeding fine –…
17/10/2012
It is embarrassing for a man who once advertised car…
21/09/2012
Omid Djalili has apologised after making a series…
13/06/2012