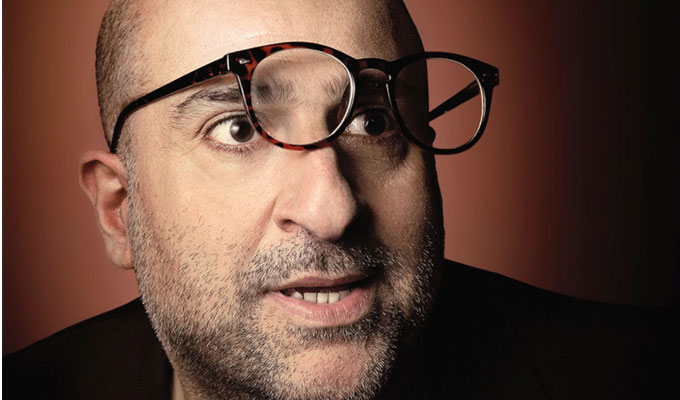 Omid Djalili
Date of birth: 30-09-1965

Omid Djalili: Schmuck For A Night
Note: This review is from 2016
'I've been offending people around the country,' is how Omid Djalili describes his tour. 
In some ways, that's hard to believe. Djalili is the epitome of affable 'Mr Saturday Night' showbiz, with a cheeky smile, bags of energy and a generous dollop of charisma. His usual warm-up, Boothby Graffoe seems almost redundant as Djalili bursts on to the stage with such a winning burst of cheese and cheer. Let's call it chutzpah, since he was the one who introduced Yiddish slang by putting it into the title. 
Yet Djalili uses the ebullient playfulness as a cover to smuggle in some borderline taboo topics – he even makes cancer funny. A bit of a tweak, and this could be self-consciously edgy, but Djalili presents material as an inveterate entertainer, safe in the knowledge that he can always win them back with a pun, some pizzazz and a Middle-Eastern dance.
Quite a few routines start with the defensive-apologetic: 'All I said was…' as he plays the naive fool whose devilry lands him in hot water. Like a naughty child of an old-fashioned strip cartoon, Djalili is the guy left with the innocent face saying: 'Who me?' when caught with the missing apple pie still stuffed in his cheeks.  This is where the 'schmuck' of the title comes from, though you could easily see it as a nod to Djalili seeing a different approach to Rupert Pupkin's mantra for the wannabe comedian: 'Better be king for a night than schmuck for a lifetime.'
While some of the material is potentially contentious, offence usually comes from a lack of trust and Djalili's natural rapport with the audience mean we always trust that his intentions are good, even when he unleashes a volley of some of the most offensive epithets around. 
But generally it's all good-natured. He says his Iranian culture is to be hospitable to your face, bitchy behind your back… he just combines the two upfront. 
So there are jokes about the Jews – including his 'blind Jewish manager' Nigel Klafeld, who happens to be in the audience tonight – with their big noses and control of Hollywood, And this on Rosh Hashana! Then there's the time he made an ill-advised tweet about Joleon Lescott's appearance. Or the routine where he acts out Nelson Mandela trash-talking Desmond Tutu, at odds with their saintly reputations – and does the dubious accents, too.  The Middle England mentality also gets a ribbing, as there's mischief getting under their skin with saying words an Anglo-Saxon comic would surely find more troublesome.
He fudges the line between mainstream and the alternative, even shamelessly purloining pub gags someone else must have once written, but getting away with it using a 'whah-hay!' that's only part-ironic. It's not often clear if his swagger is fake or real. He gets the audience excited for his achievements, whether genuine or not, yet swivels to self-deprecation on a 50-rial coin. Suggesting with a straight face that Angelina Jolie is besotted with him gets one of the biggest laughs of the night.
The theme of retelling the scrapes that his frivolity has got him into means a few greatest hits are dusted down, even the Godzilla impression which got him started at Malcolm Hardee's infamous Tunnel Club. So he can exploit the double whammy of the original laugh, and get newer taglines from context. 
But for all that, there are fresh-out-the-oven jokes about Kim Kardashian's jewel theft, so he's keeping it topical. And he's no fan of Donald Trump's gung-ho plan to bomb ISIS and so fuel the war the terrorists crave. Just a little bit of politics, which is where he has something of value to say.
So it's a mixed bag of content and approach, but Djalili's sparkly persona accommodates the range; part of a package that means there should be something for everyone. Maybe it's that Iranian hospitality at play…
Read More
Published: 4 Oct 2016
Zero stars for the food stall that takes more than…
19/09/2015
Omid Djalili is the Iranian Mr Showbiz… joking,…
22/11/2014
He is a global comedy superstar, breaking ticket sales…
11/03/2014
There were moments in the first half of the Prince's…
29/11/2012
Back on tour for the first time in three years, Omid…
31/10/2011
A belated, comedic addition to the enduring British…
19/09/2011
Omid Djalili is off on tour for the first time in…
7/09/2011
As film pitches go, 'Omid Djalili plays a Muslim…
1/01/2010
It is hard to imagine any other critic being awarded…
1/01/2007
Last night's benefit, organised by indefatigable…
1/01/2007
Before bounding down the showbiz stairs of his vast…
1/08/2006
Charity gig programming is often a tricky affair, balancing…
1/01/2006
Quite an event, a charity spectacular for Amnesty International,…
1/01/2006
A brilliantly barnstorming act, Djalili cheerfully…
1/11/2004
No doubt about it, Djalili knows how to put on a show.…
1/01/2002