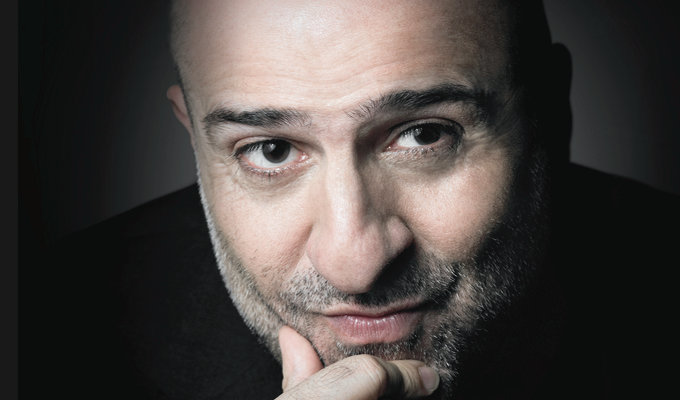 Omid Djalili: Iranalamadingdong
Note: This review is from 2014
Omid Djalili is the Iranian Mr Showbiz… joking, singing and belly-dancing through a spirited set. It can be a bit schlocky, to borrow a phrase from entirely the wrong culture, but it certainly has a mainstream appeal.
He can be so cheesy that we could add Omid Dairlylea to the myriad mispronunciations of his surname, with corny gags sold with a blast of high-energy music and a mock-macho dance, swinging the microphone phallically
A lot of these gags, and even observational routines, are decidedly old-school, such as the aches and involuntary noises associated with passing 45… and who hasn't ever filled in a US landing card and wondered how many genocides they've stopped just by asking travellers to tick a box promising not to?
And then there are the accents. Djalili has a strong talent for mimicry plenty of jokes rely entirely on his various voices and cadences… including some ethnic ones that many might think twice about.
Certainly, if Jim Davidson did some of this you might be appalled. And even though Djalili airs the unfashionable opinion that there should have been 'a bit more respect' for Mrs Thatcher at her funeral, we do trust that he's not actually racist. That comes from Djalili's warm demeanour and broader positivity as much as his lineage. However, as with some of Al Murray's audience, you can't help worrying that jokes are being heard in the same spirit as they are being delivered. Some people just think it's funny to say 'Paki'.
He takes a further step into this ethical minefield with a routine which argues that it is more discriminatory to exclude people with disabilities from his humour than to mock them just like everyone else. He's possibly on thin ice here, but it bears his weight. Just. Although if this gets taken into the wider world without context, it might not be quite so acceptable.
Not that we should get too hung up on this one aspect of what's a generous and cheery show. Nor is the PC-baiting section the only routine that strives to make a point – and as always those with a little more underlying substance prove more appealing than the easy gags. He's got a nice bit about the sexualisation of Miley Cyrus, for instance. And how many comics include in their set 'Let me tell you how I came to the conclusion I believe in God….?' The follow-up is not that funny, but it fleshes out more about Djalili the man, for a crowd who already love him.
There are also a couple of entertaining, borderline-luvvie anecdotes about the time he met Robert Redford or Oliver Read (did he mention he's been in Hollywood movies?) which also happen to be included in his new book, Hopeful, on sale in the foyer and permanently propped up on stage, just as a reminder.
Perhaps the best representation of his act is the name-in-lights behind him, projecting the notion of pure sparkly showbiz… but it takes a few seconds for the M to light up, so it reads OID for a short while. It's such imperfections behind the glitzy exterior that actually prove more interesting, and Djalili is so adored by his audience he could afford to offer little more of this.
Review date: 22 Nov 2014
Reviewed by: Steve Bennett
Reviewed at: Tunbridge Wells Assembly Hall
Recent Reviews
What do you think?