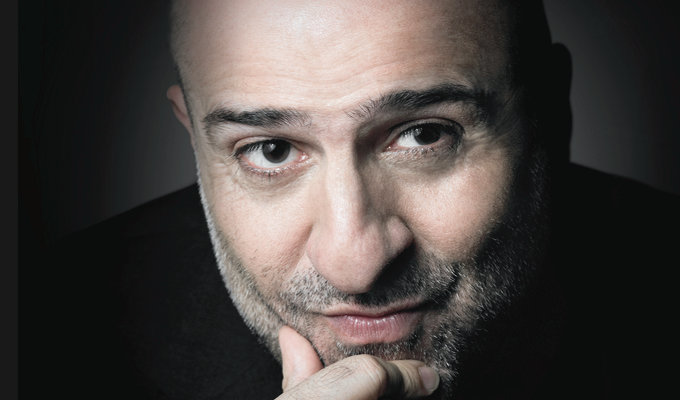 Omid Djalii etc at Greenwich Comedy Festival
Note: This review is from 2015
Zero stars for the food stall that takes more than 20 minutes to get a bag of chips... But isn't that typical of a comedy-in-a-tent festival? The feeling of something special overwhelming any reservations that there might be a more practical way of doing things.
And when you have a setting as gorgeous as the Greenwich Comedy Festival - in the grounds of the National Maritime Museum, with views through the historic Royal Naval College to the glittering Canary Wharf skyline beyond - that sense of occasion is heightened further.
The scale of the event also allows for some A-list booking to ensure the audience are left in very capable hands, as Thursday-night compere Dan Atkinson quickly established. That he used to be a local lad gives his 'posh area versus rough area' badinage extra resonance, though he's surprised at just how many cheers when asked who's from Greenwich.
He certainly has the banter, in its true meaning before its misappropriation by the 'lads', with cheeky storytelling and and even cheekier insults for the overweight blokes who paraded in front of the stage en route to their seats, adding a surprising frisson to his usual friendliness. He tells us a bit about himself, and his move out of the city after becoming a father, but his accidental choice of words that we had acts to 'get through' was unfortunately dismissive to the accomplished line-up.
Danny Bhoy has a masterful control of pace and timing as he regales his stories of when logic has gone askew. In some of them, such as the fancy restaurant which demands he wear a jacket he doesn't have or his teenage grapplings with an oral French exam, the course of the routine can be obvious, but the way he draws it out makes for a seductive tease.
That evocative scene-settings combines with some elegant turns of comic phrase on everything from the length of his singledom to the tightness of hotel sheets to make for a classy set, despite a few more predictable 'what's the deal with…?' observational snippets.
He certainly endears himself to the 'room', and in a similar vein it's hard to image someone who couldn't be charmed by Joe Lycett's disarming camp. In some ways he's the successor, in toned-down form, of Larry Grayson, gossiping freely about the shortcomings of friends and enemies alike – from ruinous, boozy pal Clare to the laddish TA squaddie he encountered on a stag do who's alpha-male facade is the polar opposite to Lycett's easy-going, flirtatious charisma.
Even in this large marquee, he comes out of the spotlight and sits on the front of the stage to establish both intimacy and to level the statuses: he's on the same level as the audience,no better or worse. Though comedically, of course, he's so much better. And while all seem like gossip, Lycett slips in some social points about the likes Islamophobia – but quickly undercuts any potential pomposity with a sharp line.
Finally, Omid Djalili, who's long had the chops to work almost any room, with his mix of ethnic stereotypes (Egyptian football commentators and stubborn Nigerians get a mocking tonight), old-school entertainment and forceful performance techniques. He plays up any potential offence he might have caused on TV appearances to raise the jeopardy – even though the payoff is almost universally playful. Only when he says 'retard' does the room bristle a bit.
But primarily he knows Britain's love of the old-school joke, admired even as they get groans. He serves that appetite well, an formidable vaudevillian spirit coursing through every cheesy punchline or exaggerated caricature. He, too, wins some local brownie points – in his case for affectionate mention of the late Malcolm Hardee, doyen of Greenwich's Up The Creek club. It's training in sometimes bawdy venues such as that which has given Djalili his dominant, almost interruption-proof, persona.
Review date: 19 Sep 2015
Reviewed by: Steve Bennett
Reviewed at: National Maritime Museum
Recent Reviews
What do you think?