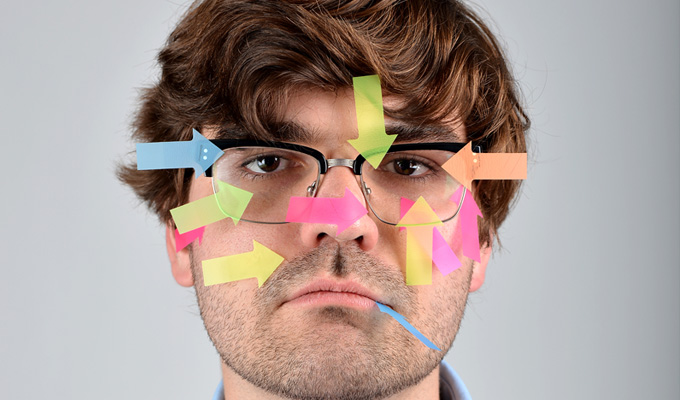 John-Luke Roberts
John-Luke Roberts: After Me Comes the Flood...
John-Luke Roberts had one of the best shows at last year's Fringe, with absurdity, machine-gun gags, a linking philosophy and a wonderfully silly Spice Girls motif that was a delight from start to finish.
After Me Comes the Flood (But in French) drip splosh splash drip BLUBBP BLUBBP BLUBBPBLUBBPBLUBBP!! is a more conventional offering – at least by the standards of a man whose very moustache is a colourful artistic statement – a one-man sketch show. However nothing is ever quite straightforward with Roberts, and what sets this apart, aside from the gloriously silly title courtesy (kinda) of Madame de Pompadour, is that he tells us all the punchline ahead of time. His argument that since a joke necessarily involves upsetting the natural order of things, he doesn't want to terrify us with that sort of a shock.
Of course with the sort of strange comedy Roberts deals in, knowing an out-of-context non-sequitur ahead of time is unlikely to spoil any gags, even if you do find yourself scanning the menu of options to see how a scene might end.
While surrealism is at the fore, lots of running jokes give this show coherence, But while the recurrence of some scenarios is a welcome sight, that's not always the case. The Oompa-Loompas with their passive-aggressive songs are a delight, but the repeating character of The Abyss and references to Nietzsche make it a bit too self-consciously self-indulgent, without the payoffs needed.
On firmer ground, we also meet some Pythoneque witches, hear a knock-knock joke that takes a twist worthy of Inside No 9 and wonder if Jiminy Cricket is really the best moral arbiter for Pinnochio. The brilliant pre-Great Vowel Shift language of his old Geoffrey Chaucer character makes a brief, and welcome, guest appearance, while Roberts's recreation of Isaac Newton's apple-tree moment has surely one of the daftest punchlines of the Fringe.
Dressed in a salmon pink suit, Roberts is always aware of how pretentiously silly he's being, and the whole hour is performed with a figurative wink to the audience. The show is at its best when he breaks the fourth wall. But the large space he's in this year is not his friend; like most comedy he thrives in a more claustrophobic environment.
The show's a little disjointed, and some of the more ambitious moments something of an over-reach, given the grip on reality is already tenuous at best. But Roberts is as uniquely inventive as ever, hitting wonderful peaks even if the hour is inconsistent.
Read More
Published: 7 Aug 2019
John-Luke Roberts asserts a serious purpose for his…
5/08/2018
The one thing John-Luke Roberts wants from this show…
14/08/2017
John-Luke Roberts has a catchphrase to describe his…
28/08/2016
Making jokes about 'dead dad' Edinburgh shows…
31/08/2015
Intelligent, precise and deadly funny, John-Luke Roberts…
15/08/2014
There's more invention on display in John-Luke Roberts'…
9/08/2013
The Alternative Comedy Memorial Society is not just…
31/10/2012
Like all the best ideas, the premise for Voices In…
31/10/2012
John-Luke Roberts and Nadia Kamil have never quite…
16/08/2011
The quirky bookshops and independent record stores…
4/07/2008
John Luke Roberts and Nadia Kamil have a pair of the…
1/01/2008
The BBC might have downgraded its new comedy awards,…
1/01/2006
Cambridge student Luke Roberts opens his set with…
1/12/2005
Past Shows
Agent
We do not currently hold contact details for John-Luke Roberts's agent. If you are a comic or agent wanting your details to appear on Chortle, click here.