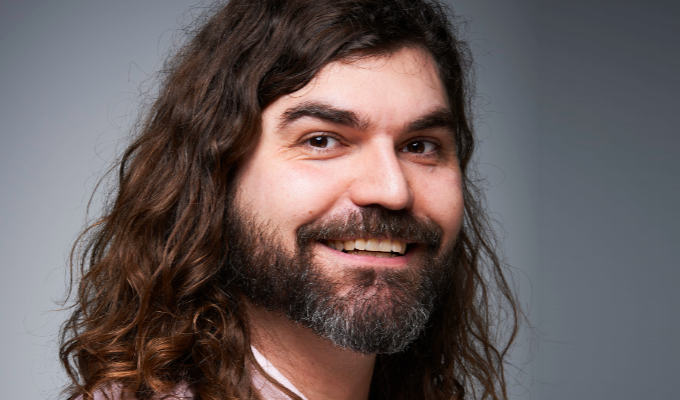 John-Luke Roberts
Alternative Comedy Memorial Society [2021 Fringe]
Whatever the limitations imposed on this year's Fringe, it must be in reasonable health if the Alternative Comedy Memorial Society can still be part of it.
This long-running night is the cognoscenti's hangout, a research lab of comedy where the untested and the self-indulgent is not just welcomed but insisted upon. In-jokes abound, codified in the list of approved heckles, now numbering 30 and including the likes of 'it's Coronation Street!' and 'Twisted fire hazard'
This is the second of just two shows this festival, co-hosted as always by John-Luke Roberts, with Eleanor Morton standing in for an absent Thom Tuck. She and Roberts share a therapist, so they've plenty to talk about when they should be introducing acts. Meanwhile, her pointless card tricks and conversational cul-de-sacs perfectly fit the low-stakes vibe.
The audience are forgiving, accepting experimentation and rapturous with their response when it works. In this crowd, everyone is delighted to be comedy insiders, so 'in the know' that when a comic mentions management agency Avalon it gets a huge row. Regular performers like Tuck and Joz Norris are characters in the evening, even when not here.
Kicking off, Ahir Shah leaned into the ethos by improvising new lines, or part-lines, for Allen Ginsberg's Howl but based on gossip from previous Fringes. His initially faltering performance is forgiven by an audience happy to accept insider gossip as a reward. It's refreshing to see an act who's usually so tightly scripted and intelligently passionate, kicking back being mischievous and laughing at their own jokes
Next, Alex Kealey decided to do one of his routines but with every fourth word replaced by 'bottle' – even words crucial to the joke. He may have lost confidence in the idea a minute in, but the audience didn't, and he persevered anyway It's the epitome of the night's call-and-response motto: 'A failure! But a noble failure.'
'You're good people,' he tells the crowd who indulged him. They know that.
It might be considered cheating for Tom Little to have kicked off with established material, but his dismissive trashing of Leonardo Da Vinci is just such an hilarious and well-crafted bit of stand-up it's a delight to hear. About time this renaissance genius was taken down a peg or two.
More in keeping with the ACMS vibe was his idea of mixing of Alan Bennett and David Bryne's very different Talking Heads, even funnier because he's so bad at Bennett's Leeds vowels.
Next up came the absurd group Logs. It's not the done thing to share jokes in reviews, of course, but I hope they'll forgive me for this blatant spoiler of the killer line that got the biggest laugh of the whole show. It was: 'Hello, I'm Robert.'
Yes, you did have to be there. But their act, showing religious devotion to celebrating the humble log, is absurdity at its finest, taking a preposterous idea and absolutely committing to it. Puns abound but it is the wonderfully absurd visual images created by this trio that will endure.
Opening the second half, Mark Watson offered his customary commentary on what had gone before, cementing the idea that this was an underground clique of cognoscenti sharing a unique experience.
ACMS requires something new, but as one of the Fringe's most creatively and logistically ambitious comedians there isn't much Watson hasn't tried over the past two decades. But there was one thing he hadn't attempted until now: being an aggressive, trash-talking crowd-work comedian. Needless to say, his heart, hilariously, wasn't in it.
Fake kids TV star Peter Fleming - you may remember him from such shows as Nicholas The Mischievous Cupboard - then exposed the secrets of any Blue Peter presenter the crowd cared to mention. And there were a lot, but Tom Burgess, the man behind this preternaturally cheery character, never once paused for breath in his catalogue of preposterous trivia.
Finally, Chris Thorburn proved that you can do song parodies inventively, setting the plots of cult Hollywood movies to well-known hits. The unique angle, the semi-obscurity of the references and his devotion to belting out the songs all combine for a crowdpleasing finale.
ACMS exists in the very best traditions of the Fringe, a lively late-night gig where you cannot predict what oddities you might see – and the audience celebrate each act for their efforts, however roughly hewn or off-the-wall they might be. In fact, the more like that, the better.
• The Alternative Comedy Memorial Society returns to Signature Brew in Haggerston, East London, on August 30 and September 27.
Read More
Published: 14 Aug 2021
John-Luke Roberts had one of the best shows at last…
7/08/2019
John-Luke Roberts asserts a serious purpose for his…
5/08/2018
The one thing John-Luke Roberts wants from this show…
14/08/2017
John-Luke Roberts has a catchphrase to describe his…
28/08/2016
Making jokes about 'dead dad' Edinburgh shows…
31/08/2015
Intelligent, precise and deadly funny, John-Luke Roberts…
15/08/2014
There's more invention on display in John-Luke Roberts'…
9/08/2013
Like all the best ideas, the premise for Voices In…
31/10/2012
The Alternative Comedy Memorial Society is not just…
31/10/2012
John-Luke Roberts and Nadia Kamil have never quite…
16/08/2011
The quirky bookshops and independent record stores…
4/07/2008
John Luke Roberts and Nadia Kamil have a pair of the…
1/01/2008
The BBC might have downgraded its new comedy awards,…
1/01/2006
Cambridge student Luke Roberts opens his set with…
1/12/2005
Past Shows
Agent
We do not currently hold contact details for John-Luke Roberts's agent. If you are a comic or agent wanting your details to appear on Chortle, click here.