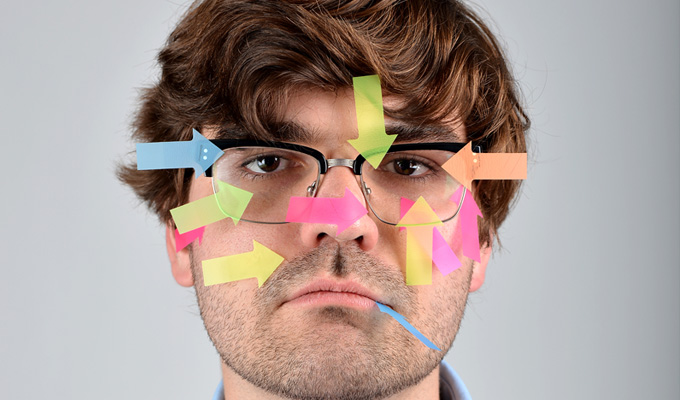 John-Luke Roberts: Stnad-Up
Note: This review is from 2014
Intelligent, precise and deadly funny, John-Luke Roberts gets away with silly prop humour and ridiculous sing-along nonsense and make it really work.
Almost immediately out the blocks Roberts is frantic and dramatic. He uses a set of chattering false teeth and a flip board of crudely drawn pictures to draw his spectators' attention away from the imaginative and calculated jokes thrown in seemingly at random. The prop stuff shouldn't be funny but it works so well in giving balance that the whole becomes greater than the sum of its parts. It's fantastic.
With several distinct segments to the hour, there is no congruence to speak of. Unpredictably creative, well-planned mini-routines fall together, with no time to settle in and become familiar before he is off again on a new tangent. There is stand-up of sorts, singing, of a kind, character play and performance art that in another context wouldn't work. But here it's ironic and it's funny.
He stalks the crowd seeking victims to sling a steady stream of pre-written insults at. He barks them at each in turn to howls of laughter, the random impersonal nature making it OK for him to say truly awful things to people. He has given himself permission to be terribly abusive and the audience love it. How couldn't they? It's hilarious.
He's loud and in-your-face; there is not a pair of eyes that are not fixed on him intently, wondering what next will come from his mouth... or trousers. There were a few quieter moments when most the audience tried to figure out what was coming next, or what was going on right now. But these downtimes only let the big laughs come harder when they did.
Roberts is eccentric and controlled, with a brilliant awareness of the discipline of comedy, and his own peculiar take on it.
Review date: 15 Aug 2014
Reviewed by: Graeme Connelly
Reviewed at: PBH's Free Fringe @ Voodoo Rooms
Recent Reviews
What do you think?