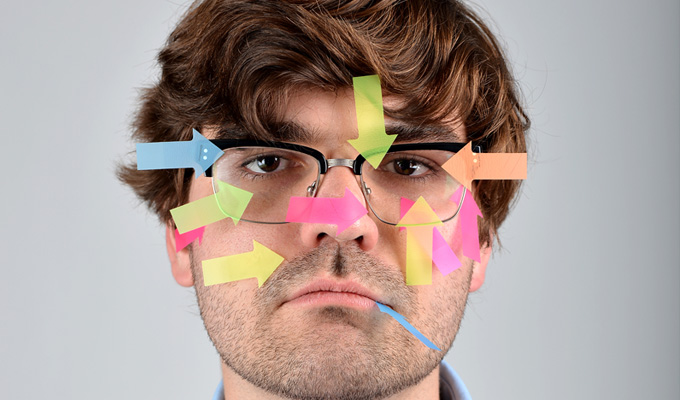 John-Luke Roberts: Broken Stand-Up
Note: This review is from 2013
There's more invention on display in John-Luke Roberts' show than your average science museum.
He is redolent of a younger Simon Munnery, always working on eccentric new ideas and smartly twisted jokes, which he unveils without much fanfare to a too-small audience not always entirely sure of what to make of him.
The highlight, as it was in his last solo offering in 2010, is the catalogue of creatively brutal putdowns he has prepared on a deck of cards, doling them out randomly to each and every audience member in turn. You haven't been insulted until you've been insulted by Roberts, who has the most wonderfully obtuse way of calling you ugly and/or stupid.
But it's not all gratuitously abusing the audience, fun though that is. He starts with a nicely bonkers song and dance, as alternative as you could hope to expect from a co-founder if the Alternative Comedy Memorial Society. He has characters, too, including Alan The Button, delivering some stand-up philosophy, funnier than many people's comedy acts. Sadly, though, there was time for only a glimpse of his creation Cobb The Merry Cuckold.
Visual gags are delivered by the medium of flip chart, while a poignant Johnny Cash song is rendered wonderfully ridiculous through the use of some plastic comedy teeth. For a smart comedy thinker, Roberts – a Cambridge graduate no less – is frequently very silly. It's absurd, but with a sharp script and proper jokes.
The bitty nature, both in style and content, might make this esoteric hour difficult to pigeonhole – and it's true that some of the ideas are better in inspiration than they are in execution. Part of that's down to an aloof nature that doesn't always connect witht he audience the other part if the product of a fertile mind prepared to risk failure trying something a little more out of the ordinary.
Review date: 9 Aug 2013
Reviewed by: Steve Bennett
Recent Reviews
What do you think?