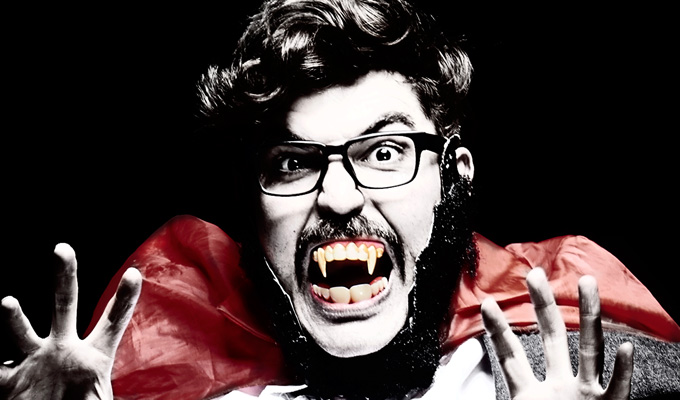 John-Luke Roberts Builds A Monster
Note: This review is from 2016
John-Luke Roberts has a catchphrase to describe his comedy: 'High concept, low art.' And that seems as good a tagline as any.
Builds A Monster is not presented by him, though, but The Monarch, a melodramatic horror caricature, somewhere between a fat vampire I like to call Draculard and the father figure he played in last year's Stdad-Up. This is a manifestation of Roberts' nightmares, a representation of the fears that dominate his id, which has been battered by depression. But for all that self-psychoanalysis, the show a lot more accessible than 2015's offering, while being no less absurd.
The hour positively fizzes with invention, and what might superficially seem like nonsense is underpinned by keen comic writing, an irresistible combination of solid jokes stemming from off-the-wall premises. And his performance, influenced by his time at the Gaulier clown school, is perfectly pitched with expert timing and some ridiculous physicality.
His authoritarian command of the audience recalls Simon Munnery's tinpot despot League Against Tedium, but with more mischief. He appoints a couple of lickspittles from the audience to retrieve his cape and comedy teeth, which keep coming untethered, and brusquely orders them to apologise whenever they slip below his impossibly high standards.
The Monarch has premonitions of how we will all perish and reveals the morbid truth, a torch lighting him from below for maximum spooky drama as he lays out the preposterously convoluted deaths.
There are a few random sketches, from imagining the inner monologue of a spider, coming up with the most inventive way to drink a can of beer, and revealing to Bertie Bassett's torment, revealed as a postscript to a chilling tale of The Monarch's accommodation arrangements. Even politics is covered, with a delightfully off-kilter skewering of Liam Fox.
Describing the show will inevitably make it sound weird and avant-garde, but those elements are tempered with great jokes, and the knowledge that anything strange is deployed in the name of a laugh, not pretension.
Roberts starts the show by lip-synching to the lyrics of Seinabo Sey: 'There's a conclusion to my illusion.' There probably is if you seek it, but just going along for the insane ride is rewarding enough. For this is alternative comedy close to its pinnacle.
Review date: 28 Aug 2016
Reviewed by: Steve Bennett
Reviewed at: PBH's Free Fringe @ Voodoo Rooms
Recent Reviews
What do you think?