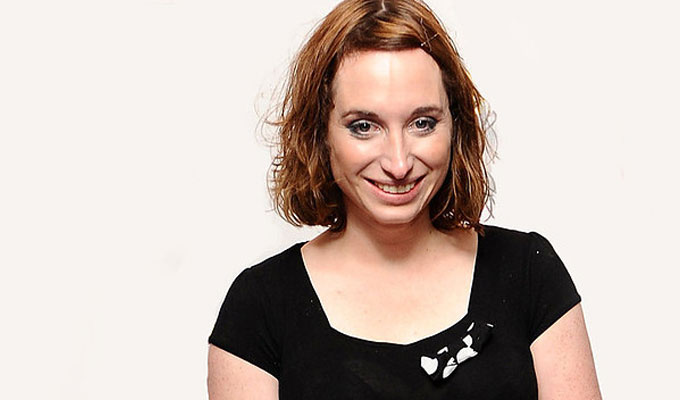 Isy Suttie
Channel 4 gets Damned again
Jo Brand's social work sitcom Damned is returning to Channel 4.
Alan Davies, Kevin Eldon, Isy Suttie and Himesh Patel will all return alongside Brand in the new series, set in a chaotic children's services department.
Chortle understands that she is once again writing new episodes with co-creator Morwenna Banks and stand-up Will Smith.
Earlier this week she tweeted: 'I'm busy writing a new series of 'Damned' but in the meantime 5 weeks til @rednoseday.'
Banks, Georgie Glen, Nick Hancock, Ricky Grover, David Reed and Paul Charlton were among those with recurring roles in the comedy, while Smith and other comedians including Aisling Bea, Diane Morgan, Harriet Kemsley, Jonathan Pointing and Catriona Knox have guest starred.
Speaking when the first series was commissioned, Brand said: 'As the daughter of a social worker, who worked for many years in child protection, I grew up seeing social workers go unrecognised for the good things they did and castigated for the bad. It's like being a traffic warden without the perks.
'Damned is an attempt to portray the tragic-comic lives of social workers, always under pressure, always in possession of a grim sense of humour and always wrong in the eyes of the public.'
Damned was previously developed by rival broadcasters. It was originally table-read at the BBC and a pilot, which also featured Romesh Ranganathan and Rebekah Staton, aired in 2014 as part of Sky Arts's Playhouse Presents strand.
Damned averaged around a million viewers when it aired in the autumn and was generally well received by critics. The Guardian called it 'beautifully bittersweet', while the Daily Mail thought it was a 'stinging office burlesque'.
The Observer was more reserved, calling it 'wincingly funny in parts, but the whole has yet to surpass the sum of its parts', while the Daily Telegraph thought it wasn't hard-hitting enough, saying it 'was warm and well-observed but it should have been scabrously funny'.
Earlier this week it was revealed that Brand would be one of the celebrity judges on Let's Sing and Dance for Comic Relief next month.
– by Jay Richardson
Read More
Published: 9 Feb 2017
Isy Suttie is writing a coming-of-age memoir.The Peep…
12/12/2014
Frankie Boyle is leading a cast of comics in a new…
16/04/2014
Isy Suttie is to play the creator of the A-Z maps,…
8/11/2013
Isy Suttie has won the top award in radio comedy.The…
14/05/2013
Richard Herring's Leicester Square Theatre Podcast…
10/04/2013
Sky Living has commissioned a series of six romantic…
15/11/2012
Isy Suttie and Johnny Vegas are to voice a new children's…
10/07/2012
Radio 4 has annouced a batch of new comedy shows,…
30/11/2011