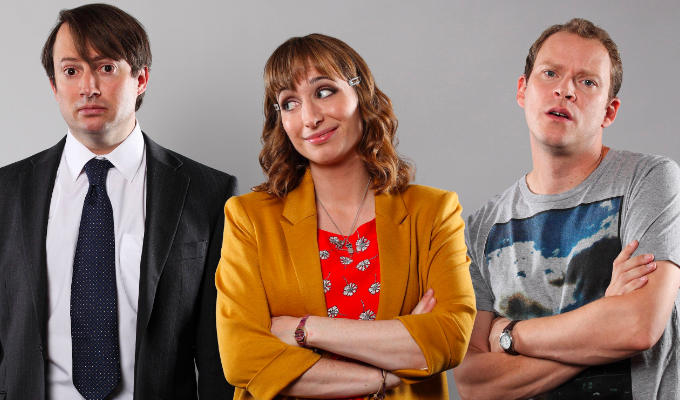 Isy Suttie: They asked if I'd film a Peep Show movie in New York
Isy Suttie has revealed how close we were to getting a Peep Show movie – and that the comedian is still keen to take part should the chance return.
Speaking to Always Be Comedy to promote her new novel Jane Is Trying, Suttie says plans were so advanced that she was asked if she'd film in New York, where her character, Dobby, had moved.
'At one point they were going to do a Peep Show filmm' she said. 'They were talking about doing it when Dobby went to New York. And they said, "Would you like to film in New York?" And I said, "Yes!"
'Imagine if I'd said, "I'd really like to do a film, but I won't film in New York!"
'Again, for whatever reason, it just [didn't get made]. I'm still up for it. I'd be up for it. Definitely.'
Suttie adds: 'As the years go on, I think maybe they could do a special.'
It was revealed earlier this year that there were also tentative plans for a spin-off TV series focused around Dobby, the love interest of David Mitchell's Mark.
But Suttie says the film always 'seemed to be more of a serious idea than the Dobby spin-off' – and that she felt the show was never meant to be
'The scripts were brilliant and it felt really fun. And they were brilliant women who came in [to read for other parts],' she said. But I don't think I truly believed it would happen, and then it didn't. I didn't feel like my dreams were shattered.
'It was so early on and never really developed. It would have been amazing, but didn't really look that far down the line.
'Another problem with the Dobby spin-off: I want to hear Mark and Jez's thoughts. And I'm not sure it would have worked quite as well. To sustain a whole series, it's the combination of Mark and Jez's thoughts that work.'
• Always Be Comedy run shows both online and in south London. More details here
» Chortle's review of Jane Is Trying
Published: 15 Oct 2021
What do you think?