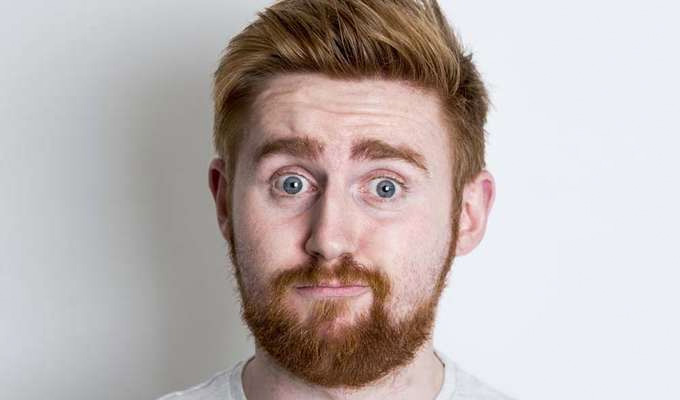 Gareth Waugh
Placed joint third in the Scottish Comedian Of The Year competition 2012.
Read More
Saturday Night Live at The Stand
Nothing beats a live gig, but if this is to be the new normal of stand-up comedy for a while… well, it's not too bad.
Phill Jupitus, Jo Caulfield, Mark Nelson, Gareth Waugh and Vladimir McTavish gathered at The Stand comedy club in Edinburgh last night to perform just for each other, and a small handful of technical staff – all the recommended two metres apart.
But as a couple of the acts alluded to, some comics have been training for all their lives with minuscule audiences part and parcel of every Fringe festival.
There was, though, a crowd at the other end of the live-stream. And quite a sizeable one, peaking at 7,000 – more than 40 times the room's capacity. The production values, from local company Dabster, were slick, in contrast to the iPhone-in-the-bedroom offerings of most isolated comics pumping out content, even if the audio was a little out of sync.
Introduced by a copyright-free approximation of The Stand's usual theme tune, Reet Petite, host Nelson performed as if there was a proper crowd in front of him, building up the atmosphere and delivering a few barbed topical gags and a great anecdote about going swimming with his son. If the circumstances were bizarre, you'd never know it.
The home audience was encouraged to get involved by sending messages (an ideal situation, Nelson claimed, as it would give him plenty of time to come up with the perfectly devastating putdown for any heckle).
In the end, the interactions were a little 'local radio phone-in' – although the NHS heroes deserve every shout-out they get.
Opening the bill was Caulfield, who asserted she wasn't going to be giving away her material for free, so crowdsourced from other comedians – and performed ropey impressions of them as she did so.
The likes of Seann Walsh, Zoe Lyons, Mick Ferry, Gary Delaney and Bennett Arron contributed, and if some of Caulfield's commentary was a bit of an industry in-joke, The Stand's audience is more comedy-savvy than most and there were some good gags contributed. Personally, I – and the sparse audience in the room – liked one of Mark Simmons's contrived puns that Caulfield hated.
Waugh more traditionally did his own material, giving a topical twist to a familiar Lidl observation; offering an enjoyably bemused take on how his partner had set up social media account for their dogs; and a strong routine about ghosts and his entirely irrational approach to it.
At one point he seemed to go off-script, perhaps a panic reaction to the unusual circumstances, and he used the intimacy of the gig to share more than he would with a packed Saturday-night crowd. But it added an extra note of humanity to a solid set.
McTavish, the stage name of Stand director Paul Sneddon, offered his usual mix of self-deprecation – largely about his advance years (62) – and politically aware social observation about how the convenience of the likes of Deliveroo comes on the back of Victorian employment practices.
Finally headliner Phill Jupitus who, as per most of his live performances these days, reverted to his Porky The Poet roots – a sensible move since verse has less need of an audience to bounce off than stand-up.
Offering some bang-up-to-the minute topicality, he warmed up with a haiku for Kenny Rogers and a poem he'd written that day, delivered with notes still in hand.
Like Waugh, he digressed into something of a personal rant about the collapse of the art degree he was studying at Duncan of Jordanstone college in Dundee (where he was writing a thesis on The Clash) because of coronavirus.
But that was more than balanced by his well-practised poems about Jeremy Clarkson, suitably scornful, and a lament about the tough times he had supporting Madness on tour.
And so ended a strange but rewarding gig was not (just) for stagestruck comedians to feed their performance addiction during the lockdown. It served as something of a shared experience when such things are in short supply – as well as being a fundraiser for The Stand. Audiences were asked for donations to help keep the three clubs – in Edinburgh, Glasgow and Newcastle – going through the lockdown. You can do the same here, while watching the show, which remains on YouTube.:
Read More
Published: 22 Mar 2020
At the close of his show, Gareth Waugh justifies its…
11/08/2017
All change for the 2015 Scottish Comedian of the Year…
30/11/2015
This short, rhyming play is a complete gem, written…
20/08/2014
As new act competitions go, the Scottish Comedian Of…
2/10/2013
It could be lucky number seven for the Scottish Comedian…
6/11/2012
Past Shows
Agent
We do not currently hold contact details for Gareth Waugh's agent. If you are a comic or agent wanting your details to appear on Chortle, click here.