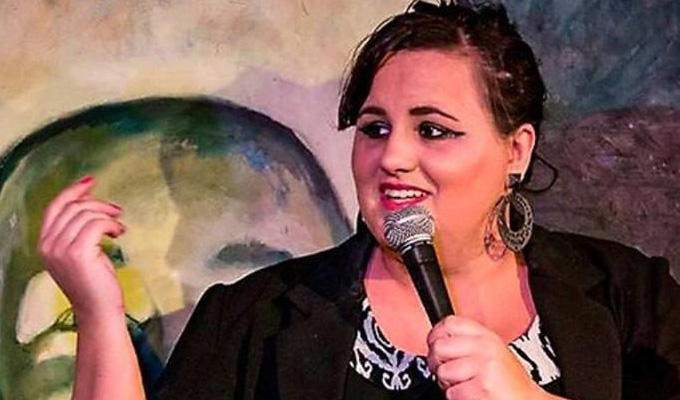 Scottish Comedian Of The Year 2015 final
Note: This review is from 2015
All change for the 2015 Scottish Comedian of the Year final, staged outside of Glasgow for the first time in its decade-long history. Part of Edinburgh's winter festivities, the Spiegeltent offered a more intimate mood than previous instalments and perhaps muted the competitive edge a little. And that wasn't the only first on the night, as we shall see…
Having previously graced this contest to no great distinction as his mildly macabre character Rosco McSkeleton, Rosco McClelland had a far greater impact performing as himself. Retaining his gravelly growl and sporting a bobble hat, his offbeat musings and exaggerated visual imagery feel less forced coming from an act with one foot in the real world, that of a comic actually gigging in small towns where human heads are found in bins.
The crowd warmed to his playful lines of enquiry about dogs that he chucklingly lobbed at them, expanding the sort of half-remembered, natural history factoid that sounds plausible to a stoned mind into a routine that ambitiously subverted the rule-of-three. Likeable enough to close on silly puns and trivial nonsense about the contraceptive coil, McClelland is approaching shades of Tony Law-style buffoonery, emerging as an act with a viable future in stand-up.
As the least experienced comic in the final, Kavita Bhardwai betrayed some nervousness, occasionally losing her train of thought and glancing at notes on her hand. Yet while the Glaswegian leans heavily on the elderly denizens of her West End neighbourhood being unable to comprehend her being Scottish rather than Indian, she has a breezy charm that ought to sustain her as she develops.
Her routine about Busflix, a version of Netflix for bus enthusiasts required further explanation if it wasn't to remain inexplicable. And she achieved unfortunate kudos with perhaps the most impactful line of the night. Musing that as a major city, Edinburgh could be subject to Paris-style attacks, there was an uncomfortable shuffling in seats as the crowd contemplated this hitherto unconsidered possibility. Still, Bhardwai has got a cracking line about her brother's extremist tendencies, and the stronger elements of her set mischievously play on East-West culture clashes.
Christopher Macarthur-Boyd established his underdog status with tried-and-tested allusions to his celebrity lookalikes, wringing every available laugh from them with slickly deployed toppers. Short, asthmatic and bespectacled, he initially projects bravado in his encounters with women but invariably cuts himself down to size with well-timed punctures of his ego and successful plays for sympathy. The contrivance of some of his writing can't overshadow his act's polish and he reveals a comedy nerd's informed tweaking of singleton stand-up convention. Cannily, he aligns his frustrated love life with Scottish nationalist politics, a rousing, Braveheart-style speech allowing him to whip up Cheers before the inevitable self-deflation. A crowd and judges' favourite, he deservedly took second place.
Closing the first section with another tightly honed, self-mocking turn was Gareth Waugh, taking the mike to the bellow of Edwin Starr's War, before acknowledging how badly the lyrics served him.
His set about struggling to buy alcohol because he appears underage and trying to seduce a girl with a feigned love of astronomy had bagged him third place in this competition before. And it had the same result here, the nicely crafted lines and his general assurance, supplemented with a few topical gags, earning him the bronze position. Waugh continues to show plenty of potential as a young-ish, drolly engaging act and bigger things likely await. But he's still searching for greater presence to make a real breakthrough.
Rather less measured is Jellybean Martinez, the flamboyant Spanish creation of Matthew Ellis. In skintight trousers, frilly shirt and tartan bunnet, this Eurotrash narcissist flaunts his drug intake, sexual insatiability and dodgy puns, thrusting his camp frivolousness squarely in the front row's faces.For his latest appearance in the competition, Ellis had obviously decided to throw all caution to the wind, overrunning wildly as he dragged a volunteer up (in both senses) to serenade him, enacting a grand love affair with a memorable finish.
Loud and proud, the sheer ludicrousness of Martinez makes him difficult to forget. And yet the character has never felt wholly distinctive, a ragtag collection of Hispanic clichés with an ill-defined purpose who lacks consistency – at one point breaking into cheesy white soul balladeering with a distinctly US accent. Nevertheless, he unquestionably made his mark and was in serious contention for a top three placing.
A latecomer to stand-up, Gary Meikle has a compelling backstory of being a middle-aged single parent to a 20-year-old daughter. Although a natural storyteller, he is less accomplished at pacing a ten minute set than an hour, occasionally labouring the set-up when he needs to get to the punchlines faster, as with his ingenious thoughts about packing parachutes on commercial flights.
Elsewhere though, especially with regard to his daughter, some of the charm of his recent Edinburgh Fringe show was lost as he failed to properly set up the parent-child tension surrounding her burgeoning sexuality, reverting to cheap gags. An inveterate cheeky chappie who grounds his comedy in male-female relationships, Meikle nonetheless confounds expectations of a laddish, working-class Glaswegian, cheerfully declaring his preference for strong, dominating women. Although still a raw, instinctive performer, he's a distinctive voice who looks set to make a name for himself.
A veteran of this competition, and indeed of the Scottish circuit, David Bratchpiece, of the Bratchpiece dynasty of comics, if that's not too grand a term for an on-off family business that also includes his brother Neil and father Mark, never truly convinces that he's committed to stand-up.
Notwithstanding the vintage and lowest common denominator trend of his material, he quickly runs out of genuine routines and settles for half-hearted agitprop masquerading as satire – who are politicians to be snooping on our internet histories when some of them are paedophiles? He has an amusing reflection on his Ukrainian great-grandfather getting waylaid en-route to New York, which unfortunately suffers by comparison to Pierre Novellie's superior treatment of the same subject. And he ultimately settles for a tedious manifesto, seeking the deportation of Katie Hopkins and legalisation of marijuana, playing to the gallery in lieu of writing actual punchlines.
Finally, came a recent Edinburgh import from Dublin, Daisy Earl, seizing on the plum last spot with a strongly written and delivered set, equal parts deprecation and defiant attitude. Charity muggers are a well-trod topic. Yet the manipulative approach she received recently and the short shrift she responded with showcases a rare cunning.
Although she, too, highlights her unlucky-in-love situation, not exactly helped by her mother's advice and blunt dating websites, Earl acknowledges her failings and weight issues while railing against them, not content to just settle for easy self-mockery. Not everything is as insightful as her hilarious recognition of a lack of understanding of international politics, unquestionably the relatable gag of the night to judge by the reaction it prompted.
Yet her combination of candid vulnerability and onstage confidence was winning, literally so in fact, making her the first woman to triumph in the history of the Scottish Comedian of the Year.
There was the mildest controversy when she accepted the trophy and effusively thanked one of the judges, stand-up JoJo Sutherland, for being her mentor. So it's worth noting for the record that she was the clear winner among the panel of five, who quickly reached a unanimous decision.
Review date: 30 Nov 2015
Reviewed by: Jay Richardson
Reviewed at: Edinburgh Spiegeltent
Recent Reviews
What do you think?