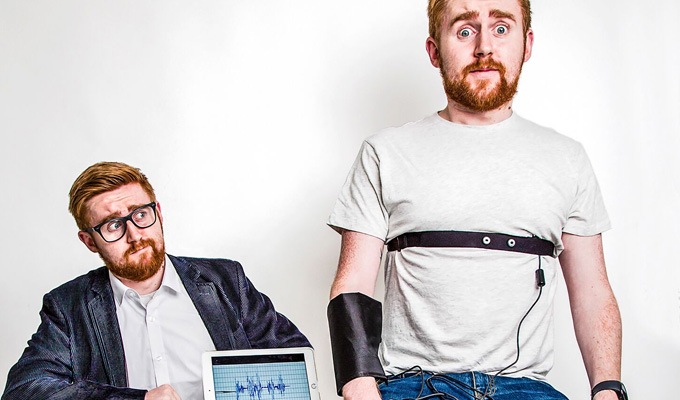 Gareth Waugh: Honestly?
Note: This review is from 2017
At the close of his show, Gareth Waugh justifies its gimmickry with a suggestion that Donald Trump's dubious relationship to facts has made the truth important again. A curious note to end an otherwise impishly light-hearted hour, it's entirely unnecessary, as the Scot's appealing Fringe debut doesn't require this retrospective sincerity.
Playing on the tacit understanding between audiences and comics that what's shared on stage may not be 100 per cent true, Waugh delivers his anecdotes alternately from two microphones, promising to reveal afterwards which half were based in reality and which were fictional. He was inspired to create Honestly? he maintains, by punters coming up to him after gigs, desiring to know if what he'd said was genuine.
He starts with an amusing introductory video, in which he's strapped, Clockwork Orange-style into an interrogation with a lie detector and sceptical interlocutor seeking to prove his suitability for the Fringe through his ego, delusion and overstatement of his comic abilities. It establishes Waugh's persona as an ineffectual, beta male – someone whose encounters with women and drugs tend to be instigated by accident or flaws in his character, rather than his deliberate agency.
Short, ginger and socially awkward, he's a constantly apologising graduate of the much-maligned West Lothian College, not to mention regrettably youthful-looking for a 27-year-old. And he further emphasises his unattractiveness with a gurning, what-am-I-like? commentary on his tales, this aired inner voice sounding like one of Jonathan Watson's more pompously idiotic characters. Although an effective conceit, he occasionally pairs it with deliberately stumbling delivery – a blatant, irksome bit of fraud for setting up additional flights of fancy around the mispronounced phrase.
He doesn't need it. Conveying the jeopardy he injects into his jogging routine by pitting his stamina against imaginary scenarios of loved ones' deaths, or the fear of seeming a loser in front of teenage boys who've asked him to buy them alcohol, Waugh's tales are generally relatable, with just enough twist into the unlikely to be surprising and funny, invariably with him as the butt of the joke.
Indeed, on the rare occasions he evokes his laddish, sexually successful friend as a proxy voice, his deluded, misogynist opinions strain credibility, with the comic much more assured sharing his own motivations. Whether injuring himself with his first kiss or straining to finish the sexual act in a position ill-suited to his height, Waugh carefully sets up an anecdote so that you feel, disturbingly, as if you're in the room with him, participating in the awkwardness.
Appropriately, his two most memorable stories hinge on him being unable to fathom reality after taking drugs, older comedians his enablers on both occasions. As a callow young stand-up, performing at the Wickerman Festival, Waugh naively participated in recreational snorting with his peers. But it was Mark Nelson alone who so cruelly stoked his paranoia into a nightmare trip.
Tom Stade gets a similarly accurate impression, his blasé approach towards meeting his fans placing him, Waugh and the Canadian's son in significant peril when a late-night situation got intense, with Waugh's MDMA-racing mind arriving at the reality of their predicament far quicker than the relaxed headliner. With little filter and a far more open, laissez-faire attitude, it's hard to imagine Stade performing a show like this, the second-guessing required alien to his nature.
Personally, I found Waugh's back and forth between the microphones blurred which set of stories were which – and perhaps a prominent visual summary at the end would be helpful.
But then, I'm not sure I greatly cared. I'm unconvinced Honestly? would suffer for being more conventionally delivered, with Waugh a competent and likeable enough comic to retain attention without the framing device.
Still, I was conscious of other audience members debating the issue as we left, so maybe he has indeed discovered a compelling new direction for stand-up.
Review date: 11 Aug 2017
Reviewed by: Jay Richardson
Recent Reviews
What do you think?