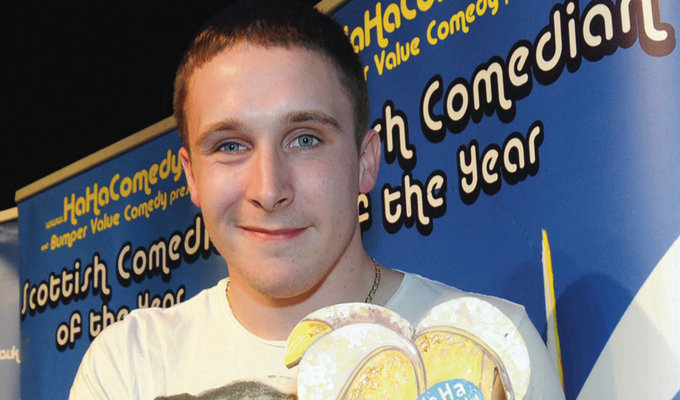 Scottish Comedian Of The Year 2013 final
Note: This review is from 2013
As new act competitions go, the Scottish Comedian Of The Year, or SCOTY, has several points of difference. First it's strict(ish) about the geographical credentials of its entrants; second its final is a properly grand affair, with an audience of around 700 queuing round the block of Glasgow's O2 Academy last night.
And finally it's not a new act competition at all. Comedians of any experience are eligible to enter, providing they are willing to go to the small gigs that are the heats. Technically, Billy Connolly, Frankie Boyle and Kevin Bridges could contest the final.
In practice, though, it gives a platform for those comics who might still be good beyond the novelty of the new; a useful halfway house in a comedy landscape that often ignores the middle ground between exciting rookie and celebrity theatre-fillers. This year's finalists ranged from Andrew Learmonth, who was in this very final five years ago, to Ross Mclellan, whose heat was only his sixth ever gig... Though in the event only a few managed to do work of interest.
Opening act Ally Houston was one of those with more intriguing material, although his deadpan, low-confidence monotone dies nothing to sell it. He has puns both inventive and creakily old mixed with surreal prop comedy that's weird without higher purpose. At his best, he has the wherewithal to allow an obtuse, slow-burning gag time to work its way round the room; at his worst he repackages 'dad jokes' in search of the cheapest of laughs. Too inconsistent by half, but he's got some promise
Newcomer Mclelland unfortunately let his inexperience show; pacing nervously around the stage and demonstrating little discipline in his writing as he delivered an wildly uneven set which leant heavily on his ill-thought-through gimmick of wearing several layers of T-shirts to be stripped away to pictorially depict each portion of his set. In style he lurches uneasily between nerdy fan-boy anger that Ben Affleck will be the new Batman, via weedy puns, to poorly-considered jokes about anti-Taliban education heroine Malala Yousafzai. You cannot dismiss anyone so new, but he was several leagues out of his depth here.
Learmonth came next with a distinctive set, delivered with a steadfast resolve to stick to his guns even when he couldn't bring all the audience with him. Starting with a barrage of proper jokes born from his hatred of Kilmarnock, he offered unusual takes on everything from being an ex-homosexual to bad chat-up techniques or a trip to Amsterdam, always blurring the line between fact and fiction, but occasionally being crude for crude's sake, too, which isn't so laudable. He was also the only comic on the bill to talk devolution – albeit as a set-up for a silly suggestion as to what any post-independence currency should be called. His originality secured him second place even if he's not entirely consistent, despite all those gig-hours under his belt.
Hometown boy Allan Park is an absolute natural on stage, and played well to a local crowd who can identify with tales such as going to the bleak Savoy nightclub. But his gags, crowdpleasing as they are, are so very old fashioned with set-ups along the lines that his girlfriend's so fat/ugly, or Aberdonians have a reputation as sheep-shaggers. He even does a 'your ma...' insult. Elsewhere references to Gary Glitter or vajazzles - separately I should clarify - land chuckles from the audience, but it all seems very lazy.
Talking of which, Chris Davis has some observations on the difference between dogs and cats, shopping in Lidl (and self-service scanners elsewhere), and a the 'rapey' experience of encountering a naked German in a sauna. All of which mild observational shtick any regular comedy-goer will have heard plenty of times before. He's a charismatic young guy with an engaging energy, but surely even E4 is full to bursting of presenters who fit this brief by now. The audience liked him greatly, but his ten minutes were a triumph of style over boring substance.
Next up compere Des Clarke introduced the first female act of the night, 48-year-old divorced mum-of three Amanda Murfitt – in actual fact Matthew Ellis, the character comedian who's also behind the rather bonkers creation Jellybean Martinez. Well-executed, (s)he has the exaggerated credibility of one of the League Of Gentlemen's female characters and seems to offer a wealth of possibilities. Sadly, though, most of these went unexploited, in favour of an uneasy mix of old-school showbiz impressions and gratuitous tales from the genito-urinary clinic where she reputedly works. There must be a better use of such a well-rounded alter-ego.
By a bad piece of scheduling, Gareth Waugh, who was placed joint third in this competition last year, also had a gag about the GUM clinic. He's an affable young cove, avowedly not a 'laddy lad', who starts with a nicely self-deprecating story about looking too immature to buy booze even at 24. However other of his yarns, engaging as they are, are built on too inconsequential a base to properly pack a punch. Nice, and I'm sure we'll see more of him, but it's not a winning set here.
Back to vajazzles for Allan Lindsay, who also covered labial plastic surgery, Tulisa's sex tape and 'fucking mental' drunk women. Oh and his girlfriend having left him - big surprise. He didn't brink much wit to bear on any of this, making for an odd mix of unpleasant and instantly forgettable. His one good section was the Chinese translation of movie titles, taken rather too literally. 'Some jokes write themselves,' he notes. Yes... if you get them off the internet, where all his content is already chronicled.
Hooray, then, for Larry Dean who opened up the final section with a funny and distinctive routine about being a non-stereotypical gay man. Or 'bender' in the terminology he prefers. He gets some laughs from those familiar old stereotypes, acted out with a silly physicality, but cliches are nattily explained away by him being a 'homophobic homosexual' . Experiences such as Grindr inform a lot of the ret of his set, but he has other strings to his bow, as demonstrated by his affectionate but funny descriptions of the rest of his family, which provide a satisfying callback with which to end the set. A clear winner on the night.
Susie McCabe might have expected to do better than third place, given her runner-up position 12 moths ago and her obvious popularity with this crowd before she'd barely said a word. But she couldn't fully convert her powerful bellicose attitude into consistently strong punchlines, however enjoyable the misanthropy. She has no time for gyms or enthusiasm, or people who can't get their minds around the concept of lesbian marriage – and at her best channels this entrenched grumpiness into a devastatingly belligerent line. And as if to cover the bases, she also has some nostalgia about visiting the school nurse that proves a little more mainstream. Much of this is funny, though it didn't quite gel into the Teflon set she seems capable of.
Finally, the chubby and bearded Ben Verth who launches his set with a whole catalogue of people those attributes mean he looks like, according to strangers in the street. There's a small acknowledgement that such gags are a cliched staple of stand-up, but he still does them – for plenty are funny, despite the unoriginality. '...And that was just my dad!' doesn't stand up to the same defence, though, however affable the deliverer. Also like a lot of comics, he has a story of a low-level mugging... but odd that what he suggests as a diversion tactic is an old Fast Show catchphrase, and he doesn't acknowledge the providence. Another nice guy who's good company, but not striving too much to be a stand-out stand-up.
Review date: 2 Oct 2013
Reviewed by: Steve Bennett
Reviewed at: Glasgow O2 Academy
Recent Reviews
What do you think?