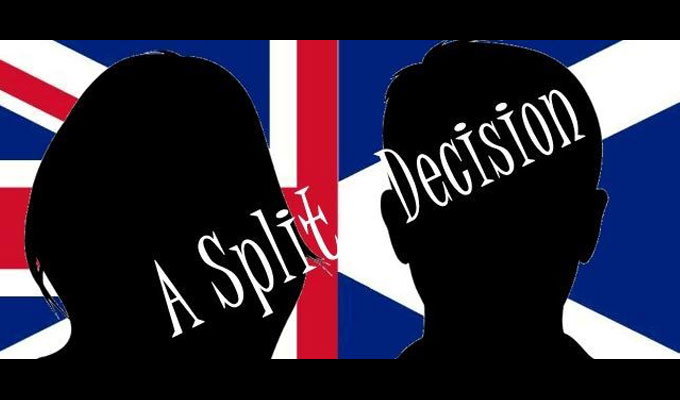 A Split Decision
Note: This review is from 2014
This short, rhyming play is a complete gem, written and performed by comedians. I really was in awe; possibly the most literary show written by a comedian I can think of,. Scotland's got a McMoliere in Keir McAllister and the script is exceedingly well served by JoJo Sutherland, Paul Sneddon and Gareth Waugh.
The dialogue is unforced and snappy and the comedians performing it, right out of their comfort zone, achieve the nigh impossible of speaking in verse yet entirely naturally to tell the story of a warring couple, on the verge of divorce, examining their rocky relationship history in a couples' counselling session.
He's a loud, boozy Jock, she's a controlling English woman, played with more than a nod to Margaret Thatcher's brisk style. The counsellor is their eminently reasonable son who has a heroic sense of fair play. Stereotypes are generous and show the positives of the characters they symbolise as well as the easier-to-depict negatives, the acting is kept well this side of parody, when it must have been tempting to ham it up for laughs.
Although the piece is about the imminent Scottish referendum, are we Better Together and all that, it's not an aggressive, tub thumping debate that's offered but a subtle and sparkling airing of the issues that doesn't push any answers down the audience's neck. McAllister writes with a light touch and I hope that this play has a long life beyond September 18.
For an English ignoramus like me it was educational as well as being utterly entertaining. For anyone with an open mind and already au fait with the issues, I'm sure it' s complete joy.
Review date: 20 Aug 2014
Reviewed by: Julia Chamberlain
Reviewed at: Assembly Rooms
Recent Reviews
What do you think?