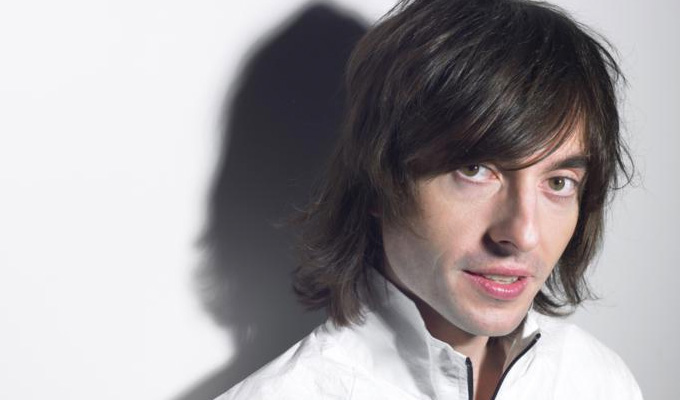 Danny Robins
Jason Manford shares his ghost story
He insists he does not believe in ghosts, but Jason Manford has shared unnerving story of a spooky encounter in a West End theatre.
It happened in 2012, when he was playing Italian barber Adolfo Pirelli in the musical Sweeney Todd at London's Adelphi Theatre – a character who meets a murderous end each night.
But it was when he was offstage, making a video call to back his Manchester home to say goodnight to his twin daughters, that strange things started to happen.
Speaking to writer Danny Robins on his supernatural Radio 4 podcast Uncanny, the comedian recalled: 'I was in this little, tiny dressing room over stage door. And then this particular day, my daughter started sort of, not laughing, but sort of like, looking and making a weird noise and said, "Daddy, who's that man behind you?"
'I said, "Sweetheart, there's nobody there". She said: "There is that it's a man is right behind you. And I thought nothing of it, you know, just kids' imaginations.
'Maybe three or four nights later, we're sat chatting. "Daddy's he's back".'
And the conversation unfolded:
'Who's back?'
'The man's back. He's is behind you.
'What does it look like?'
'He's tall. He's got moustache, dark hair.
'What's he dressed as? What's he doing? '
'He's a soldier. And he's crying.'
Hands up who else is going to struggle to sleep tonight?

This ghost story from @JasonManford @danny_robins has us TERRIFIED

— BBC Sounds (@BBCSounds) June 21, 2022
Manford said the experience gave him a 'woosh of goosebumps' and later he mentioned it to one of the theatre managers who told him 'Oh, yeah, that'd be William… quite a famous ghost around these paths.'
It is supposedly the ghost of William Terriss, who was fatally stabbed at the stage door of the theatre in 1897 by a deranged and disgruntled rival actor, Richard Archer Prince. He was on his way to play an Army captain in the play Secret Service.
'I've got a lot of shivers down my spine,' Robins said after hearing the story.
'You're telling me,' Manford replies. 'I had to do another eight weeks.'
Former comedian Robins has gone on to specialise in supernatural stories such as Radio 4's The Battersea Poltergeist and Olivier-nominated West End hit 2:22 – A Ghost Story.
• The Uncanny Summer Special featuring Jason Manford will be available on BBC Sounds and will be broadcast on Radio 4 on Friday July 29.
Read More
Published: 22 Jun 2022
Lenny Henry is set to star in a TV sitcom for the…
14/03/2014
I'm about to do a show in a very unusual venue. I…
29/11/2009
In the new Radio 4 series The Museum Of Everything,…
22/03/2009
Britain is to have a new radio channel featuring original…
6/07/2007
My Family creator Fred Barron is working on a new…
27/11/2003
Radio 4 has announced its 2004 comedy line-up, featuring…
25/11/2003
The Club Seals sketch group has landed a Radio 4 show…
21/01/2003
Past Shows
Edinburgh Fringe 2006
Edinburgh Fringe 2008
Edinburgh Fringe 2010
Agent
We do not currently hold contact details for Danny Robins's agent. If you are a comic or agent wanting your details to appear on Chortle, click here.