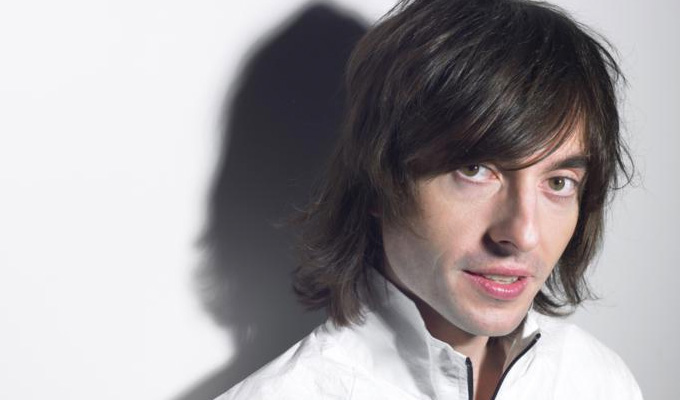 Danny Robins
Danny Robins: Dannyfest
Note: This review is from 2008
This tongue-in-cheek attempt to stage a low-budget Glastonbury-style festival is probably the most gimmicky show on the Fringe, full of prop comedy, stupid stunts, PowerPoint visuals and pounding music.
To achieve all this, Danny Robins has on stage a tent, a rucksack/traffic light contraption, mud, marshmallows, Monster Munch, a stone circle made of Jenga blocks, glow sticks, a rapper, toothpaste, bongos, several changes of costume and a cycle light strapped to his head.
You'd think it might be easier for him just to write some jokes than lug all this about, because for all the festival stages he recreates, the one that's most noticeably missing is the comedy tent.
It's all lightweight Stuff and Nonsense and – strangely for a man who makes his living as a radio comedy writer – almost devoid of decent jokes. Yet Robins gets away with it, albeit by the skin of his teeth, simply by being such an engaging, energetic performer.
This is more game show than comedy, and as long as you buy into the power of Robins's almost maniacal levels of enthusiasm, you'll be fine. If not, this could be a very long hour.
All the clichéd festival favourites are dealt with – drugs, dodgy toilets, hippy healers, the Kaiser Chiefs – usually with a big set-piece stunt, sometimes involving the audience, but thankfully in a non-threatening way. Rapper Doc Brown tries to liven things up, too, normally playing an awkwardly moribund health-and-safety officer to contrast with Robins's fervour, but briefly allowed to shine by getting us all to rhyming along with him.
Robins's own musical attempts pale in comparison, with some lame lyric-swap song parodies such as his tiresome goth version of Lady In Red.
On paper, this show encapsulates most of the laziest, gimmickiest possibilities of comedy; but it's also testament to the power of personality. By the end Robins has even the most curmudgeonly helping him crowd-surf, or reluctantly enjoying his eager if incompetent attempts at rapping. Jay-Z eat your heart out.
Despite countless reservations, Dannyfest turns out to be rather fun even if, in true festival spirit, you feel dirty at the end of it.
Reviewed by Steve Bennett

Read More
Published: 1 Jan 2008
Well it's an ambitious goal, saving the world through…
1/01/2006
Past Shows
Edinburgh Fringe 2006
Edinburgh Fringe 2008
Edinburgh Fringe 2010
Agent
We do not currently hold contact details for Danny Robins's agent. If you are a comic or agent wanting your details to appear on Chortle, click here.