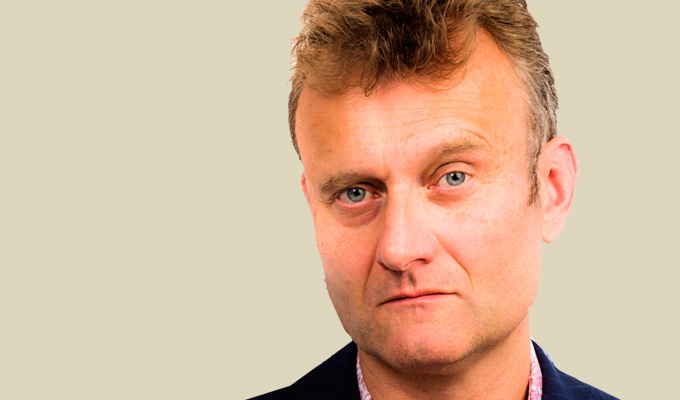 BBC revives Comedy Playhouse
BBC One is reviving the Comedy Playhouse series of one-off pilots, with Hugh Dennis set to star as a sacked BBC weatherman in the latest self-referential sitcom from the corporation.
Over To Bill is one of three new shows in the series, along with the recently announced Monks, starring Seann Walsh, and Miller's Mountain, about a family of Scottish mountain rescue volunteers.
Classic sitcoms that started in the Comedy Playhouse strand, which will return in April in the 10.35pm slot, include Steptoe And Son, Till Death Us Do Part, Last of the Summer Wine and Are You Being Served?
Shane Allen, the BBC's head of comedy, wants to revive the historic format, which ran for 14 years until 1975, in order to persuade more comedians to work for the broadcaster's flagship channel.
He said: 'BBC One delivers enormous audiences for comedy and this season revival reflects our commitment in mainstream to do new and daring projects. We want BBC One fly the flag of popular British comedy and want this dedicated space to promote tomorrow's classic comedy today.'
And in an interview with The Independent, he lamented comedians worrying about BBC One being seen as too mainstream.
'Everybody wants to be on [BBC Two], the channel with the cool kids, and it's a much braver thing to want to be on BBC One' he said. 'I want BBC One to be a place where people do want to come and do different and interesting and experimental work.'
Highlighting the success of Lee Mack on the channel and the way that Catherine Tate, David Walliams and Matt Lucas had become 'national phenomena' when they appeared on it, he added: 'Maybe it's a British mentality compared to an American mentality? People think you've sold out when you get popular. John Cleese was accused of being a sellout after Monty Python because they thought that Fawlty Towers was a throwback.'
In Over To Bill, Dennis plays Bill Onion, a meteorologist fired after cracking an innocuous gag about the south of England being better than the north. This sets in motion a blackly farcical train of events begins which ends in his humiliation in front of a prospective employer from another network.
Co-starring Men Behaving Badly star Neil Morrissey as Onion's best friend Jez, Tracy-Ann Oberman as his wife and Helen George as Jez's frosty partner and Bill's nemesis, Over To Bill was written and directed by Red Dwarf co-creator Doug Naylor and produced by his son Richard. The pilot is a co-production between their recently formed production company Three Feet Productions and Baby Cow.
A previous version of the pilot, which was finally shot in Surrey this weekend, has been with the BBC since 2010.
Naylor said: 'Richard and I are absolutely thrilled to be working with such a wonderful cast with all the great support we're getting from Baby Cow. We think the show is going to be something really special but then again we both thought Man Utd were going to win the league this year.'
Also confirmed is Monks, starring Seann Walsh in his first lead role, playing a benefits cheat who hides in a monastery threatened with closure due to falling numbers, alongside James Fleet, Mark Heap, Justin Edwards and Fergus Craig.
Gary Woodcroft (Walsh) is described as 'the living definition of the word "chillax", straddling a narrow line between unemployed and unemployable. After years of dubious benefit claiming, he finds himself finally threatened with prosecution. Faced with the real prospect of prison, he decides to do what anyone would… run away and hide in his local monastery.'
Written by Danny Robins and produced by Alex Walsh-Taylor, the in-house BBC production has been 14 years in the making. Originally co-written by Robins with his regular writing partner Dan Tetsell, it first surfaced as a one-off on Radio 2 in 2000, called Hey Hey We're The Monks and starring Bill Bailey and Catherine Tate.
And in 2008, BBC One made a previous pilot, starring James Corden and described at the time as 'Father Ted meets Men Behaving Badly'. Edwards is the only cast member of that unbroadcast episode to be in the latest version.
Pete Thornton, executive producer of Monks said: 'While Monks has been in development for about as long as the Catholic Church, I'm convinced it's now about as immaculate as any BBC sitcom pilot on earth, or indeed in heaven.
'The show is set in a world that the BBC One heartland audience will feel immediately at home with, and yet it's far from a traditional, old fashioned audience show. We're delighted to be one of the trinity of pilots being lined up for the new BBC One comedy playhouse season.'
Another in-house production, Miller's Mountain is a studio sitcom that was recorded in Glasgow earlier this month.
Starring My Big Fat Diary's Sharon Rooney alongside Jimmy Chisolm, Kevin Guthrie and David Ireland, with Bob Servant star Jonathan Watson guest starring, the comedy is written by Fags, Mags and Bags writer Donald McLeary and set around the antics of a group of Mountain Rescue volunteers.
Miller's Mountain's executive producer Mark Freeland said: 'With memorable comedies such as Still Game & Rab C Nesbitt, there's a brilliant tradition of laugh-out-loud Scottish sit coms. That's a high bar, but with its infectious joyousness, I so hope Miller's Mountain can scale those heights. Crampons on, and let's see.'
-by Jay Richardson
Published: 17 Mar 2014
What do you think?