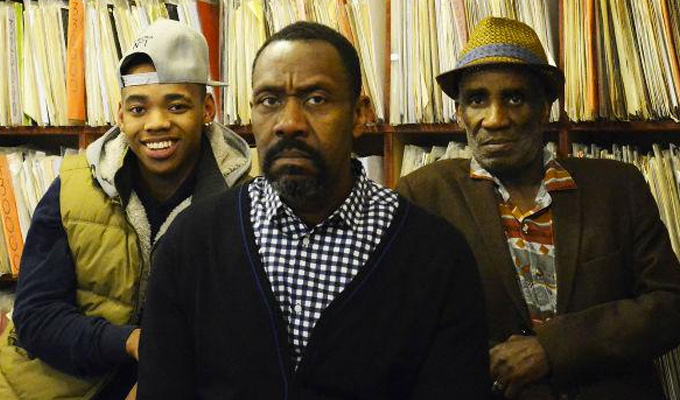 BBC One to air Rudy's Rare Records
BBC One is to air the pilot episode of Lenny Henry's sitcom Rudy's Rare Records next year.
The comic recorded a test episode of the comedy in Birmingham earlier this year, but it had previously been thought not to be destined for broadcast.
The show – about a tiny, down-at-heel reggae and ska record shop in Birmingham – started life on Radio 4 and has been adapted for a stage show, which opened last week at the Birmingham Rep.
A BBC spokeswoman told Chortle the pilot episode will air on BBC One sometime next year – although a date has not yet been set – after which a decision will be made on a series.
The stage adaptation has been attracting critical acclaim. Guardian theatre critic Michael Billington said: 'What strikes you is the show's good nature: whatever it has to say about social change or father-son relationships is communicated by a barrage of gags.'
And in the Daily Telegraph, Dominic Cavendish called it a 'wonderful, funny, humane, live reggae-saturated' show.
The Financial Times said it was 'entertaining and heartening' but said that it could offer more, especially given Henry's on-stage reputation – a sentiment echoed by the Daily Mail.
It runs in Birmingham until September 20, before opening in London's Hackney Empire on September 24.
The show, like the sitcom, was written by Danny Robins based on Henry's life, with the pari collaborating on scripts. Robins has said: 'A lot of the show of course draws on his experiences - his family, growing up in Birmingham and his love of music. It's really a pleasure when you find someone you enjoy writing for so much.'
Last month, the BBC decided not to make a series of Robins's monastery-set sitcom Monks following a pilot starring Seann Walsh.
Henry hasn't appeared in a television sitcom since Chef! finished in 1996. However later this year, he will star in the loosely autobiographical comedy-drama Danny and the Human Zoo for BBC One, based on his upbringing in a working-class Jamaican family in Dudley. The one-off film mirrors Henry's own rise to fame as an impressionist who wins a talent contest, makes the breakthrough into television, but is forced to appear on The Black and White Minstrel Show.
Birmingham rep producers have also made a Spotify playlist based on Rudy's Rare Records.
Published: 12 Sep 2014
What do you think?