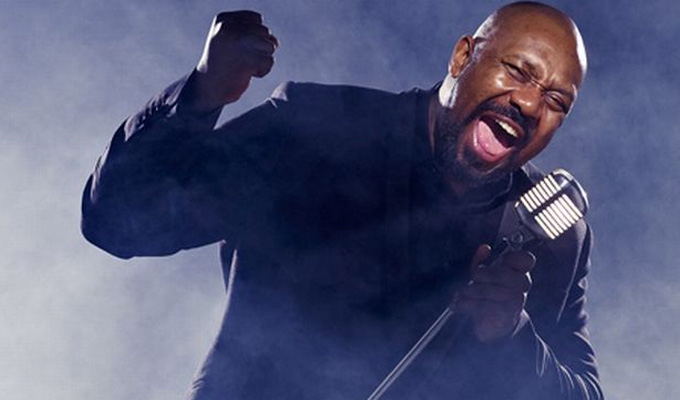 Lenny Henry returns to sitcom
Lenny Henry is set to star in a TV sitcom for the first time in nearly 20 years.
The comedian is currently shooting a not-for-broadcast pilot of his semi-autobiographical Radio 4 comedy Rudy's Rare Records for the BBC in Birmingham.
Writer Danny Robins has also penned a stage version that will open in London and Birmingham in the autumn, with a planned tour to follow, suggesting a full series is thought likely to be commissioned.
Rudy's Rare Records is a tiny, down-at-heel reggae and ska record shop in Birmingham with the slogan: 'If we don't have it - them don't mek it'.
Now highly acclaimed for his dramatic acting, Henry is reprising his comic role as Adam, the neurotic, divorcee son of shop owner Rudy, coming back to run the shop with his teenage son Richie after his father suffers a heart scare.
Larrington Walker returns as Rudy, with Jeffrey Kissoon as his friend Clifton, Claire Benedict as Rudy's girlfriend Doreen and Natasha Godfrey as Tasha the Gothic shop assistant also making the transition from the radio series. Robins, who performs live as the character act DJ Danny, wrote the original with his regular writing partner, Dan Tetsell, with Henry 'heavily involved'.
'I write the scripts, send each draft to him, we discuss it and he gives me his thoughts and ideas for extra jokes and improvements' says Robins. 'It's a very collaborative process and we get on very well.
'A lot of the show of course draws on his experiences - his family, growing up in Birmingham and his love of music. It's really a pleasure when you find someone you enjoy writing for so much.'
Richie is played by Joivan Wade, a regular in David Walliams' Big School and part of the Mandem on the Wall sketch trio that have attracted millions of YouTube views and appear in the E4 comedy-drama Youngers. Wade brings 'a really exciting dimension' to Rudy's, enthuses Robins.
'Over four series on radio we've seen them grow into a tight-knit family and I couldn't imagine doing it without any of [the established cast], so they're all there. It's still the same old Rudy's with lots of jokes and great music between scenes, so I hope people who were fans of the radio series will recognise and enjoy it in the same way. But I like to think it has also grown and developed in the transition.
'The most exciting thing really though, is we've been able to introduce the shop itself. Whereas you could only imagine it on radio, you now get to see it in all its chaotic, record-filled glory. All the pictures we've had in our heads have been able to spill out on screen.'
The pilot is based on an existing episode and Robins reasons that 'there's obviously a huge back-catalogue of stories we could draw on if we were lucky enough to get to make more'. Rumours of a possible television adaptation have existed since 2010 and this week Henry tweeted that he was 'having the time of my life' from the set.
Meanwhile, the stage show is something Henry and Robins 'have been keen to do for a long time. A co-production between the Hackney Empire and Birmingham Repertory Theatre that will play at both venues, 'it's all very exciting' says the writer.
'The play is a chance to explore the characters in a deeper way over a whole evening rather than just a half-hour episode. Of course there is music - it wouldn't be Rudy's without that. There will be a live band on stage playing classic reggae, ska, soul and hip hop tracks. The music will be integral to the show and we're hoping it will make for a really fun, lively night out'.
Henry has characterised Rudy's appeal as the classic set-up of squabbling fathers and sons. Writing about the show on his blog, he said:
'Rudy's was an idea that I�d always wanted to do. I love situation comedies such as Steptoe and Son or Frasier; fathers and sons, they get me every time. When Frasier, Niles and Dad go on the camping trip in that big Winnebago; when Albert and Harold meet their dopplegangers - two escaped cons from the local jail - an old man and a young 'un (played by Leonard Rossiter)... In both episodes young and old learn things about each other and about their situation.'
Henry hasn't appeared in a television sitcom since Chef! finished in 1996. Yet alongside his recent, high-profile theatrical roles in Othello, The Comedy of Errors and Fences, for which he won best actor in the Critics' Circle Theatre Awards, he has maintained an intermittent working relationship with the BBC.
Later this year, he will star in the loosely autobiographical comedy-drama Danny and the Human Zoo for BBC One, based on his upbringing in a working-class Jamaican family in Dudley. The one-off film mirrors Henry's own rise to fame as an impressionist who wins a talent contest, makes the breakthrough into television, but is forced to appear on The Black and White Minstrel Show.
- by Jay Richardson
Published: 14 Mar 2014
What do you think?