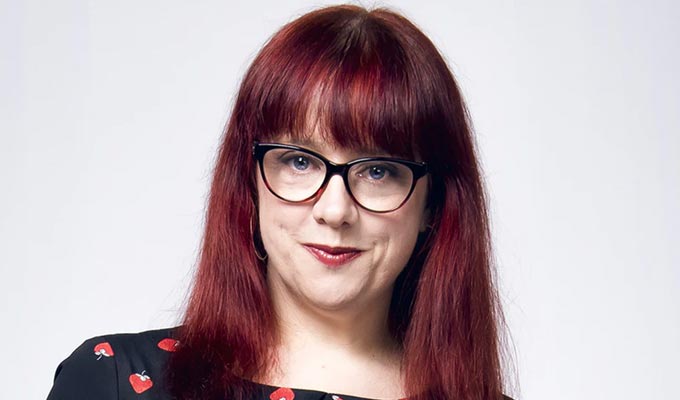 Angela Barnes
Angela Barnes confronts The Ugly Truth
Angela Barnes is writing her first book, exploring her feelings of unattractiveness.
The Ugly Truth, an audiobook for Audible, is based on her 2015 stand-up show Come As You Are, and pledges to re-examine and reclaim the word 'ugly', Chortle can reveal.
Investigating 'the beauty myth' and body dysmorphia, the comic will offer a personal account of believing that she was ugly and how it has affected her life.
Featuring conversations with family, friends and figures from the beauty industry, the audiobook will be released later this year and promises to give 'a unique perspective on one of society's last acceptable prejudices'.
Barnes said: 'There are many books and articles and documentaries on the theory of beauty and attractiveness, and how subjective and complex it is. However, when I was going through what I was going through, I didn't find this to be of much comfort.
'I wanted to know that despite not being one of the pretty ones, that I could still be successful. That I could still have a place and function in the world. That I could still be loved in a meaningful way, and not just because I was all someone could get'.
Sam Bryant, Audible UK's Head Of Comedy, added: 'Angela is a fantastic comedian, and has an honest, personal, and timely story to tell in this new Audible Original – and an incredibly engaging way of telling it'
Since appearing on panel shows on television such as Mock The Week, Barnes has had negative perceptions of her looks both reinforced and confounded she told fellow comic Sofie Hagen on her podcast earlier this month.
'One of the things about being on TV, you do have people commenting on your attractiveness' Barnes said. 'But I fully expected it all to be negative. And I was really surprised that it wasn't and there were people on Twitter going "I really fancy that Angela Barnes!" I was like, "What's wrong with you? I'm sat on a panel with Ellie Taylor!"'
Equally though, she has been the subject of abuse on social media.
'I got one tweet that really made me laugh' she recalled. 'This was nothing I haven't told myself. It was something like: "Angela Barnes is so ugly she makes blind children cry".
As a teenager, Barnes was dogged by feelings of unattractiveness. And she wishes that family had listened to her perspective rather than challenging it.
'What was really going on was dysmorphia. I hated myself,' she said. 'But no-one was letting me say it. So it all just internalised, grew and grew and grew, until it came out sideways in depression and all sorts of other things.'
Despite having greater self-esteem today, Barnes did maintain that 'pretty people do get it easier. They get it easier at school and that never stops.
'I'm not happy with all these pretty people doing comedy because I felt comedy was for us. I love you Joel Dommett but go and be a pop star. That's for you, look at you. Yes, you're funny, it's fine. But let us have it.'
- by Jay Richardson
Read More
Published: 19 Feb 2020
Linda Smith on The News QuizHearing Linda Smith on…
3/08/2015
Paul Chowdhry is to replace Jon Richardson as host…
7/10/2013
Angela Barnes has been crowned winner of this year's…
19/06/2011
It's the final of the newly-revived BBC New Comedy…
17/06/2011
Past Shows
Agent
We do not currently hold contact details for Angela Barnes's agent. If you are a comic or agent wanting your details to appear on Chortle, click here.