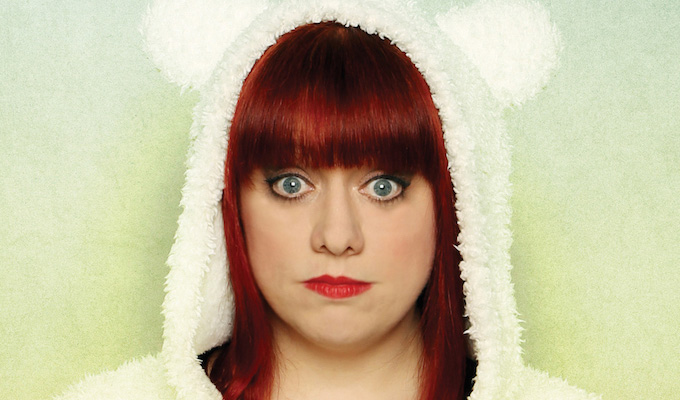 'She sounded like your next-door neighbour, yet was the most astute, cutting, acerbic wit'
Hearing Linda Smith on The News Quiz on Radio 4 was the first time I realised that there might be a space in that world for someone like me. I grew up listening to Radio 4 comedies dating right back to The Goon Show, Round The Horne, I'm Sorry I haven't A Clue etc, as my dad was a big fan. I loved them. I was fascinated by the mechanics of being funny, but those shows felt full of RP voices, people who went to top universities, and women very much had the supporting roles.
Then Linda Smith came onto The News Quiz. She had a Kent accent like me. She was as witty as, often wittier than, those old school raconteurs and humorists surrounding her. She sounded like your next-door neighbour, yet was the most astute, cutting, acerbic wit, and took no prisoners when it came to injustice and The Establishment.
She could just as easily turn her hand to a funny routine about her mum making her wear a woollen swimming costume, to one attacking the government's Foreign Policy. Just brilliant.
This is a bit of television that will stick with me forever. I was in my flat alone watching it the night it was first broadcast, and I don't think I have ever laughed out loud so much to something on TV in my life.
Johnny Vegas, even within the constraints of prime time TV, just has presence and the funniest bones. I have watched this episode over and over. The section where he talks about the Beauty's Castle internet chatroom is sublime, sad and hilarious. 
I love the Johnny Vegas character, but this feels like the first time I saw Michael Pennington coming through. I also urge anybody who hasn't done so to read his autobiography Becoming Johnny Vegas
Victoria Wood was the first stand-up that I saw live. My Mum took me to see her at The Strand theatre when I was 14, and it was the most exciting night of my life. When she sang The Ballad of Barry and Freda, I thought I would explode.
There she was, the woman I loved from the telly. Her As Seen On TV series remains wonderful. Such beautifully observed characters. As an outsider with self-image issues, I completely identified with her.
The sketch about the Channel Swimmer still make me laugh, and then makes me cry.
Nuts in May
I could watch this film every single day. From 1978, it was a TV Play For Today film directed by Mike Leigh, starring Alison Steadman and Roger Sloman as a couple on a very British camping trip. The Roger Sloman character reminds me so much of a primary school teacher that I had.  
There is so much pathos, and much of this film is in what is unsaid. I watch it and I want to kidnap Candice-Marie and take her away from it all. The Zoo song is one of the most awkward, beautiful and funny moments in film.
Kenny Everett was the first person I can remember making me laugh on TV. I was FAR to young to have been watching him, probably about 4 or 5, but I adored The Kenny Everett Video Show. The naughty humour went way over my head, but there was something mesmerising about the show, the funny voices, the bright colours, the sheer energy exploding onto the screen.
I was transfixed, and became a little obsessed. Whenever I hear a recording of his voice, I am instantly transported back to my childhood. It was silly, juvenile and I loved it
The Mary Whitehouse Experience
Up until The Mary Whitehouse Experience hit the screens, comedy was something I watched and enjoyed with my Mum and Dad. They loved comedy, especially Monty Python, The Goodies and other irreverent acts from their youth. The Mary Whitehouse Experience was the first comedy show that I felt was for me and my mates, made even better by the fact that my parents weren't fussed by it.
I was about 14 when it started, and EVERYBODY at school watched it, and it would be all we talked about the next day. I still regularly quote from it, and it still feels like it belongs to us, me and my school friends. That's you that is…
• Angela Barnes: Come As You Are is on at the Pleasance Courtyard at 20:15 from Wednesday
Published: 3 Aug 2015
What do you think?