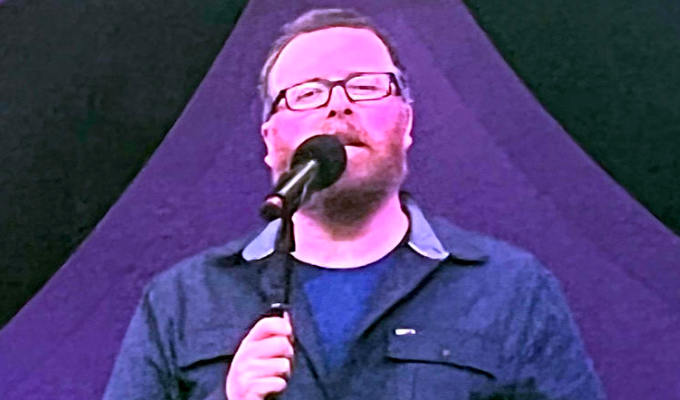 Frankie Boyle at Latitude 2022
He may have spoken about cancel culture during his set – urging the offended to have a sense of perspective and context. But Frankie Boyle shows no sign of watering down his brutal and venomous jokes.
Of course, it helps that the vitriol is directed squarely at those who deserve it. His acrid rage is against the system and those who sit atop it. No one's going to have much sympathy for the likes of Jeff Bezos, Richard Branson or Prince Andrew when Boyle imagines what unspeakable things he'd have done to them
And as he says – lest anyone miss it – when he jokes about paedophilia, it's aggressive only towards the perpetrator. This is what sets him apart from the hacky edgelords; that and a strong and sincere political viewpoint against the loaded status-quo. Plus – and this is the most crucial bit – he is a sharply focussed gag writer with a perfect choice of words to elicit the most comically grotesque situations. For all the social savagery, his best line, arguably, is simply about eating oysters.
As expected, he lays into the shower that passes for the top echelon of the Conservative party as being not only fascists but incompetent ones, destroying the image of ruthlessly efficient Nazis. But there are also perfectly aimed jibes at Kier Stamer's absence of charisma, Joe Biden's sluggishness and even a dig at the SNP.
Jokes are delivered calmly, not with the angry fury of a crazed axeman but with the placid precision of Hannibal Lecter. He stops to ponder the social landscape between them, too.
A nihilism also underpins his worldview. The world is burning, literally, why not throw a few more puppies on to the fire?
The Latitude comedy tent, packed to overflowing, lapped up the material, even if laughs were mixed with 'oohs' of disapproval – both usually from the same people, shamed by their own responses. Boyle's visceral humour speaks to a primal instinct – the laugh of relief when what at first seems so horrible reveals itself to be harmless.
Review date: 24 Jul 2022
Reviewed by: Steve Bennett
Recent Reviews
What do you think?