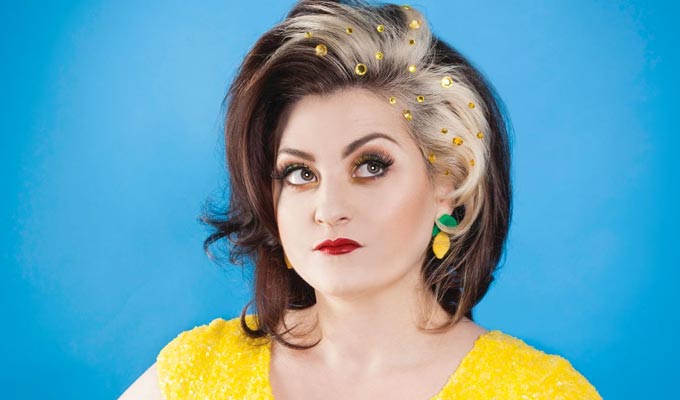 Kiri Pritchard-McLean and The Empire
Kiri Pritchard-McLean: Secret Desires (





)
The Empire (





)
---
The BBC are going all-in on Kiri Pritchard-McLean as a star of the future, as well they might, since she's a fine comic.
Less than two months after her Radio 4 special Egg-sistential Crisis, about the low birth rate among millennials, comes this Radio 2 pilot, as part of the Festival Of Funny season. And that's not counting her Radio Wales show, her appearance on Funny Festival Live on BBC Two this Tuesday, her hosting of Radio 4's Newsjack, and various guest appearances.
The risk of being one of the hardest-working women in comedy, of course, is breadth over depth: becoming one of those comics who's booked absolutely everywhere as a safely witty pair of hands, without ever getting the chance to create something truly memorable.
But it's early days yet, and with Pritchard-McLean in profile-building mode a decent Radio 2 outling like htis will do her no harm. And an extra payday during pandemic won't go amiss either,
Talking of which, lockdown is the inspiration for Secret Desires. It is, she explains, a rundown of 'all the things I thought I hated but was covertly missing' once they were prohibited.
That includes bad gigs and sexist heckles, grimy festivals, going on hen-dos and the subsequent twee Pinterest-friendly weddings – even the agony of hair removal by epilator.
It's a half-hour of cheerful bitching, complaining about the awfulness of things while simultaneous celebrating them. What could be more British than that, taking pride in the slightly rubbishness of life.
Indeed the virtual audience get involved, too, and the comic gets to flaunt her adept crowd work skills with some banter with those listening at home, such as the mum who has finally come to appreciate the daily commute to Croydon now she doesn't get to do it.
Pritchard-McLean is capturing the mood of a nation here, but with a bit of grit too. For instance, she gets an easy ovation for praising the NHS - what's not to adore? - but cannily deflates it with a more pointed observation.
Secret Desires is not really a substantial piece of comedy - though the notion of 'jam jar weddings' will definitely stick in the mind. But Pritchard-McLean is good, amusing and upbeat company for 30 minutes, which is definitely a boon in a pandemic.
There have been a lot of period dramas set during the Raj, but comedy seemed to have peaked with Carry On Up The Khyber.
The Empire, written by Indian stand-up Anuvab Pal, rightly identifies where the comedy might be found in Britain's imperial past… but sadly the finished product is genteel to the point of dreary.
In 1917, the subcontinent is ruled in apparent calm by British administrators - who have no qualifications to do the job other than their nationality.
Here, Alexander Owen, of inventive double-act The Pin, plays Allbright, a solitary Oxbridge-education officer in his mid-20s given the entire district of Dajeeling to run, with no experience, no cultural sensitivities, no Bengali language, and a naivety to think the country's run by British fair play and persuasion, not at riflepoint
Supporting characters include Harbans (Pal himself) his local right-hand trying to ingratiate himself with the occupiers and Sapna (Rasika Dugal) the bright woman overlooked because of her gender and tempted towards revolution. As the Viceroy of India, Stephen Fry is, well, Stephen Fry, a toned-down Melchett with a touch of the Book in the Hitchhikers' Guide, offering narration and explaining the rules by which the district should be.
The premise and the character traits are solid, but the narrative lacks drive and the jokes about topics such as bribery and the dangerous wildlife are a very weak Dajeeling brew. Exhibit A: Allbright rages at an actual 'stupid cow' in earshot of Sapna and has to explain it wasn't her he was talking about.
An opportunity wasted.
• Click here for our reviews of Saturday's shows from The Delightful Sausage and Tommy Tiernan.
Review date: 7 Mar 2021
Reviewed by: Steve Bennett
Recent Reviews
What do you think?