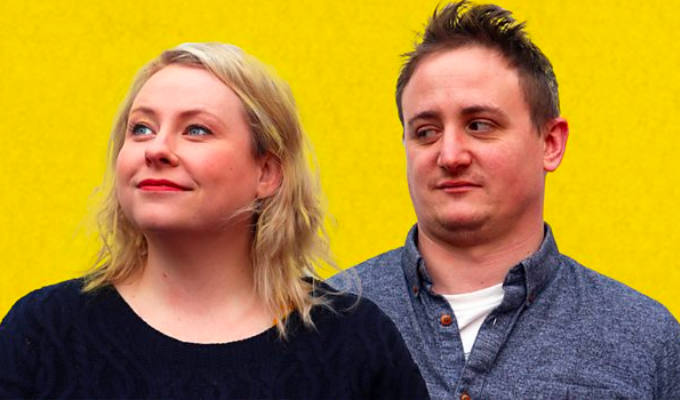 The Delightful Sausage and Tommy Tiernan
The Delightful Sausage On: Staycations (





)
Tommy Tiernan On: Beards (





)
---
Radio 2 has an odd relationship with comedy, chucking out the odd programme now and then to a listenership not really expecting to find it.
Last night, sandwiched between Johnnie Walker's rock show and Craig Charles's funk party, came a couple of pilots under the BBC's Festival Of Funny banner, courtesy of the Delightful Sausage comedy duo and stand-up Tommy Tiernan.
Yorkshire's premier double act with 'charming Northern vowels', as they billed themselves, offered their version of a low-budget holiday show in their guide to UK 'staycations' - another nail in the coffin for the word's original meaning of remaining at home.
Speaking of coffins, one of their extended skits involved a Dracula-themed B&B closer to Royston Vasey than Whitby; another to an onion farm run by a compulsive punner; and to a holiday camp that offers some low-rent entertainment.
The mockumentary format puts some dampers on the rough-hewn enthusiasm that's been a hallmark of Amy Gledhill and Chris Cantrill's raucous, award-nominated live shows – which is a shame.
But the restraint does spotlight the fact that witty writing underpins their act, with gags ranging from the surreal, the silly and the contrived. And there's a pretty high delivery rate here, squeezing punchlines into every nook and cranny.
The best of them are tangential asides, hinting at darker back stories from the leads and their supporting characters running counter to the generally jaunty tone.
Theirs is a world you need to buy into, with a script that rewards close attention, which is where the unexpected Saturday-night Radio 2 scheduling probably works against them. But with mainstream sketch comedy generally on the ropes, these warmly silly duo could be standard-bearers.
Why Tommy Tiernan needs a pilot is something of a moot point. He's been top of his stand-up game for 20 years and his talk show is the toast of Irish TV.
His ramblings on beards was not, however, his finest half-hour. Live, he's best on big topics, powered by righteous passion that sweeps the audience along with his mesmerising performance. This quieter, meandering whimsy on a trivial subject seemed all very pointless.
It had the sense of being improvised, which might explain the dearth of jokes. 'There is no need for art when you grow a beard,' he said, suggesting merely sporting facial hair was a statement enough. Seems like an excuse for his own lack of industry here.
This programme felt as if it should have remained on his phone's voice notes app as a 'is this anything?' work in progress, rather than being broadcast on Britain's most-listened-to radio station.
• The Festival Of Funny continues on BBC Radio 2 tonight, with Kiri Pritchard-McLean: Secret Desires at 9pm with and Indian-set sitcom The Empire at 9.30pm
Review date: 7 Mar 2021
Reviewed by: Steve Bennett
Recent Reviews
What do you think?