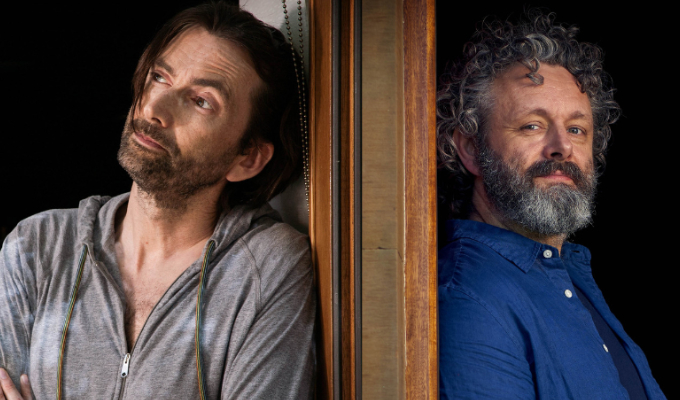 Staged
Everyone in lockdown feels variously bored, distracted and listless and struggling to hold on to reality. And in the much-promoted Staged, we see Good Omens co-stars David Tennant and Michael Sheen go through the same torpor.
With their planned West End play on hold, the premise is that their high-maintenance director Simon Evans wants them to rehearse online to hit the ground running when theatres are finally allowed to reopen again.
Focussing on two middle-aged, middle-class, relatively famous white male performers, the show sets out its ambitions to be The Trip without the trip from the early scene in which Tennant compares his fake Welsh accent to Sheen's real one. But these 15-minute episode (screened as double-bills) lack the depth of Steve Coogan and Rob Brydon's comedy, rather straightforwardly showing these out-of-work thespians kicking around their houses, sometimes getting under their partners' feet.
That the actors concerned are Tennant and Sheen – both of whom have previously shown a propensity to send themselves up – is Staged biggest asset. They are assured, empathetic presences, as they both struggle with sanity in their own way.
But the gentle, apparently semi-improvised script isn't overtly funny, more gently wry – with the main signal that it's supposed to be funny at all often coming from the sort of sardonically jaunty oboe-heavy instrumental music that every comedy that thinks its Curb Your Enthusiasm lays over proceedings. It might be classier than a laugh track, but the heavy-handed signposting is the same.
And the tone is a bit luvvie, not in gushing emotions but in verging on the self-satisfied with its own veneer of artifice and nods to the play on hiatus, Pirandello's Six Characters In Search Of An Author. And wouldn't you know it, but the pair end up bickering over whose name should go first in the billing. Acting cliché ahoy.
The biggest drawback, though, is the fact Staged is largely shot over Zoom, which might once have seemed innovative, but now seems tired, not least because viewers might want to relax away from the format that's come to dominate work and social lives.
After a languid set-up in the first episode, things do pick up a bit in the second which might help Staged succeed for those seeking mild entertainment away from the intensity of the news. But it feels like an understudy for a comedy show rather than the real thing.
* Staged is on BBC One at 10.45pm tonight.
Review date: 10 Jun 2020
Reviewed by: Steve Bennett
Recent Reviews
What do you think?