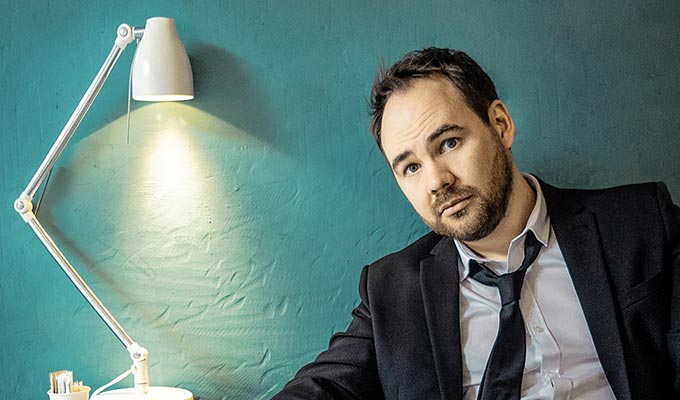 Daniel Audritt: Better Man
This is mild-mannered lunchtime stand-up of familiar observation, gentle puns and modest ambition, nicely presented but too superficial to leave a lasting impression.
Daniel Audritt describes himself as a 'people pleaser', and so it appears with his personable, ever-smiling demeanour and articulate, conversational delivery.
Inspired by the romcoms he loves so much, Audritt explains that he aspires to be a better man now his relationship is shifting into the long-term and he is finally revealing some of his real self to his girlfriend.
Though quite what needs fixing isn't entirely clear. He has some broad observations about the behaviour of men in general, such as being emotionally repressed or thinking about sex multiple a minute, allegedly, and we can assume that they apply to him as well, though his soul remains very much unsearched.
And from the female perspective, the ubiquitous quote usually misattributed to Marilyn Monroe – 'if you can't handle me at my worst, then you don't deserve me at my best' – forms a through-line, though Audritt's is not an especially original take.
A few of his jokes show the comedian at his worst, such as: 'I've never had casual sex in my life,' he says. 'It's always been smart casual'. That seems so old it could have been its own meme. So too could the observation that Army recruitment ads never mention the 'killing people' part of the job.
At one point he notes that 'edgy' jokes don't go down to well at such an early hour, though he's got about as much edge as a wheel of brie. Doing a pun based on the fact 'Jew' sounds like 'you' does not a Frankie Boyle make.
He clearly has an interest in words, and his best routine, about why we 'fall' in love is worthy of Jerry Seinfeld. Though nothing in the other 58 minutes comes close, lest the phrase 'worthy of Jerry Seinfeld' disingenuously end up on Audritt's posters.
A second attempt and stringing together lots of words starting 'man-'in what we should probably call a 'manalogue', is far more laboured, and he has to pause for a very long time at the end of it until the round of applause he was expecting begins to fill the silence.
Better Man is all very good-natured and well-intended, a gentle tilt against toxic masculinity rather than any impassioned rant. It's pleasant, if bland, and comedy-wide he could do better, man.
Review date: 6 Aug 2019
Reviewed by: Steve Bennett
Reviewed at: Just The Tonic at The Caves
Recent Reviews
What do you think?