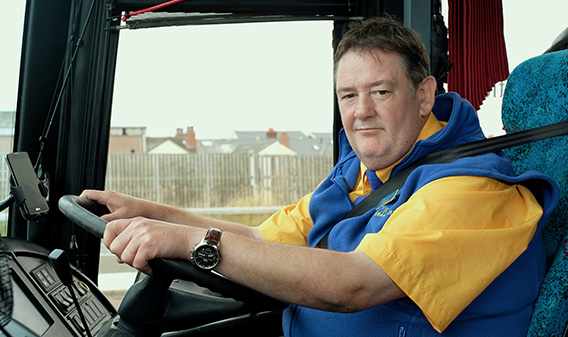 Murder On The Blackpool Express
It's a big commission for repeats-dominated channel Gold, but they've certainly assembled a starry cast for Murder On The Blackpool Express – a feature-length murder-mystery romp, redolent of old-school favourites like Kind Hearts And Coronets.
Griff Rhys Jones hams it up as flamboyant, greedy crime novelist David Van Der Clane taking a motley crew of fans on a coach tour around some of the settings of his successful works, amid much eye-rolling from Johnny Vegas's jaded driver Terry
Among the devotees of Van Der Clane's grisly potboilers are Nigel Havers, exuding his usual roguish charm as a suspicious-acting doctor; a rather underused Kevin Eldon as his adorably unaware brother; Nina Wadia as a super-bitch, maliciously cruel to her carer, played by Kimberley Nixon; and Suzie Reid, Una Stubbs and Susie Blake as batty pensioners on the lam from their care home.
Katy Cavanagh is a melodramatic snob, and it's good to see Matthew Cottle – Game On's hapless Martin – playing another pathetic henpecked man with his usual hangdog panache. Even Chris Ramsey makes a cameo as a paramedic.
Of course, as the tour progresses the travellers get bumped off one-by-one, and writer Jason Cook, the stand-up who also wrote Hebburn, has to spend a bit of plot on trying to justify why the trip must go on despite the serial killer on the loose as they – like Strictly – head towards a dramatic denouement in the Blackpool Tower Ballroom. At least on the Orient Express it seemed more like the characters were genuinely trapped.
But Cook keeps all the various motives spinning – even if there's not enough information for home sleuths to figure out whodunit – and drops in some charmingly funny scenes and lines.
'It's a coach trip, not Love Island,' Terry deadpans at the prospect of romance on his single-decker. Cook has fun with the punning titles of Van Der Clane's books – such as I Just Died In Your Psalms Tonight and Axe Me No Questions I'll Tell You Who Dies – and there's a neat scene where the bells of a cathedral (though it must be the world's smallest) drown out key parts of dialogue.
There are few plot surprises, but overall the story this unfolds very much in the way you'd expect – even the causes of demise are relatively uninventive, after the initial death by packed lunch. And of course, cometh the hour, cometh Johhny Vegas, whose previously browbeaten Everyman rises to finally saves the day. Is his heroism enough to kindle a romance with tour operator Gemma (Sian Gibson displaying the same underplayed sweetness she did in Car Share)? Who can tell… maybe a sequel?
For while Murder On The Blackpool Express is probably not an instant classic, the playfulness of its fine cast make it an affable diversion, and a happy slice of family viewing (9.30pm actually seems like too late a slot) that could bear many a bank holiday repeat
• Murder On The Blackpool Express is on Gold at 9.30pm tonight.
Review date: 11 Nov 2017
Reviewed by:
Recent Reviews
What do you think?