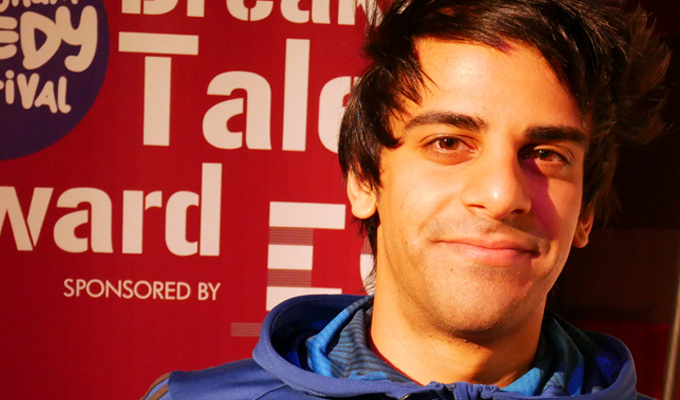 Birmingham Comedy Festival Breaking Talent Award 2017
It's called the Breaking Talent award, and last night's winner, Kai Samra, certainly feels like he's on the brink of a breakthrough. Pretty much under the radar so far – never reaching the final of any other competition – he's nonetheless already been signed up by kingmaker agency Avalon.
And on the strength of his performance on the opening night of the Birmingham Comedy Festival, you can see why. He is slick and confident with a club-ready set that swoops from acutely observed routines about the knife amnesty bins around the dubious neighbourhood he grew up in, via reasons why Asian guys like him find fancy dress parties difficult, and on to a splendid routine about his sister being at school with Nobel winner Malala Yousafzai, the petty power plays of teenage girls overshadowing her achievements at standing up to the Taliban.
It seems pretty fresh, and Samra has a strong comic voice that tangentially addresses big issues, but from a distinctivel personal point of view. And as a native Brummie he included plenty of local references to please the crowd, and add to the fluidly of a fast-flowing set.
Samra triumphed over just four other acts at the Glee Club, all recommended by club promoters around the Midlands, with such a small field making for an unusually brisk showcase before a headline set from Lost Voice Guy.
Up first was Eric Rushton, a former Chortle Student Award finalist, who superficially seemed like a low-status beta-male, but also one who held the gig in wonderful contempt.
'I'm very excited to be here,' he says by way of opening gambit, even if every fibre of his being suggests otherwise. He has some offbeat and sarcasm-packed routines, such as the one likening God to a struggling football manager, if not quite packed with enough punchlines to justify the arrogance.
And his insincere tic of calling us all 'guys' in a deliberately clumsy way, is wildly out of control, often using the word twice in the same sentence, to irritating effect. Still, he's an interesting act, refreshingly unwilling to please, who certainly intrigues.
Next up was Rob Kemp, who enjoyed a huge cult success at the Edinburgh Fringe with his Elvis Dead spoof. His musical skills weren't in much evidence here, though, aside for an amusing a capella suggestion as to what the lyrics of the menacing Mastermind theme might be..
Instead, he ambitiously gave over his set to a routine about the Lostprophets, which left some people behind as they hadn't recalled that their lead singer was the horrific paedophile Ian Watkins, and Kemp withheld that information for quite a while.
And for those who were up to speed, it's an awful backdrop for an extended routine that didn't overcome the seriousness of the source material – but Kemp was committed to it and couldn't quite get out, even when a couple of punchlines were greeted with silence. His routine is more intelligent than shock-value comedy, but it's a tough subject for a relatively short set with limited context.
Imagining Bible passages in modern language was more fruitful, even if the idea is a little easy. In short, he does much better at the musical horror parodies than this straightforward stand-up. Which is a shame as he's got buckets of easy-going charisma.
But we did get our musical parodies courtesy of Alex Black, doing lyric rewrites in a pretty perfunctory, by-the-numbers way: changing The Police's Message In A Bottle to Message In A Brothel, for instance. A few people have done before as Massage In Brothel, too.
His rap based on his experiences as a new parent was a little more obtuse, and therefore more effective in smuggling to the pun. And between the songs, he didn't seem quite so at ease as other comics, suggesting the guitar might be something of a prop.
Gemma Layton took to the stage as spangly cabaret singer Beverly Vegas, complete with a wig of Dolly Parton proportions and sparkling tiara. Bold and brassy, she could be a character straight out of ITV's Benidorm, as Layton fully inhabits this credible, if over-the-top creation.
There are some nice touches in the writing, too, her coining the sly malapropism 'unseparable' was especially true to character, while her version of the song rewrite – giving new lyrics to Buck Fizz classic Making Your Mind Up to refer to her ex, Dave – was a banging crowdpleaser, earning her probably the warmest audience reaction of the night and giving everyone an earworm to take home.
It's certainly a fine calling card for Layton's abilities as an actor able to work with convincing, exaggerated alter-egos, but in the final calling, Samra's sharp writing edged her out of pole position.
Review date: 7 Oct 2017
Reviewed by: Steve Bennett
Reviewed at: Birmingham Glee Club
Recent Reviews
What do you think?