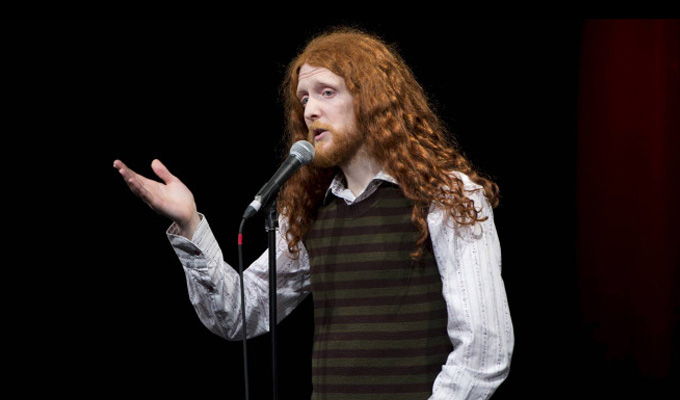 Leicester Mercury Comedian of the Year 2017
Note: This review is from 2017
There are never any qualifying heats for the Leicester Mercury Comedian of the Year; all acts have been put forward by promoters and comedy industry bods from across the country, so it should be a good selection, as the list of previous winners – Johnny Vegas, Rhod Gilbert, Jason Manford, Seann Walsh and Josh Widdicombe – attests.
For the 2017 edition, exuberant Carly Smallman MCed proceedings, tasked with keeping the energy in the room up and frequently engaging with the guys down the front.
Up first was Tom Mayhew who made a damn good fist of it, especially considering his is a relatively low-key shtick. Socially awkward and with his hand grasping nervously at the back of his neck, Mayhew told of an unfulfilled existence of parents who prefer schoolmates' photos to his, and unintentionally breathless girlfriends.
It's an endearingly, humble guise that verges entertainingly on the pessimistic and is enjoyably surreal in places, as he conjures strange images of comfort eating.
In contrast, Kelly Convey is in-your-face and reassuringly confident, taking her chavvy background by the massive gold hoops and showing it to us for laughs. She's a sassy, convivial figure telling of her extended Catholic family, 45 cousins claustrophobically all at the same school at the same time – no surprise since contraception advice amounts to 'don't'.
Chav material is, of course, a familiar staple of the circuit but Convey makes it her own. Plus she knows how to turn a phrase, as demonstrated when she describes her mate Pauline's unfortunate incident some with birthday cake candles.
For the third comic, we're back in down-tempo territory once again – it's a nicely balanced first half. Alex Mahoney is probably the most intriguing act of the night. Self-consciously splitting his routine into signposted sections, he's so low-key and subtle that the tack-sharp gags have a habit of sneaking up on you.
As he works his way through the routines, he becomes increasingly self-referential and unhinged, via a poetic trip to a fish shop and his search for warmth in a life-saving manoeuvre. I'm looking forward to that inevitable debut Edinburgh Fringe hour already.
Again in contrast, George Rigden rounded off the first half as an obnoxious musician who wastes no time in gleefully abusing members of the audience. Moving in on a woman at the front he bravely (for a competition set) moves the mic and himself over to her to serenade and intimidate in equal measure. He's as abrupt as his truncated songs, the arrogance undercut with some self-deprecating remarks that belie a less confident soul at heart. It's a pleasing dynamic that has potential.
Opening the second half was our eventual winner, Alasdair Beckett-King. Though cutting a striking figure - tall, slender with long rusty-hued locks - Beckett-King avoids wading straight into the obvious gags about how he looks, instead leading into them slowly and subtly beginning with the social pitfalls of possessing such pale eyebrows.
Of course, ginger gags are commonplace but Beckett-King makes them all his own with some fine choices of word and imagery. He ends with his own version of William Blake's Proverbs of Hell displaying a playful silliness at the same time adding to the feeling of him belonging to another time. He'll go far.
Tom Houghton was previously known in comedy circles as one fifth of high-energy improv group Noise Next Door and the on stage playfulness he's been used to is evident as he brings his stories to life with animation and drama.
He's clearly unafraid to poke at the edges of his and our comfort zones for laughs with tales of Thai prostitutes and how to avoid a spanking by your father. Houghton's posh exterior hints at something of the great British eccentric, which adds to an interesting stage persona.
Ed Night's demeanour suggests a street smart beyond his years as he tells of his life in South London. His is an enjoyably laid-back routine that displays a quiet confidence. He takes a teasing amount of time to tell a story about a seduction foiled by a mouse that takes up residence a stereo speaker and of his curtain-twitching, racist great uncle.
But there are plenty of well-honed gags here too including a blunt deconstruction of Come Dine With Me narrator Dave Lamb that nobody has put better.
Up last was Sindhu Vee, who uses both her role as a mother and her Indian upbringing to great comic effect. Vee shares some brutal tips on how to parent while demolishing her white Danish husband's gently, gently approach; yet she avoids cultural stereotypes with a truth to her tales.
It's an assured performance where she effortlessly manages to be simultaneously waspish yet instantly very likeable. She deservedly received a nod from the judges winning second place.
And to close, last year's winner Tom Lucy treated us to a reminder of why he won, with an unlikely camp world-weariness for a 19-year-old. Roll on next year.
Review date: 26 Feb 2017
Reviewed by: Marissa Burgess
Recent Reviews
What do you think?