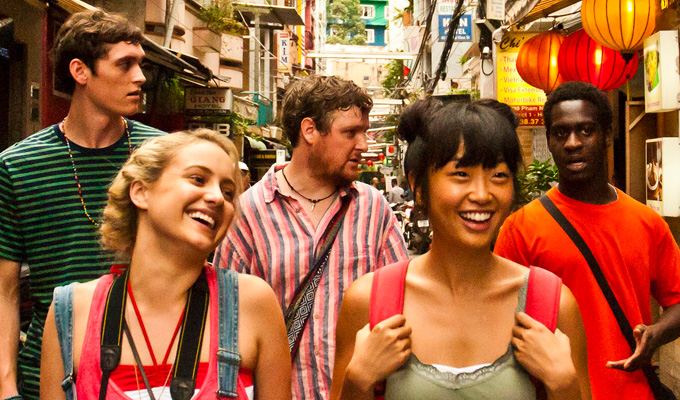 Gap Year
If you didn't know the people behind Gap Year, E4's new comedy about students backpacking around East Asia, you might expect a broad parody of some upper-class Tarquin blundering around like a culturally insensitive tornado.
But Tom Basden's script feels a little more like the genuine experiences of twentysomethings setting out on their first big adventure. The fact it was genuinely shot on location adds a travelogue element, and further underlines the authenticity of the scripts and the largely unknown cast.
If clichés are present, it's more along the lines of these youngsters vowing to experience the 'real' Asia and keep off the beaten track – 'it's not a holiday, we're travelling' they insist – only to find themselves at exactly the same places as everyone else.  They get irate at the tourists spoiling their perfect shot of the Great Wall of China, unaware of the irony of being part of the same problem, and substitute missing Glastonbury by attending their own rave.
Part of the reason they end up unfamiliar places is because Dylan (Anders Hayward) is going to quite extreme lengths to stalk his ex-girlfriend, dragging his unaware pal Sean (Ade Oyefeso) halfway around the world under false pretences. The pair quickly encounter a couple of girls, May (Alice Lee) and Ashley (Brittney Wilson), and the central characters are set… although there's a little more fleshing out to be done.
As Greg, the fifth wheel they've acquired, Tim Key does a lot to add depth. Firstly by the very nature of being Tim Key, master of that vibe of someone cheerily trying to appear together and happy as his life crumbles. Secondly, because his character – older and fleeing a failed marriage back home – adds a sadder element to the 'lads on tour' premise.
There's also some great smaller parts from comics Aisling Bea and Jamie Demetriou, as well as a scene-setting cameo from Janeane Garofalo, as a travel writer who predicts exactly how the boys' Asian adventure will pan out.
Based on this first episode, Gap Year's emphasis is probably more on the drama than the comedy. The show is very much plot driven, and the viewer wants to find out what happens next as the action unfolds. Based clearly learned a thing or two from writing on The Wrong Mans. And the first episode ends one a great cliffhanger – even if it is immediately ruined by E4 showing scenes from the second episode indicating the outcome. 
Overall, there's an appealing ironic undertone, and a knowingness to the fact the characters often aren't fully immersed in the world they came looking for. After going to great pains to watch a sunrise over the Great Wall Of China, comes the question: 'How much longer are we going to spend looking at it?'
For all that, Basden is not above a slapstick set piece involving a chemical toilet or some running jokes – although the one about Chinese-American May being a banana ('yellow on the outside, white on the inside') becomes a bit laboured – although it possibly needs to be as it leads to a pivotal flashpoint.
Yet there's plenty to keep you watching, and maybe Gap Year could become a young-skewed comedy drama in the vein of Fresh Meat, which Basden also worked on.
• Gap Year is on E4 at 9pm tonight. Here's a taster:
Review date: 23 Feb 2017
Reviewed by: Steve Bennett
What do you think?