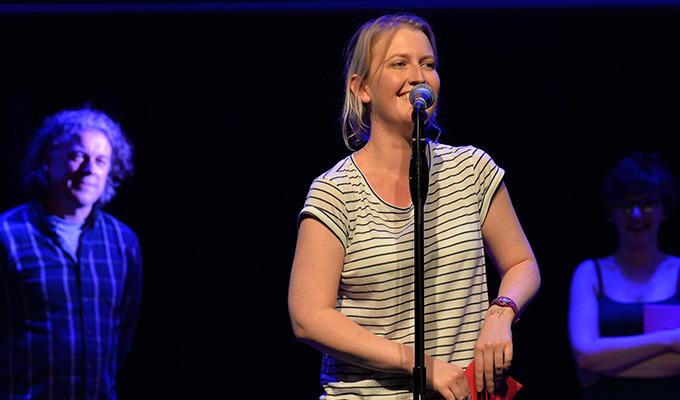 So You Think You're Funny 2016 final
Note: This review is from 2016
I'm reluctant to mention the fact that seven of the nine finalists in last night's So You Think You're Funny? new act final were women, because a) it shouldn't really be noteworthy; and b) you might suspect the dark forces of tokenism at play.
But it is the headline story. And all those taking part deserved their place on the big Gilded Balloon stage at the Edinburgh Fringe. There were ups and downs, as always in this competition, but if anything the overall quality of these newbies, a year or so into their comedy career, was up on previous years.
Stuart McPherson has been called 'dry' so often, he knows it's no longer always a compliment… although there's no denying it's apt, a trait inherited, he says, from his negative father. But the downbeat delivery also comes with an underplayed confidence, which comes from having some strong material. He's got a great punchline for the old 'life is like a box of chocolates' trope, especially. And even if this cool Scotsman gets bogged down in talking too much about Goths in unlikely places – a premise the audience don't get on board with – there are just enough quirky turns of phrase over the set to stand out.
Australian Heidi Regan took the deadpan idea and ran with it … to the extent of suggesting she could be a robot replicant shorn of all emotion, which became a touchstone of her entire set. She snuck up on that central premise stealthily after speaking about her dreary job, then let it unfold step-by-step, an extra level of joke revealed at each turn. That shows confidence in her writing, that was not misplaced. Not bad for an automaton – and it won her the top prize.
Arielle Souma dominates the stage, requiring no microphone even in this large room as she laid down her uncompromising rules of how men should behave. This mixed-raced Frenchwoman is big and bold with bags of shouty sass, even if her view of the battle of the sexes seemed binary and a it old-fashioned. Why is it a battle anyway? Attitude more than compensated for the simplicity of her material, at least for most the set. Making such brusque hollering sustain for much longer than the seven minutes allocated here will be the challenge. But her set has got some nice garnishes, such as the way she furiously blasts anything she considered nonsense as 'hippy shit!'
The contrast couldn't have been greater between this an Irish comic Ruth Hunter, who brought deadpan back, and then some, taking the energy through the floor with a pause-filled monotone drawl that was, frankly, boring. Such a harsh style puts a lot of pressure on material to really power though, and although he writing had nice touches, especially when she listed her peculiar turn-ons, it often couldn't overcome the delivery. Jokes bout government offices not answering calls or emails efficiently seemed a very pedestrian complaint, for instance. Judges disagreed, though, and awarded her the silver.
Musical comic Harriet Braine rewrote a couple of 1980s hits to make reference to great artists: Steve Miller Band's Abracadabra became Pablo Picasso and Kate Bush's Wuthering Heights about Da Vinci. It's straightforward stuff, with the songs outlasting the jokes, but with a few neat touches. A reference to Georges Braques makes the educated feel smart, while the punchline to Da Vinci is a nice conspiracy theory even Dan Brown missed. But it doesn't change the essence that these are fairly straightforward parodies, even if Braine does have a great voice – and is possibly the first comedian to bring mouth trumpet to the circuit since Earl Okin.
With her wonderfully manic style, Danielle Walker came third – but ranked higher for me. She really keeps the audience on their toes with her wild mood swings between the sweet 'I look like a child' build-ups and the insane pay-offs, delivered with the unhinged laugh a Batman villain would be proud of. Unafraid of going to dark places, she has gags that mention rape and the crushing of a bird's skull that cause her to ponder why she's an outsider. She got her place in this final after winning the similar Raw competition at the Melbourne comedy festival earlier this year, and has a bright future, even if her soul is dark.
Sophie Henderson cuts an engaging figure, confident and full of beans, the audience feel secure in her easy charm – especially after that last weirdo. She has some mainstream observations about the trendies in her corner of Easy London, people in couples ostracising their single mates, and the pros and cons of freelancing from home – the prime pro being the lack of dreary office smalltalk. It's an engaging set, consistently funny, but perhaps without yet finding that distinctive edge that would make her into her own comic.
Our second token man next, with Jamie M, bouncing on to the stage in his outsized patchwork jumper and proclaiming: 'I'm eight!' A premise which naturally doesn't stand up. He's got a lot of ideas here – even if he steals Terry Alderton's technique of turning his back to the audience to voice his inner monologue – but the set's a bit of a mess, and he pretty much died. That's an unfair reflection of his comedy, but he needs to step back a bit, lose some of the in-jokes and put his strong lines, which he certainly does have, into better context. He's a victim of trying too hard to be meta, when audiences only care about funny.
Finally, Londoner Kelly Convey sets herself up as a strong independent woman who don't need no man – but desperately wants one. There's a winning authenticity to her material about using Tinder that goes beyond standard 'swipe left' gags and forms into a proper anecdote about her life. Sometimes that appealing, genuine attitude needs better jokes to match – the section about tracking her periods struggled especially – but there are some cunning gags slipped under the radar here. I loved the pet name she gave her ovaries, even if it got nothing from the room. So she needs work, but we'll probably see more of her – as, indeed, we surely will of most of these finalists.
Review date: 26 Aug 2016
Reviewed by: Steve Bennett
Reviewed at: Gilded Balloon Teviot
Recent Reviews
What do you think?