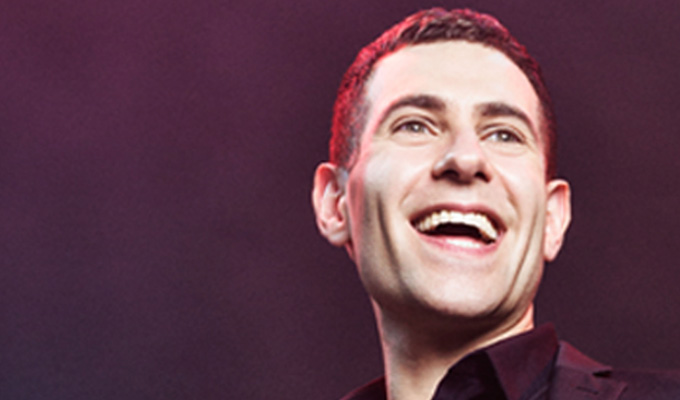 Dave's Leicester Comedy Festival Preview Show 2016
The most memorable moment of the Leicester Comedy Festival preview show might have been a cock-up, but that doesn't mean the show was a flop.
Whooping the crowd up in anticipation of first-half closer Nish Kumar, host Lee Nelson was then forced to backtrack when furious signals from the wings alerted him to the fact that he'd accidentally skipped musical comedian George Rigden, who was waiting to take his slot on stage.
Not the gravest mistake anyone's ever made, but the fun all three had with the snafu is a reminder of how potent even some small spontaneity can be in live performance. Nelson himself exaggerated his contrite humility, a good contrast to the cocksure geezer persona he usually adopts.
His current touring show, Suited And Booted, felt two-dimensional when I saw it in Edinburgh this summer, soon after Nelson creator Simon Brodkin had been all over the international news for showering Fifa president Sepp Blatter with dollar bills at a press conference. But as a compere, his shtick is strong, very strong. On the face of it, this is the standard high-status fare of mocking audience members for their age or where they come from, but such teasing rarely done with such impact, with good, cheeky lines beyond the effective swagger.
Opener Kai Humphries played in similarly familiar territory, with some self-deprecatory quips about being ginger and from the North East. All affable, entertaining stuff but without being too distinctive. Material about his Omani girlfriend went some way to addressing this, commendably highlighting the idiocy of Islamophobia through a couple of wry gags in his easy style. His set was more chatty than being a killer routine, but he's a dependable chuckle-generator.
Jen Brister mined many a comedian's favourite topic of how your personality and priorities change as you grow old, the spontaneous embracing of youthful hedonism yielding to the stay-at-home mentality of middle age…. a topic heavy on her mind since she turned 40 last year. Hers is a set all about empathy and anticipation. Most of the audience in this show – predominantly her age and older – know exactly what she's describing, often before she says it, but her precision timing and the way her descriptions chime with reality ensures the laughs keep coming. The story of becoming a mother of twins might have been less universally identifiable since she's in a lesbian relationship, but was more interesting because of it – as well as further explaining her newfound love of the home life.
Next up was Nish Kumar.
Apologies. Next up was George Rigden. Easy mistake to make.
Rigden is the result of a genetic mash-up between Mitch Benn and Tim Key, perhaps with a few strands of Ricky Gervais's DNA thrown in, thanks to the the one-line self-referential sentences. He's a musical comedian with outward assurance – boldly coming off stage to serenade a woman after throwing her partner out of his seat – cloaking the myriad more awkward aspects to his personality. As Brister spoke of turning 40, he's a full decade behind; but still living with his parents. There's some very funny stuff here, but as a relative newcomer it feels he's still got to become his own comedian a little more, rather than being a hybrid of others, even if every comedian is influenced by who's gone before.
Finally for the first half came Kumar, whose name was likely to be on everybody's lips tonight thanks to Nelson's fumble – but reinforced because of yet another impressive performance, mixing up a cocktail of smart commentary, self-mocking anecdotes and sharp gag. And like all good cocktails, it's more potent than its easily-consumed taste might initially have you believe, covering ideas such as racial prejudices with the lightest of touches. He'll soon be a TV regular, that seems to be a given.
To the opposite end of the Mensa scale after the break, with Darren Walsh's unstoppable tsunami of stupid puns. Like a dryer version of Tim Vine, no wordplay is beneath him, with some real groaners mixed in with more imaginative examples of linguistic dexterity. It's probably a triumph of quantity over quality, but there's no denying that his relentless cavalcade – sometimes illustrated with cues on the sound board or visual gags on the screen – batters down any resistance. One of his puns won him the 'joke of the Fringe' award at last year's Edinburgh, sponsored, like this festival, by the Dave TV channel, and that gag ('I just deleted all the German names off my phone. It's Hans free') is fairly typical of his output.
Tom Little, current holder of the Leicester Mercury Comedian of the Year title, started off with more puns, albeit with a far less straightforward approach, offering a convoluted twist on the genre. He's a strange cove, his bizarre, tortured delivery that would seem to better fit much older performer. Distinctive it may be, but some routines – especially his take on the old debate whether Jaffa cakes are biscuits or cakes – leave you asking: 'Is that it?' as he pushes an idea to its limit. That said, the similar approach to a school spelling test makes the same concept work better, not least because of a delayed punchline inserted later into the routine that cleverly addresses a nagging doubt.
Sofie Hagen's set also didn't quite land as securely as you might expect from another 2015 award-winner, with some solid opening lines about body image leading into a story of a sexual encounter that didn't really work when taken out of the context of Bubblewrap, the excellent show that saw he crowned best newcomer at Edinburgh. There's a good payoff, but the anecdote is a little joke-light for a short set. Maybe she chose to tell it because the incident took place after this very gig three years ago – but her dropping cryptic hints about the person involved baffled more than illuminated.
Finally, The Boy With Tape On His Face – a worthy showstopper in any situation with his playful brand of audience participation mixed with ultra-inventive prop work. He was initially bedevilled by technical issues that stopped his trademark French cafe-style backing music playing for what seemed like an eternity, and his first audience 'victim' failed to embrace his stripper routine with the vigour most of TapeFace's chosen ones usually display. But his gleeful imagination easily conquers such minor setbacks and his set was a typical delight, even incorporating some newer routines including a couple of stuffed pigs who got involved in a Deliverance-style banjo duel, as silly as it sounds. He, like many others on the bill, are likely to have new fans tonight.
• Dave's Leicester Comedy Festival takes place from February 3 to 21. Website.
Review date: 9 Jan 2016
Reviewed by: Steve Bennett
Recent Reviews
What do you think?