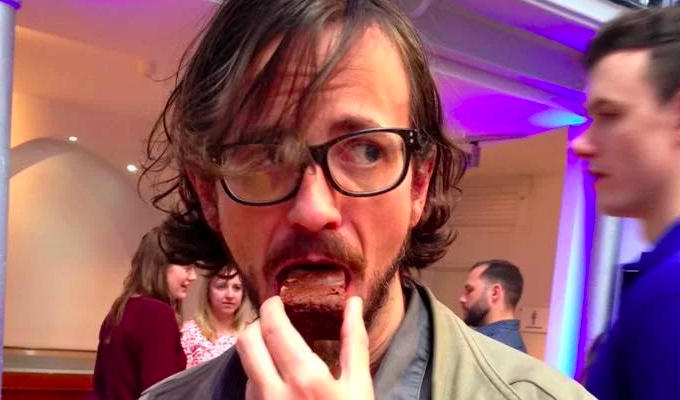 How Paul Byrne got laughs at his own funeral
Stuff solemnity. As the coffin of comedy director Paul Byrne rolled into the furnace, the crematorium was filled not with the stately chords of a church organ – but the dancefloor banger Disco Inferno.
The comically apt song was Byrne's idea, his comedian brother Ed has revealed, and the family were happy to comply.
Speaking on Cariad Lloyd's Griefcast podcast, Ed described how the funeral had many moments of joy.
He said: 'That has been the interesting thing about this, there's been a lot of laughter and there's been comedy surrounding the whole thing. Not least when we were planning his funeral.
'A very good friend of his, Tim FitzHigham, phoned… and said "Look, I wasn't sure if I was going to tell you this but I thought you should know that Paul told me that when he died he wanted to be cremated (which we were doing) and he wanted to roll into the flames to Disco Inferno".
'And he said "I don't know what you want to do with that information", but we did honour that wish.'
And Ed said he wished he had told even more jokes at the ceremony.
'My sister made a very funny speech about Paul's life and I saidjust a couple of words.
'There's so there's so much regret built in when somebody dies and I'm regretting stuff I didn't say at the funeral.There were jokes I wish I had told but I wasn't in the mood.
'My sister did a whole thing in the serious part of her speech about how she wanted to buy a really cool car like a Morris Minor or a Ford Anglia and Paul had said to her, "No, you don't want to buy a cool car, because you're already cool. You should just get the most ordinary car in the world".
'And I got up later on to introduce a song. And I so regret not saying "What a beautiful speech there by Patricia – although it does make me reflect on how often Paul would tell me I should buy a really cool car." That would have killed.'
Paul died aged 44 in February following complications from Hodgkin's Lymphoma and liver damage.
Published: 29 Jul 2022
Recent Punching Up
What do you think?