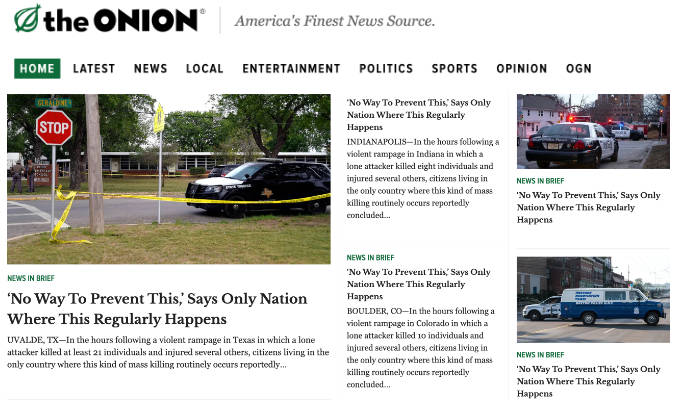 'No way to prevent this'
American satirical website The Onion has responded to the latest mass shooting America by plastering its homepage with repeated versions of the same story.
The headline '"No Way To Prevent This," Says the Only Nation Where This Regularly Happens,' appears 21 times on the page in a dark parody of the empty words that greet every such tragedy.
Each story is almost identical, just with the location and death toll changed. In each case a local resident is quoted saying: 'This was a terrible tragedy, but sometimes these things just happen and there's nothing anyone can do to stop them. It's a shame, but what can we do? There really wasn't anything that was going to keep this individual from snapping and killing a lot of people if that's what they really wanted.'
The headline first appeared in The Onion following a mass shooting in Florida in 2014 and has been used with grim regularity with every subsequent atrocity.
Further down the page the site parodies the attitude of the influential National Rifle Association with headlines such as 'NRA Warns Banning Assault Weapons Would Infringe On Americans' Constitutional Right To Make Them All Pay'; 'NRA Publishes Tips For Staying Safe While Committing A Mass Shooting', 'NRA Criticizes Video Game Makers For Downplaying Portrayal Of Euphoric Rush Felt Watching Light Leave Enemy's Eyes' and 'NRA Calls For Department Of Education To Provide Every Student With Body Bag'.
And the US Senate's impotent response was highlighted in a mock TikTok video:
In Texas an 18-year-old gunman killed 19 children and two teachers on Tuesday when he opened fire at Robb Elementary School in Uvalde, Texas.
Published: 26 May 2022
Recent Punching Up
What do you think?