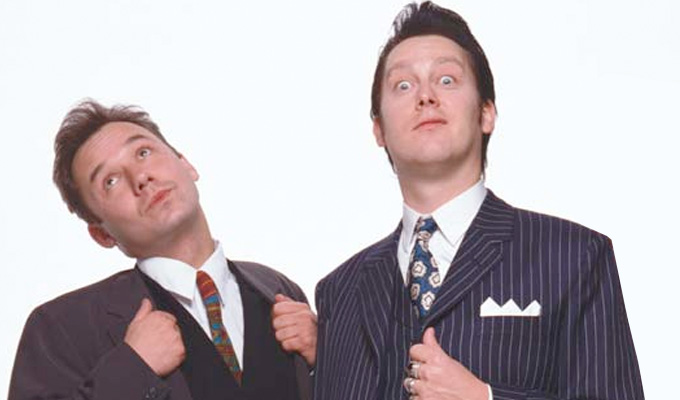 The smell of Reeves, by Mortimer
Vic Reeves's farts were so toxic they halted filming, Bob Mortimer has revealed.
The comic has told of how his comedy partner's flatulence made life unbearable on the set of their Channel 4 show Big Night Out.
In his memoirs, he recalls a scene in which he was under Reeve's desk operating the Morrissey The Consumer Monkey puppet.
'As I knelt there listening to Vic speak, I began to notice that he was punctuating his words with little tommy squeakers from his arse,' Mortimer wrote.
'I couldn't shift my position as any movement could be caught by the cameras. Unfortunately, my nose was only about six inches from the source of the squeaks and I had no escape.
'Each individual squeak evoked a different aspect of a rotting corpse. Eventually I could take it no more and rose up from behind the desk in the middle of Vic's lines and declared that I was surrendering to the most powerful enemy I have ever faced: Vic's show gas.
'The audience laughed and Vic denied his involvement. It didn't make the final cut of the show because the pain on my face was too real and distressing for a comedy show.
Published: 31 Jan 2022
Recent Punching Up
What do you think?