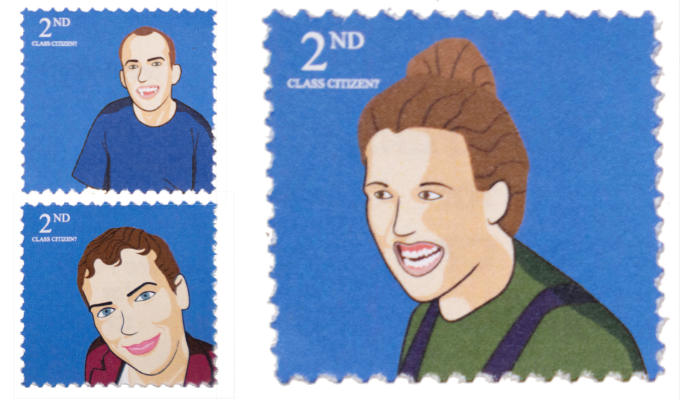 Stamp out this unfairness!
Rosie Jones, Lost Voice Guy Lee Ridley and Francesca Martinez have been commemorated on stamps.
However, it's nothing to do with the Royal Mail - but a campaign urging the NHS to stop treating people with cerebral palsy like second-class citizens.
Also featuring on the fake stamps are Emmerdale actor James Moore, Paralympian David Smith and dressage rider Tegan Vincent-Cooke, all of whom have the condition.
Emma Livingstone from the charity Adult Cerebral Palsy Hub said: 'We do not get joined-up healthcare like other adults with life-long conditions. At the age of 18, we are basically just told to "get on with it".'
The campaign calls on the NHS to adopt guidelines drawn up by the National Institute for Health and Care Excellence (NICE) to improve life for the 130,000 adults in the UK with the condition.
Jones said: 'I'm shocked and concerned at the gap in healthcare for people CP versus other life-long conditions. It is discrimination, and we must change this.'
Martinez added: 'Adopting these guidelines will greatly benefit not only wobbly adults but also wider society. I hope everyone will get behind this campaign and see that this one simple change will make a huge difference.'
The mock stamps were designed by 28-year-old Eve Lacey, from Essex, and are billed as 'the world's smallest petition', with the reverse featuring the slogan, 'care parity for CP'.
She said: 'We're asking for something incredibly simple. It can literally be written on the back of a stamp.'
There is also an online petition for the campaign.
• Rosie Jones is also appearing in BBC One's Casualty tomorrow as an 'angry little whirlwind' called Paula. The show tweeted a preview clip of her performance:
We have a special guest appearance in Saturday's #Casualty!

Rosie Jones (@josierones) joins the cast as Paula, and she's causing some trouble in the ED.

Rosie tells us what to expect this Saturday at 8.20pm on BBC One. pic.twitter.com/tJoGqBcrcx

— BBC Casualty (@BBCCasualty) February 25, 2021
Published: 26 Feb 2021
What do you think?