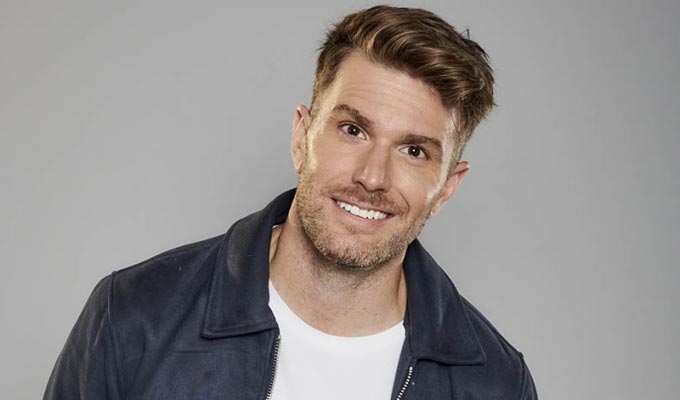 When Joel Dommett worked security
As a successful comic and TV host, Joel Dommett might look like he has the ideal job.
But when he was younger, he had a much different ambition: to work security at Virgin Megastore.
And he achieved it - mainly by acting weirdly after getting an ordinary job on the shop floor.
'There was a guy called Matt who did security there with a radio and I was like, "that's the job I want. I want to be able to stand on the front and hang out with a radio",' he told fellow comics Maisie Adam and Tom Lucy on their podcast That's A First.
'So slowly but surely, I started standing next to him. There was a little security cupboard that had CCTV that you could look around and see. So I was like, I want to be in that cupboard looking at CCTV - that's the dream. It's kind of what I do in my house now really.
'I stood next to him lots and I'm playing the long game here - for about six months I would stand next to him until someone would say "Hey Joel can you do this" and then slowly but surely people assumed I was supposed to be there.
'There was this thing called the net radio which was a radio that went to all the other shops in the mall - that was the dream. I'm telling you now, I'm eight months deep into my mission right now. At this point people think I'm a security guard… Then finally the day came where a manager went 'Joel, here's the net radio'. I was so unbelievably excited. I've never felt so cool in my life.
'Five to eight minutes after I got the radio, a shoplifting experience started to go down with a person of interest, a POI we call it in the security biz. I hadn't thought about the fact that people actually do bad things, I thought it was all about standing on the door.
'He had his bag open and was throwing loads of CDs into his bag...This is clearly a very new thief up against a very new security guard. I saw him doing it and I didn't know what to do. He looks at me and then runs out the door. I should've rugby tackled him [but] I don't know how to approach people in a fighting scenario. What I do know to do is run - love a bit of running. He starts running and I start chasing him, not really thinking about what is going to happen at the end of the chase.
'I could've caught him because he wasn't that fast but in my brain I was like, "I don't know what to do when I catch him. He looks like an aggressive man and I don't want to catch him so I'll just chase him forever until he dies".
'We ran through the whole mall, got to the door and it's a rotating door so he turns around like he's been caught and I stop about 3 feet away from him. I shout 'stop', he says 'I have' and then he slowly backs into the rotating door and I get the next one and we start running again.
'We're outside by this point running through the car park, we run to the cinema complex across the road and then a security guard from Route One, the skateboarding shop, absolutely rugby tackles him - comes in from the left, I didn't even see him, and we got him.
'But that was the moment where everyone on the management team of Virgin realised "Joel isn't supposed to be on security'".'
In other trivial comedy news today, Romesh Ranganathan says he ate so many curries on his tour that his bank rang to check his card hadn't been stolen.
And the boots Ricky Gervais wore as David Brent during his Life On The Road Tour have sold for £645. The money raised by the signed size eights, will go to the Small Steps charity, which provides shoes and emergency aid to families living on landfill sites around the world.
Published: 23 Nov 2020
Recent Punching Up
What do you think?