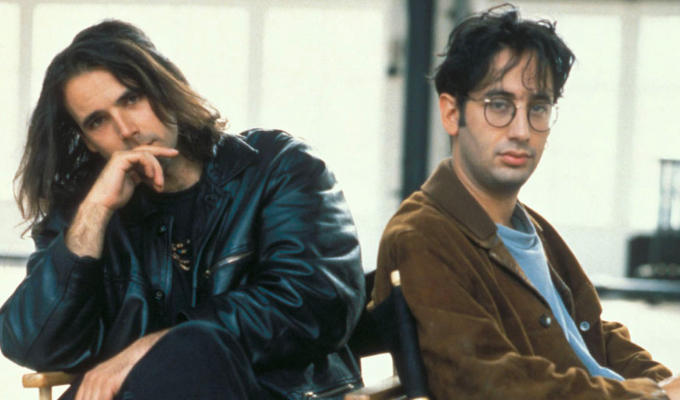 David Baddiel: BBC owe me and Rob Newman 2 more series!
David Baddiel says the BBC still owes him two more series of Newman and Baddiel In Pieces.
The comic and his former double-act partner Rob Newman made one season of the sketch show in 1983, after The Mary Whitehouse Experience – which they made with Steve Punt and Hugh Dennis – came to an end.
But now Baddiel has revealed that the contract was originally for three series, but his partnership with Newman collapsed before they could do any more.
Speaking to Nick Helm and Nathaniel Metcalfe on their Fan Club show on Fubar Radio, he said: 'The Mary Whitehouse Experience only had two series. I wanted it to have more but Rob Newman, who went a bit nuts wouldn't work with Punt and Dennis any more.
'So, we went off and did Newman and Baddiel in Pieces. And here's a small scoop for you… [It] had one series but it was commissioned for three series. But me and Rob split up after the first series. So, theoretically, if me and Rob Newman got back together, we could force the BBC to do two series of Newman and Baddiel in Pieces with us [being] far too old.
'In a way, I'd like to do it. Just because it would be a fucking hilarious thing to force them to do. Because I think it is still under contract.
'But I hardly ever speak to Rob Newman. So that would be quite difficult, to write a show with him.;

The duo split in 1993 shortly after becoming the first comedians to Wembley Arena. Baddiel said: 'About two weeks before that tour, we had such a massive row, me and Rob, that I said, and he might have said as well… we both mutually agreed never to work together again after Wembley Arena.
'Rob was someone who fame, I think, wasn't great for. He's really talented… He was a really talented performer. And I believe he still is, although I haven't seen him for a long time.
'But he was also someone who, certainly at that point in time, didn't quite know who he was, I think. If you are somebody that doesn't quite know who you are and you get really, really famous and you play at Wembley Arena that could be quite dangerous.'
Published: 13 Nov 2020
What do you think?