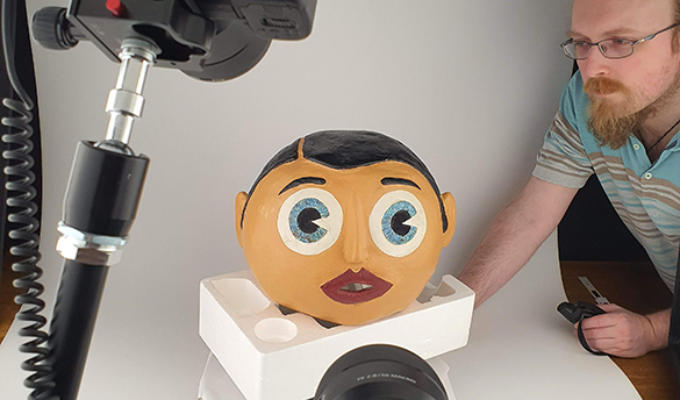 Scantastic Frank!
It's not normally the sort of thing archaeologists concern themselves with – but academics in Liverpool have created an accurate, high-res, 3D model of Frank Sidebottom's head.
A team from the university have used photogrammetry techniques usually used on ancient artefacts to create the digital likeness of the papier-mache head comedian and musical Chirs Sievey donned to become his famous alter-ego.
The technique is used by archaeologists so they can 'handle' and inspect the previous objects in 360° without any risk to the original. For museums and archives it allows virtual visitors to engage with the objects too.
Sievey's personal items are currently held at Archives+ in Manchester, where heritage collections officer Larysa Bolton said: 'The thing that is really remarkable about the Chris Sievey/Frank Sidebottom archive is the fact that you really get inside Chris and Frank's head through the material.
'And of all the documents and objects, Frank's head is the [paper mache] crown jewel. So the fact we can now even get inside that… well, that's absolutely fantastic.
'Archivists love to create order but Chris Sievey can't be categorised – he's a 20th Century pop culture polymath. There's chaos and precision, ordinary and extraordinary, and all manner of creation and art – it's like looking through a kaleidoscope at the sunset over Timperley.'
Some details have not yet been captured by the photogrammetry, such as the holes Sievey drilled in the head for ventilation. But it meant steam sometimes emerged rom the top of the head during performances, so he filled them it again.
Published: 23 Jun 2020
What do you think?