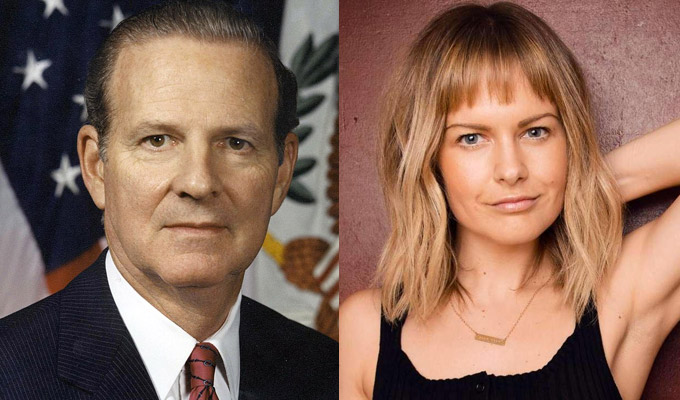 'My family is a bit Game Of Thrones'
A scion of one of conservative America's most influential families is forging a career as a stand-up.
Rosebud Baker's grandfather was James Baker, Secretary of State under George HW Bush and a high-ranking official in several other Republican administrations.
In her comedy, Baker jokes about her privileged and contentious background, quipping: 'Saudi oil money put us through college' and that 'our family ruined the Middle East'.
During his tenure, James Baker was criticised for making slow progress on improving the state of Israeli-Palestinian relations and blocked the recognition of Palestine by threatening to cut funding to agencies.
Now 89, Baker was also White House chief of staff for Bush and Ronald Regan, Secretary of the Treasury under Reagan and Under-Secretary of Commerce under Gerald Ford. He served as chief legal adviser for George W Bush during the 2000 presidential election campaign, overseeing the controversial Florida recount that took him to power. He was also worked for the collapsed energy corporation Enron.
His granddaughter is getting increasingly noticed on the American stand-up scene, and appears in the new Comedy Central series Bill Burr Presents: The Ringers.
Speaking to Burr, she said: 'My whole dad's side of the family is that whole Game Of Thrones mentality'. But her mum is a painter in Maine who started campaigning for Obama – and after their, possibly inevitable, divorce, she said: 'I sided with her.'
'But as I've got older I'm realised that everything that' funny about me came from my dad.'
Rosebud also appeared in a documentary called Inside Jokes on Amazon Prime, about comics trying to win a place at the prestigious Just For Laughs comedy festival in Montreal.
Here is a clip from the Burr programme:
And here's Burr's interview with her and other comedians:
Published: 13 Jan 2020
What do you think?