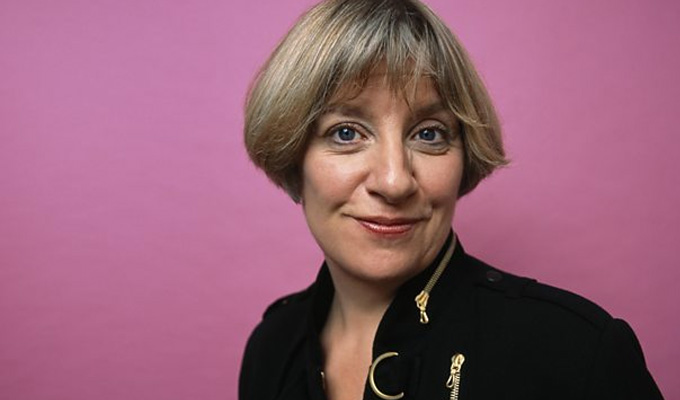 How Victoria Wood was almost in Not The Nine O'Clock News
Victoria Wood was asked to be a member of the Not The Nine O'Clock News team, its producer John Lloyd has revealed.
The comic was approached to be the female cast member after the initial team of Rowan Atkinson, Mel Smith, Griff Rhys Jones and Chris Langham had been assembled 40 years ago.
But she rejected the offer – as did Alison Steadman and Susan George – before Lloyd, then an inexpereinced producer, found Pamela Stephenson at a party he didn't want to go to.
'I saw the most amazing, luminously beautiful girl I'd ever seen,' he writes in the January edition of The Oldie. 'Her finest hour on British TV to date had been as a tousled head in someone's bed in Minder.'
And over lunch he persuaded her to sign up to the new comedy show.
It was his second attempt at the programme. Lloyd also revealed that the very first episode, which featured a separate cast apart from Atkinson and Langham, was an utter disaster.
He said he realised how bad it was, just days before it was due to air and then, 'for the first time in my life since I was a small child I knelt by my bed and prayed to God'.
And his prayers were answered – as Prime Minister Jim Callaghan lost a no-confidence vote in the Commons, triggering a general election. That meant tighter impartiality rules for broadcasters, so the BBC shelved the series until later in the year.
Lloyd then had a chance to reboot the series with a new cast, choosing contemporary comedians he knew rather than auditioning actors as he'd done before.
The result was a success, although not everyone loved it. Lloyd, who went on to make Blackadder and QI, also recalled how he was summoned to an executive's office the day after the first episode aired. 'John, you jammed the switchboard last night,' he was told. 'Thirty complaints!
'Thirty complaints!! Call yourself a satirist? It should have been 60! Get out!'
The show went from strength to strength, especially after Langham was dropped for the second series, scooping awards and winning audiences of 17million at its peak.
Published: 6 Dec 2019
What do you think?